Having previously worked in mental health, Angela Bell says she has always been all too aware that it can affect anyone at any time. But she never thought it would catch up with her… until it did: "I hadn't seen my breakdown coming. I knew it affects all levels of society at some point, but I'd always thought I was invincible."
While travelling in New Zealand, her 28-year-old son was diagnosed with cancer and had to come home for treatment. Then around Christmas, Angela herself became ill and faced her own cancer scare. The combination of these factors, as well as work-related stress, led to an overwhelming sense of unhappiness, from which she could not see a way out.
When her partner, a station manager in Ayr, Scotland, first suggested she might benefit from some time with The Fire Fighters Charity, Angela felt nervous.
"I didn't want to be away from home with people I didn't know, or to have to talk about what had been going on," she says. "But he has always spoken so highly of his visit to Jubilee House, I knew he wouldn't suggest I go unless he really thought I'd benefit from it. I had no idea that the group of people I would meet would restore my faith in humanity."
"For the majority of us, the support we've had from each other has been as integral to us getting back on our feet as the timetabled structure of our days"

Angela Bell
In March this year, Angela flew to Exeter Airport and made her way to Harcombe House, our centre in Devon. Within a few hours of being there, she had already made friends she says will be there for life.
"The staff said they'd never seen a group bond so well, or so quickly," she says. "Very quickly we found ourselves opening up, without anyone feeling pressure to do so. I'd said I didn't mind sharing a bungalow and ended up with a lovely lady called Lou, who had recently retired from the London Fire Brigade. Ours became the meeting point for everyone at the end of each day, to come and talk about what we'd achieved or gone through, and then we'd head to the pub together! For the majority of us, the support we've had from each other has been as integral to us getting back on our feet as the timetabled structure of our days."
Angela believes this group of people – of mixed ages, genders, jobs and backgrounds – was exactly who she needed to meet at that exact point of her life: "It brings tears to my eyes thinking about them, because they are all so special to me. We were all there with a common bond and absolutely looked after each other. For me that was a major part of the psychological healing, on top of my time in individual sessions."
Used to offering counselling to others, Angela had trepidation about how her psychological support sessions would go. But, she says, she need not have worried: "Kim was so easy going, so non-judgemental, and she was just such a nice, warm-hearted human being. She said the right things at the right time and allowed me to speak and explore without even realising I was doing so. By the end of the week, I had come to terms with what my problems were and things I had to deal with I'd been ignoring. Up until last year I had always been a very resilient person, but I'd become very down about myself. Now I had a new view on myself and went to bed each day with a sense of contentment, looking forward to the next."
"I realised positivity and happiness are two different things. We can be positive and try to make the best of a bad situation, but I had begun to feel genuine happiness again"

Angela Bell
By the time it came to saying goodbye, Angela says she felt strong again. But more importantly, she felt happy: "I hadn't used that word in a long time; I'd always tried to be positive when things were going wrong, but I realised positivity and happiness are two different things. We can be positive and try to make the best of a bad situation, but I had begun to feel genuine happiness again. It was impossible not to feel it while you were there; I'd come out of sessions and go for a wee walk in the beautiful grounds in beautiful weather, joined by lovely people. It sounds silly, but for the first time in a long time, I felt a sense of hope, like life maybe wasn't so bad after all."
A few weeks after returning from Harcombe House, Angela went back to work on light duties. While she is still learning to adjust to the physical health issues she has, she's using lessons learned during her week to keep her on top of her mental health: "If something doesn't go right, I am not immediately shutting off or catastrophising," she says. "I'm able to rationalise and put things into perspective, getting much more like my old self again."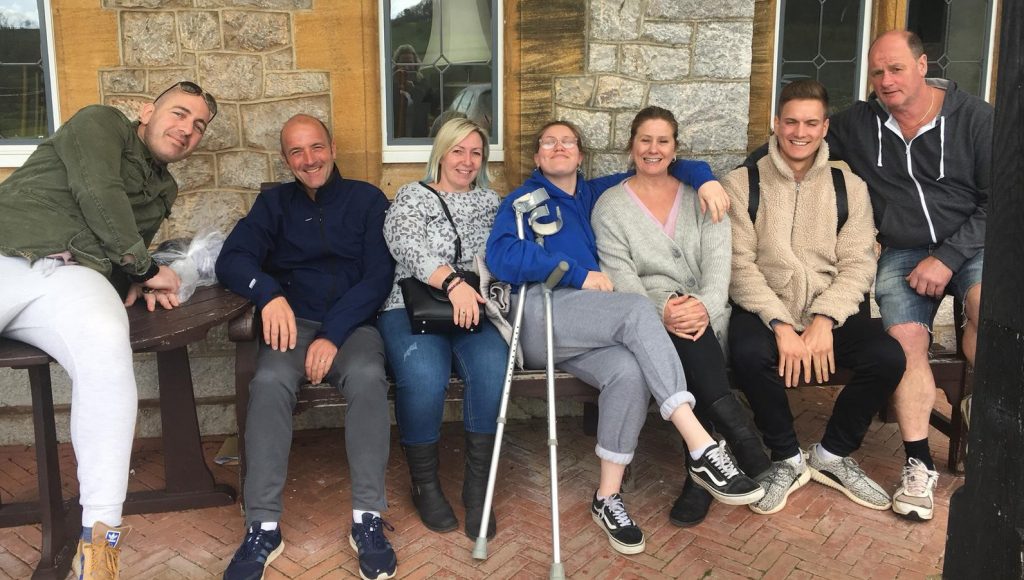 And if she is having a down day, her adopted Harcombe family are just at the end of the phone: "We have a WhatsApp group where we check in with each other," she says. "We support one another when we need it, and send virtual high fives to celebrate each other's successes. I want people to know how special a place Harcombe House is and not to worry about going there without knowing anyone; I had lost my faith in humanity, but here I was with this group of strangers who took me under their wing  and made me feel worthy again."
Share your story