We recently announced that leading forecourt retailer EG Group has chosen us as its first charity partner for 2022, a fantastic national partnership that will hopefully generate significant fundraising income over the coming few months…  and it's all thanks to firefighter and keen fundraiser Matt Pendlebury.
Matt, a wholetime firefighter with Lancashire Fire and Rescue Service, is now hoping to encourage other beneficiaries who are taking on fundraising challenges to consider corporate supporters too – as EG Group not only made his own London Marathon fundraising target possible, but the chance contact between the two has developed to see EG Group placing The Fire Fighters Charity at the forefront of its fundraising efforts until the end of April.
With highly visible promotion across its vast network of petrol filling stations and foodservice brands, this support will make such a huge difference, raise awareness and will help us continue to be there for our fire services community in the future.
Matt had known about EG Group for years, but didn't consider reaching out for fundraising support until he took on the London Marathon for us in 2021.
Due to Covid restrictions, he was struggling to fundraise like he wanted to, so began looking at potential corporate supporters.
"One of the Charity's fundraisers suggested looking at corporate fundraising, because I wasn't able to do anything on station due to restrictions," says Matt.
"I spoke to the Service and started to approach some companies that had similar values to us. I went all round Lancashire-based firms, but I got continuous no's because of Covid at the time.
"Around that time, I went into an EG Group fuel station with an adjoining Starbucks. This was during major lockdown and they'd put a sign up saying 'EG would like to thank all blue light services by offering a free coffee.'
"It twigged straight away. I ended up sending off an email and one morning I got up, looked at my phone, and I'd got an email asking me to contact them ASAP."
Matt was put through to EG Foundation who told him that they would love to work with the UK fire services community and would be happy to sponsor his entire marathon – donating £2,000 to us through Matt's fundraising page.
However, the support didn't stop there.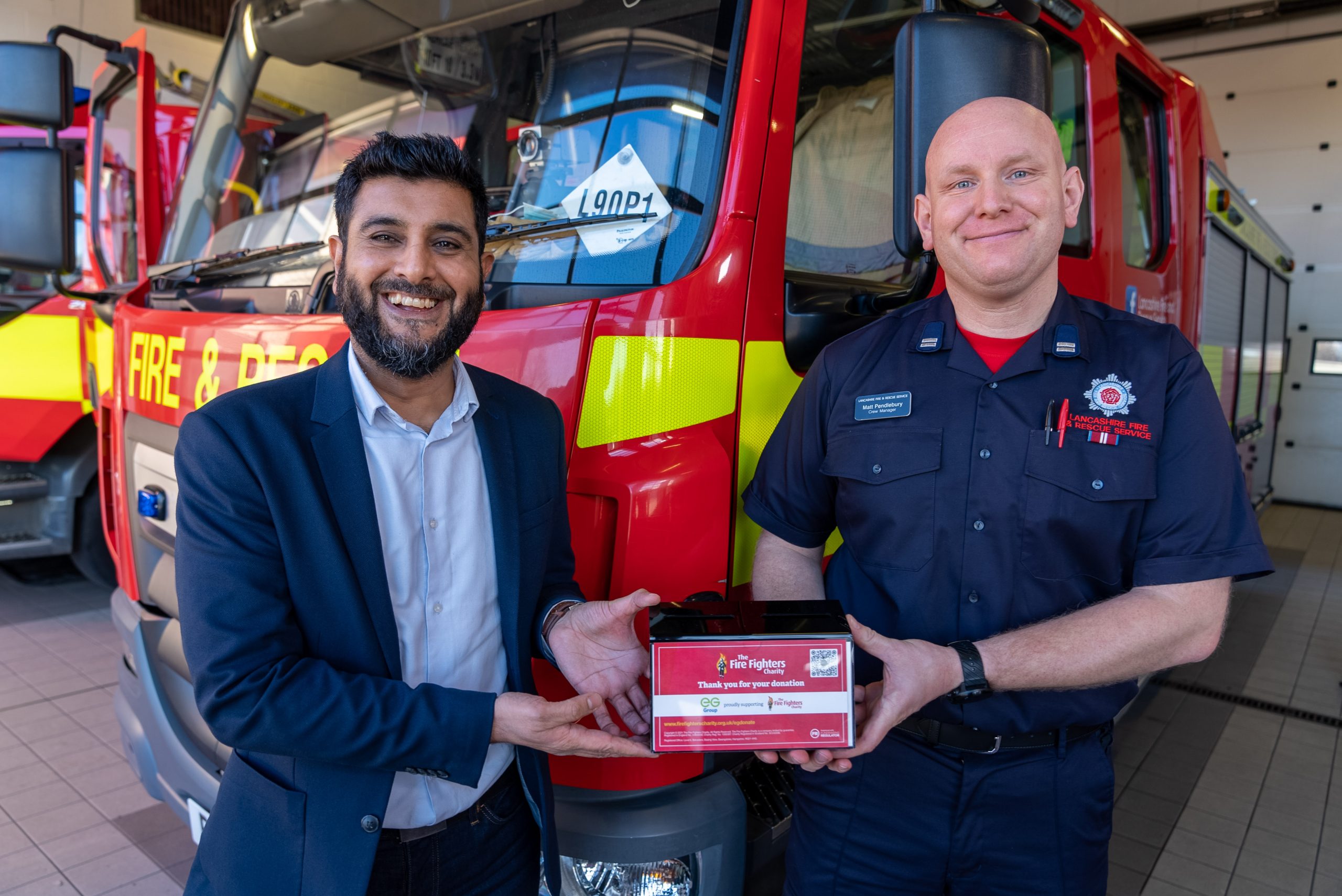 "I thought it was a case of, there's your money and off you go, but it was far from it," says Matt. "EG Group wanted to support me further and get involved. They then confirmed that The Fire Fighters Charity would be EG Group's chosen charity for the start of 2022."
EG Group will now not only collect donations on behalf of the Charity, but will also fully utilise its network of forecourt and food service locations across the UK to promote our important work from January until May 2022. There will also be a number of fundraising efforts with the support of EG Group colleagues during the partnership.
For Matt, doing anything he can to support us – however big or small – is hugely important to him.
"I know, and I've seen through friends and colleagues, how much this money helps people," he says.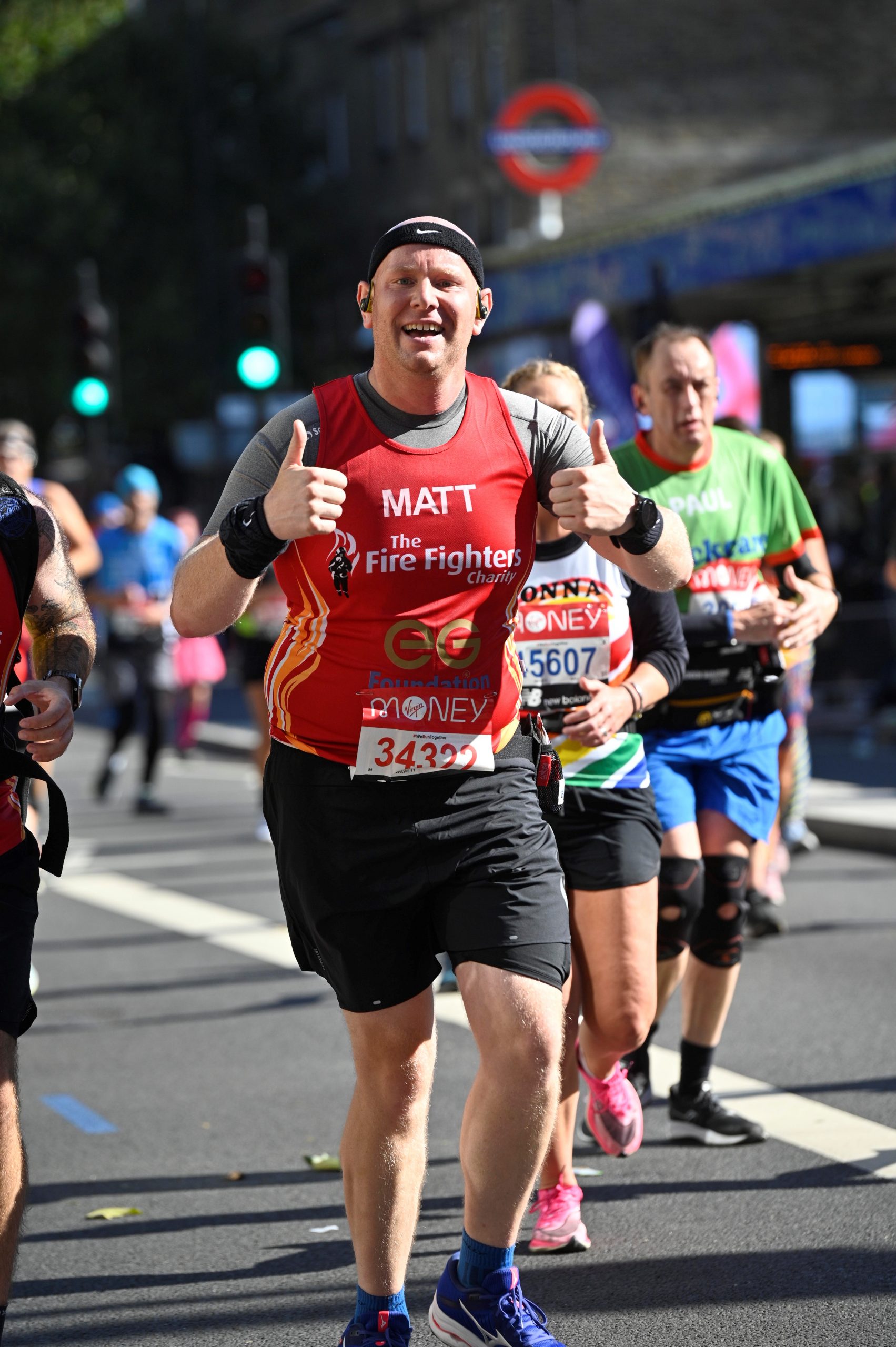 "I remember watching the Spirit of Fire Awards when it was done online, and listening to Paul Weller's story, I was in tears. To hear from someone that was in such a dark place…
"I got in touch when I heard he was doing the marathon and said I'd love to support his fundraising, and could he support mine. He agreed straight away. It went on from there and we kept in touch, offering each other support through training.
"A few weeks before, he said, 'how do you fancy running it together?' and I thought, 'I'd love to'."
Matt went on to smash his marathon, running alongside Paul throughout, in October last year.
"Paul suffered with his leg about halfway through, and he said, 'you go' and I refused," recalls Matt.
"It wasn't about a time for me, it was about finishing. He was telling me to go repeatedly, but I wasn't going anywhere. At the end of the day, that's what this Charity is about, it's about helping each other.
"That meant far more to me, finishing with him as a partnership. It was one of the best things I've ever done."
Matt adds: "I've always known the amazing work the Charity's done – I was a rep for years too, so it's really important to me.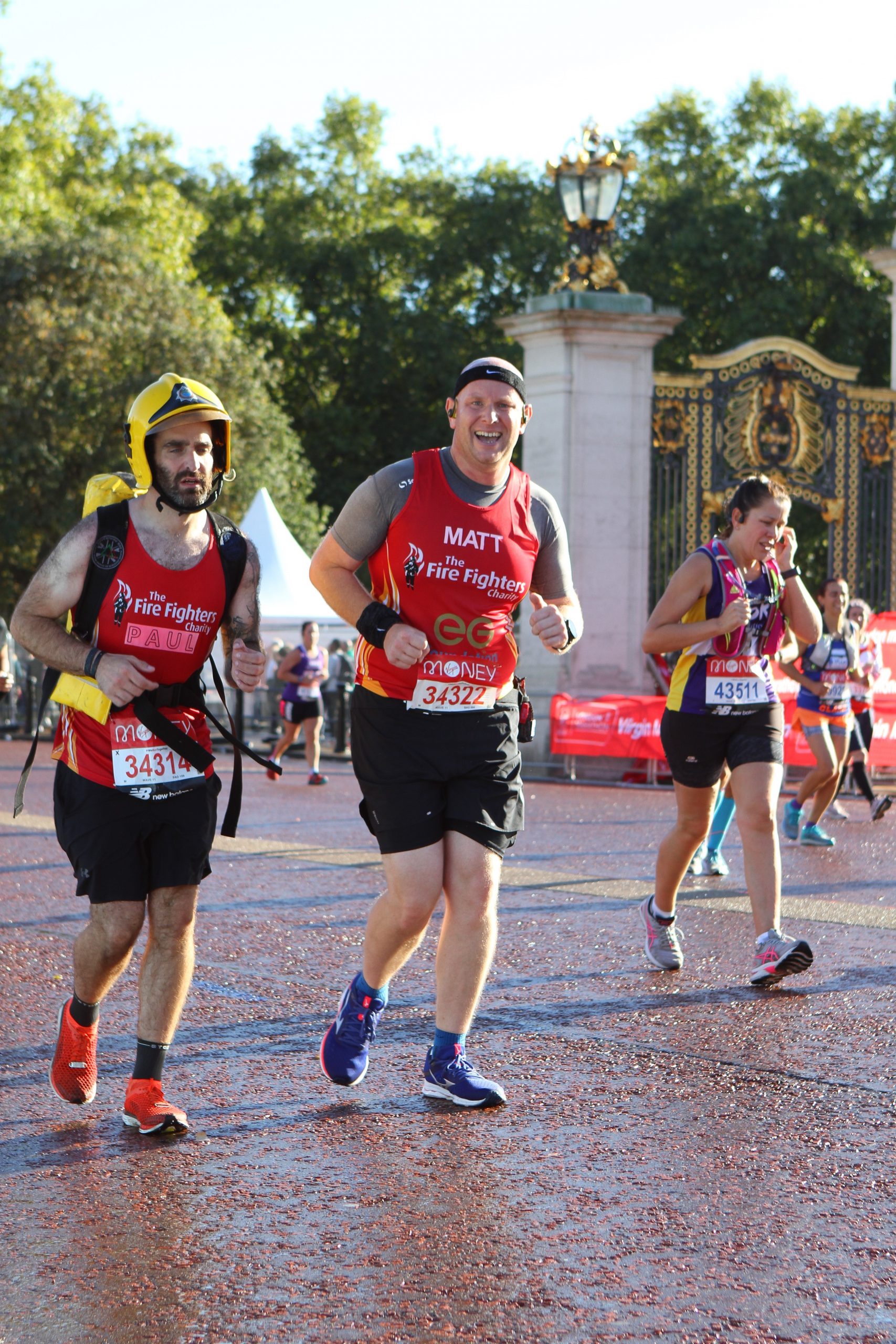 "I went through some stress a few years ago and my station manager suggested I get in touch, but I kept saying, 'I'm alright, someone needs it more than me'. I can see first-hand why people might think that now.
"Seeing the work they do… it's amazing. It inspires you. A lot of people might use it, but then not do the fundraising. But without the fundraising, the Charity couldn't keep offering that support.
"For me, I know it's there for life, especially with the way mental health's going now – it's good knowing that support mechanism is there in the future."
If you're struggling with your health and wellbeing, we may be able to help you. Call our Support Line on 0800 389 8820, make an enquiry online or register for MyFFC and visit the 'Access Support' tab.
You can also join our 'Share Your Story Group in MyFFC to chat to others who have received our support, or enquire about sharing your own story.
Meanwhile, if you want to find out more about our corporate partners, visit our corporate partners page here: