We've seen people do all sorts of weird and wonderful things to show their support to us this year and take part in our Fire Family Challenge.
But Nicola Matthews probably wins the award for one of the more novel way of fundraising for us.
A freelance film and special effects make up artist from Essex, Nicola found herself with more free time on her hands than usual when lockdown halted production on her usual work commitments.
She was inspired by media personality Amanda Holden's lockdown challenge of taking out the bins in her ballgown, to make up for the fact leisurewear became a wardrobe staple for many of us this year, and started to get involved.
"I saw her posts and thought, I could do that," says Nicola, who lives in Waltham Abbey. "I've got so many dresses that my nan had made me, as she was a professional seamstress back in the day, as well as some of hers I'd inherited. So I just decided to do my own version and called it Wheelie Bin Wednesday."
Nicola set herself the target of doing it for 20 weeks, with no other purpose than to cheer up neighbours and friends on social media. But as each week passed, Nicola's desire to make things bigger and better grew. Until one day, she had an idea to turn her gesture of fun into something good.
"It started off as a bit of a laugh to entertain people, but then I thought it might be nice to do something worthwhile as I was going to all this effort," she says. "Everyone was doing stuff to raise money for the NHS, so I decided to pick a different group of keyworkers to fundraise for and who better than the firefighters?"
As a member of the public, Nicola has no connection to the fire service. But she contacted Waltham Abbey and Kent FRS to ask if she could turn her fundraising into a way of supporting the station, and was signposted to The Fire Fighters Charity.
"I admit, I'd never heard of the Charity before, but I looked into you guys and saw the work you do to support everyone in the fire service," she says. "You can sort of imagine what firefighters see when they go out and save people, but you don't think of what happens to the people on the phone, or those who have retired and have to live with the things they've seen. Every emergency service goes all out, but I wanted to support the fire community. So I was really pleased when I found out the Charity covers every aspect of the job for the fire brigade, as well as their families."
Now she knew who she wanted to support, Nicola then devised a plan to fundraise. On Sunday 31 May, she took her wheelie bin out on the road, walking the 3.5 mile route to Waltham Abbey Fire Station and back, all the while wearing an evening gown, heel and gloves.
"What else would you walk 3.5 miles pushing a wheelie bin in?" she laughs. "I picked my most comfortable shoes, and only got five blisters in the end, which is better than I'd imagined. I also managed to pick one of the hottest days of the year to do it on, so it was hard going, and I look a lot more dishevelled in the photos at the end than I do when I set off! I'd asked the fire station if I could pop in and say hello on my way, but unfortunately that wasn't possible because of Covid. Hopefully I can go say hello when this is all over."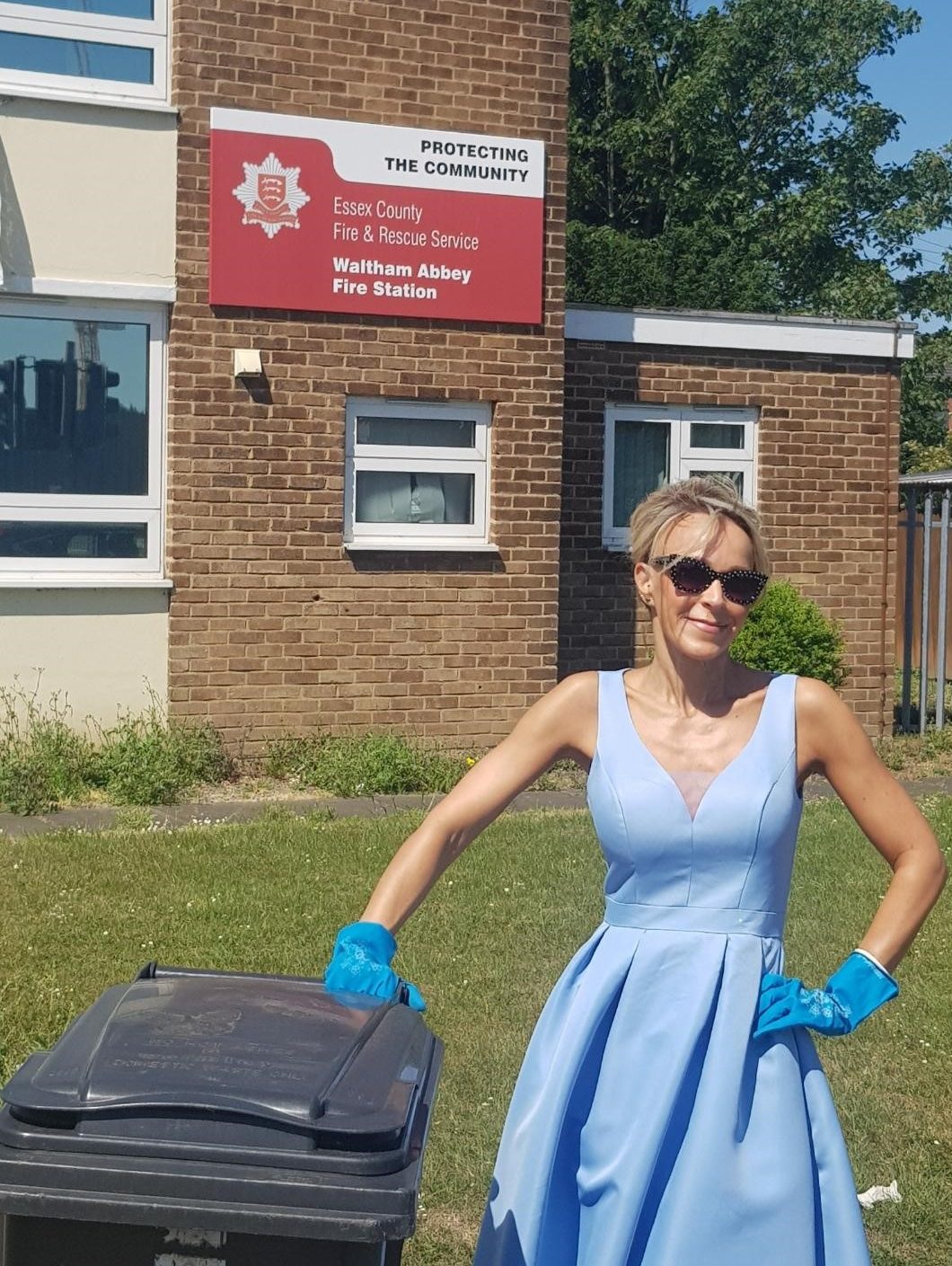 Her challenge may have began life as some light-hearted entertainment, but the amount Nicola raised was no joke.
"I raised about £645 in the end," she says. "People put money in my tin along the way and my neighbours all came out to clap me. It was actually quite emotional, because of how much support I got. Everyone's been donating what they can to the NHS, so I didn't expect people to give too much to me, but I was touched by everyone's generosity."
Waltham Abbey Station Manager Steve Wintrip was also impressed with Nicola's efforts: "We're really pleased to see one of our local residents raising money for a Charity close to our hearts. We look forward to meeting Nicola when restrictions lift to thank her in person."
Could you become our next fundraising hero?
We can't do what we do without incredible people like Nicola, who, like many amazing others, have taken part in our Fire Family Challenge this year. Our fundraising has been significantly impacted by the coronavirus pandemic, but with your support we can continue to be there for people in need in the UK fire family.
You can find out more information about ways to support us here, whether that is by taking on your own fundraising challenge, becoming a regular donor or, if you can't afford to support us at the moment, considering leaving us a gift in your will.