The first lockdown last year turned many people's lives upside down, but for firefighter Sean Michael, it was the start of some of the toughest months of his life as he struggled to come to terms with early retirement from the job he'd loved for 33 years.
After being diagnosed with a heart problem and breathing issues, Sean – who was retained with North Yorkshire Fire and Rescue Service as well as a firefighter at Leeds Bradford Airport – had to step back from both of his jobs and began struggling with overwhelming feelings of isolation.
However, he says at his darkest point he found the strength to reach out for help from the Charity – and the support he received from our psychological services team over video calls, as well as our online Living Well Groups, welfare team and physiotherapists, proved life-changing.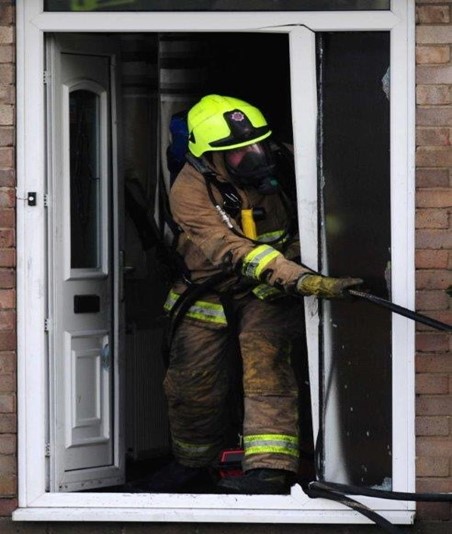 Sean had always been fit and well throughout his time with the fire service, but he says he began noticing he was struggling with his breathing a few years ago.
"There were a couple of jobs I went to where I was running out a hose and I was finding I was getting out of breath. I knew it wasn't right," says Sean. "At first I was put on light duties for a bit and I eventually went to see a respiratory consultant at York's hospital and he said he thought it was a bit of asthma."
It was around that time that he contacted the Charity for the first time and was offered a week's stay at Jubilee House, our centre in Cumbria, to work through a series of programs with our exercise therapists.
"I felt really good there," says Sean. "I went through all the programs and at the end of the week, you do an assessment. I rolled out a hose and rolled it back up again and the guy doing it said he was surprised how out of breath I was doing that."
It prompted Sean to see more medical experts around 2016. He was advised to lose weight to see if it would help and he immediately dropped two stone – which he found eased the problem in the months that followed. However, in 2019 his breathing issues came to a major head.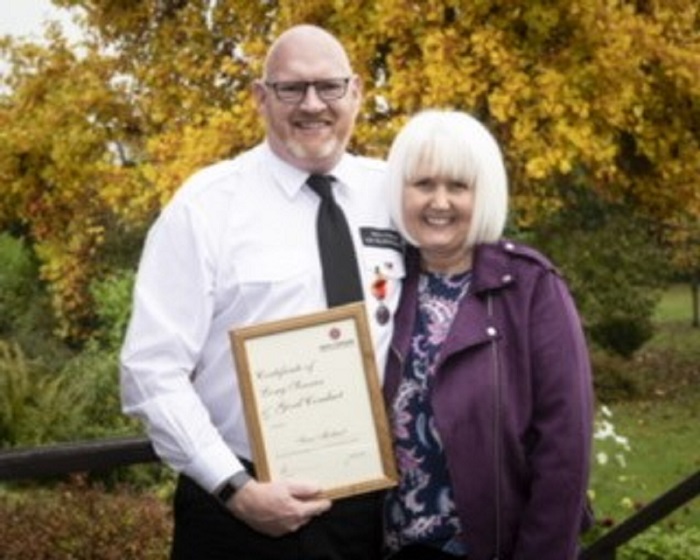 "I was on a breathing apparatus exercise and carrying a casualty out of the building, and I was breathing really hard," says Sean. "As I got outside I actually collapsed. That was it, all hell broke loose – even the air ambulance turned up. They did all the tests and my oxygen levels were down. I was feeling really unwell and I actually had to go onto oxygen therapy for a bit. I went home and I was on sick leave from there – from both my jobs."
Sean says he was forced to stay off work for around a year overall, which meant he dropped down to half pay after six months. Meanwhile, knowing he couldn't offer the 100% fitness that he had before to the retained service, Sean made the difficult decision to resign from his position.
"The station was right by my house so I'd hear them going out in the fire engines. That really affected me," says Sean. "We were really struggling when my pay dropped so I got in touch with the Charity again – they were awesome. They managed to get us some shopping vouchers, right around Christmas time, I don't know how we'd have survived without that. It was amazing."
Throughout his year off work, Sean was in and out of hospital having tests to try and determine what was going on. He eventually had a procedure on his heart and was finally given a diagnosis – he had a narrowing in an artery in his heart. The diagnosis coincided with the start of the pandemic in March last year, and Sean was offered voluntary redundancy from his job at Leeds Bradford Airport.
"All of a sudden you go from being someone that's helping your community and helping people, to feeling like you're a complete nobody. It's such a strange feeling," says Sean. "Before Covid, I'd go up to the station to see people. That was quite good for me and helped me get over it, but when Covid hit I couldn't go and see anyone from the fire service. That's when I started to get really very low.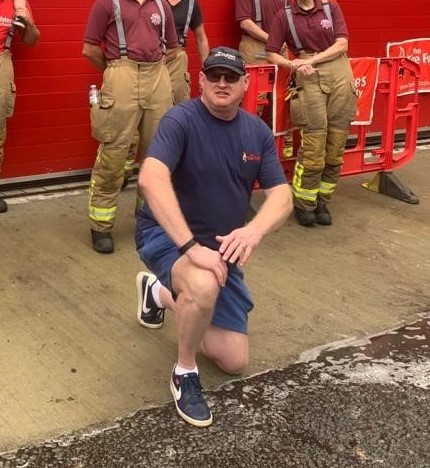 "I did get to the stage where it was very dark times and dark thoughts. My wife could see what was happening to me and she knew the type of person I was… I had told her I'd been having really dark thoughts and I eventually said I needed help. My wife suggested I get in touch with the Charity for help from the psychological services team."
Sean initially spoke to the team over the phone, who advised him to immediately get in touch with his GP. He was offered medication and help, but stayed in touch with the Charity throughout. Then, as the second lockdown hit towards the end of last year, he began a series of video consultations through our clinically approved system, to talk through how he'd been feeling.
"I had six video consultations and that was awesome – I couldn't thank the Charity enough for those, they really helped," says Sean. "It took a bit of soul searching, I got down to some nitty gritty stuff, but it was really good.
"It is a life-changing thing, and I'm not being dramatic there. To me, it was life-changing."

Sean Michael
"They then got in touch with the physio team and I had a chat with one of the team, Laura, who recognised me from my first visit to Jubilee. She's helped me with a lot of breathing exercises and some relaxation routines. I'm at a stage now where I don't get really out of breath and I'm more aware of what I'm doing and my limits."
Sean has since joined some of our online Living Well Groups, giving him the chance to chat to other retired members of the fire services community.
"You need to continue supporting right into retirement," says Sean. "When I was having my counselling, I felt very isolated. The online Living Well Groups have been absolutely awesome, I can't thank you enough for those. When you're sat at home looking at the screen, you feel really relaxed and like you can take on what's being said. I hope a lot more people know about it and do it. It is a life-changing thing, and I'm not being dramatic there. To me, it was life-changing."
He has now dedicated the last year to saying thank you to the Charity through a series of epic fundraising events, including his own spot in the Fire Family Santa Dash and even a 5,000 steps a day walking challenge last year. Sean, who has since moved to Leicestershire with his wife to be closer to their daughter and as a chance for a fresh start, away from the painful reminders of his career, is also signed up to our latest fundraising campaign, Brew With a Crew, which he'll be doing with his family. And he says he'll continue fundraising and regularly donating for years to come.
"I'd encourage anyone to do the same… Fundraising doesn't cost you anything, you've got to help support the Charity, it's there for you at the end of the day and will be there for you when you need help," says Sean.
If you're struggling to adjust to a life-changing illness, or struggling with your mental health or social welfare, get in touch with us. Call our Support Line on 0800 389 8820 or make an enquiry online at www.firefighterscharity.org.uk/support.
Share your story