Please note: the following story contains references to suicide that may be upsetting to some readers.
Research suggests that every death by suicide impacts around 135 people* – but perhaps none as closely as immediate family and friends.
Victoria Kidner tragically lost her husband, Dan, to suicide in July 2022 at the age of 38 and has now shared the devastating impact his death had on her and her two children, to try to encourage more people like him – who may be struggling with their mental health – to reach out for immediate help.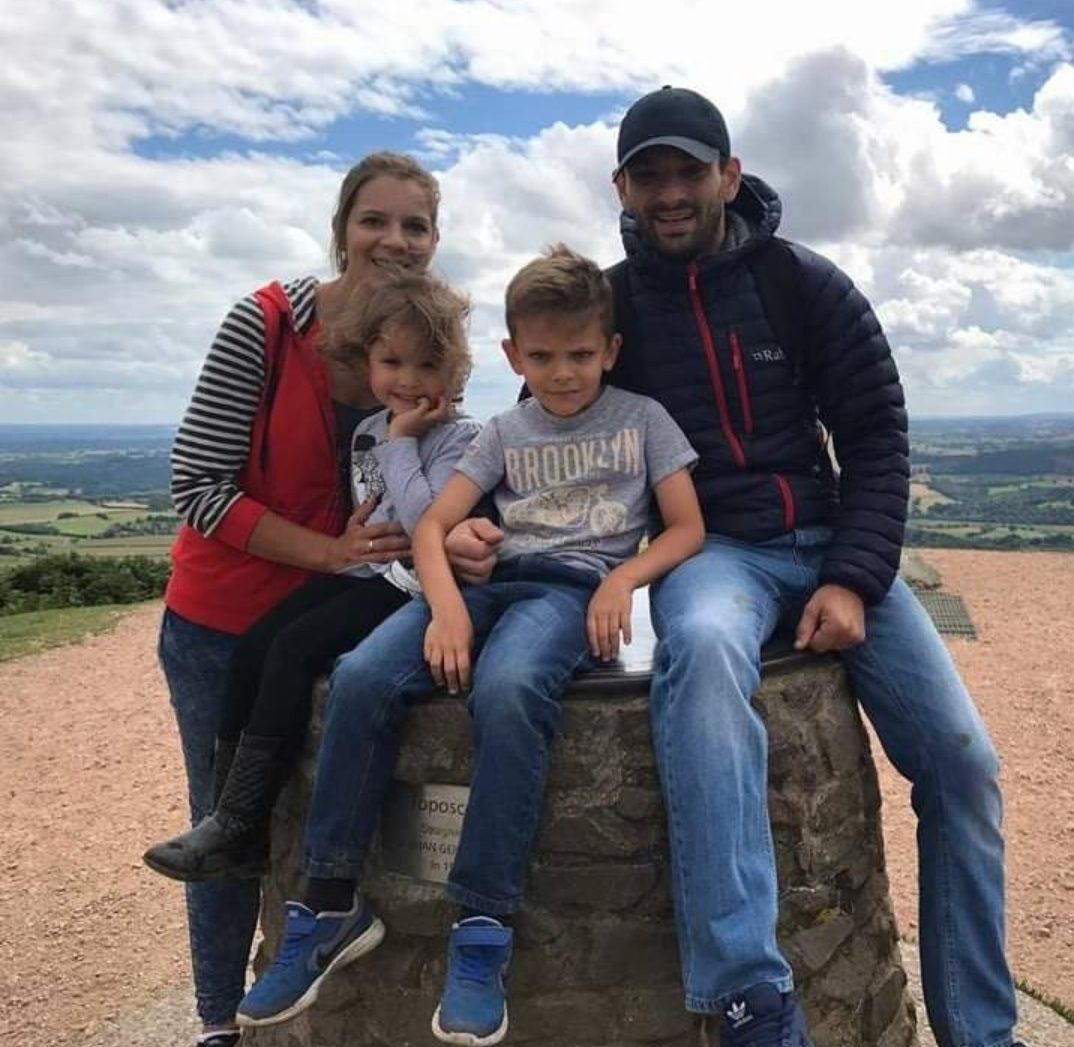 Dan was a firefighter with West Midlands FRS and had been experiencing serious mental health challenges for around 15 months before he passed away, triggered when his 17-year-old son, Farley, died suddenly in 2021.
However, Victoria says his death came as a huge shock to her and her family, and nothing could have prepared them for the overwhelming grief that followed.
She now hopes by sharing her story, she'll encourage anyone in the fire service who may be experiencing suicidal thoughts to call our 24/7 Crisis Line on 0300 373 0896.
Read more on our 24/7 Crisis Line
"We'd been together for 15 years, 10 years married – it was actually our 10-year anniversary the month before it happened," says Victoria, 37.
"Dan was always very full of life. He could be quite reserved but in most circumstances he was just the loudest one in the room and his laugh was infectious, he had a really funny laugh."
Victoria saw a sudden and lasting change in Dan, however, when his son Farley passed away in his sleep.
"Him and Farley were best friends as well as father and son, it was beautiful to watch them together," says Victoria. "Losing him… he just wasn't equipped to deal with that and to deal with life without him. It really made a huge impact on his life.
"He tried a few different techniques to get himself through it, but they became obsessions. The times he wouldn't get out of bed was when I knew he was completely down. He'd lie in bed all day every day and that's all he'd do. But he hadn't even been doing it before he died, that's the thing…"
Dan had begun firefighting shortly after Farley's death, as it's something he'd always dreamed of doing and something he and his son had talked a lot about.
"The fire service was his headspace, and that's where he was focusing all his energy," says Victoria.
"Firefighting was something he'd always wanted to do. He joined the army first and he kept the fire service on the backburner, maybe because he was worried he wouldn't get in. That was a big thing for Dan, he was always trying to push himself further but was always fearful of not being able to complete it. But the thing with Dan was, whatever he put his mind to, doesn't matter what it was, he'd ace it every single time. I'd just sit there in awe of him.
"When he got into the fire service, that had been his main goal and he'd just lose himself in it."
Victoria says despite Dan's best efforts to find coping mechanisms during that year, he continued to struggle with his grief alone and didn't find the help he really needed.
And in July 2022, Victoria's worst nightmare came true. Dan took his own life.
"It was myself and my son, who's now 13, that found him," says Victoria. "There was immediately a lot of guilt for me, because my son had seen something he shouldn't have seen.
"The whole night that it happened it was all just numb, shock, traumatising, just to name a few words. It was just complete and utter disbelief about what had happened.
"For me it was not wanting to believe it was true, thinking 'someone's going to tell me something different in a minute'. It was just traumatising, something that will stay with me forever.
"Even though it happened when it did, I didn't think that it was going to happen. He was always up and down with his mood but there were no immediate signs that that was where his head was at at that moment, so it was a complete shock."
In the days and weeks that followed, Victoria says she tried to focus solely on her kids to get through it.
She adds: "The only advice that I have is I kept looking at my kids. I thought, 'as long as they're smiling, as long as they've got happiness in their eyes, that's what's going to get me through'. They were my main focus, they still are and they always will be.
"They're way too young to have gone through what they have. They lost their brother and then after that they lost their dad, I just think 'you're too young'. We talk about their dad constantly, we don't ever let him disappear."
A few months after Dan's death, Victoria heard about some of the support we offer families and got in touch with us to ask about the possibility of a break away. Her and her children, Jamie and Sofia, offered space on one of our Child and Family Weeks at Harcombe House in Devon, which she says was some time out they all really needed.
"After it happened I had a lot of involvement from the fire service and it was one of the officers who mentioned the Charity and the Child and Family Weeks," says Victoria.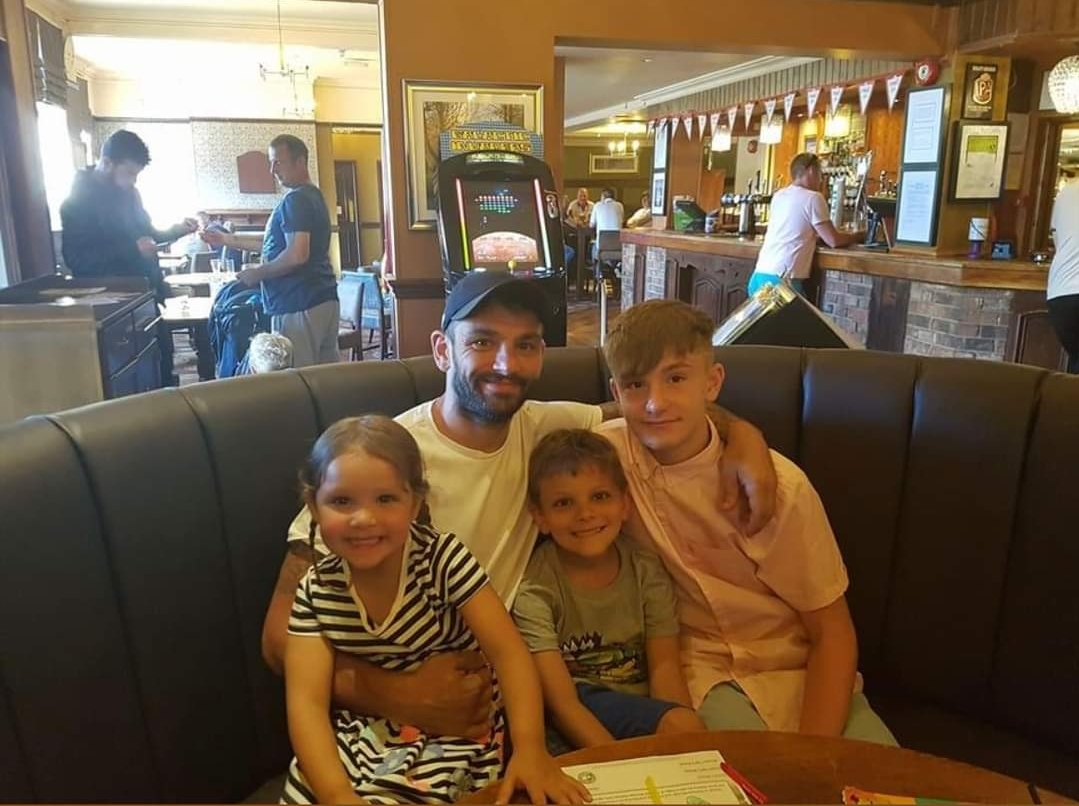 "It took a while for me to actually reach out. I went in July 2023, so I must have got in touch a few months before that.
"The bungalows are really nice. The kids walked in and said, 'can we live here?' I was like,' unfortunately not!' The best part for me was not having to cook for five days! I never realised how much Dan prompted me to cook, just having him there made me cook."
Victoria is now hoping to enquire about attending a Single Parents week we're hosting in 2024, for families, and says she's also seen how vital some of our online resources are. However, she says perhaps most vital for her to raise further awareness of is our new 24/7 Crisis Line, which she hopes will save lives.
"It's something that's definitely needed," Victoria says. "It came after Dan passed away, but if we can try to prevent blokes thinking this is the only option, then that's great.
"It's also about preventing any families going through this… it is hard work trying to help someone through depression, but I would much rather be helping him through that and pushing him to get better than have to deal with life without him.
"It is quite daunting as the partner, watching them destroy themselves day by day and there's nothing you can do, as much as you try and put into it, you're just watching them crumble and you feel so helpless.
"It's good that you've put something like this in place now, just to help people. And if it helps just one person then that's one family that doesn't have to go through the trauma and devastation of something like this."
If you're feeling suicidal, call our Crisis Line on 0300 373 0896.
If you feel you'd benefit from our health and wellbeing support, you can call our Support Line on 0800 389 8820, make an enquiry online or visit the 'Access Support' tab in My Fire Fighters Charity.
*Office of National Statistics