Transforming a scarred and decommissioned fire hose into a stunning handbag, wallet or keyring seems unimaginable – but the team at Elvis & Kresse do it every day, and they invited us and several fire service personnel to see it first-hand recently.
The luxury fashion accessory manufacturer, which has been one of our most dedicated corporate supporters for 17 years, has developed a new workshop and HQ in Kent, which we were delighted to be invited to, to look around and see the manufacturing process as it happens.
Our Community Fundraiser, Louise Furneaux, said on the day: "It's really exciting for us to be the first group of people to come and see this amazing environment that Elvis & Kresse have worked towards."
Elvis & Kresse was co-founded by Kresse Wesling and her partner, and transforms discarded fire hoses into stunning handbags, wallets, belts and more – with 50% of the profits coming directly to us. And that's just one part of the hugely successful business.
In the last financial year alone, Elvis & Kresse donated a huge £63,727.12 to us.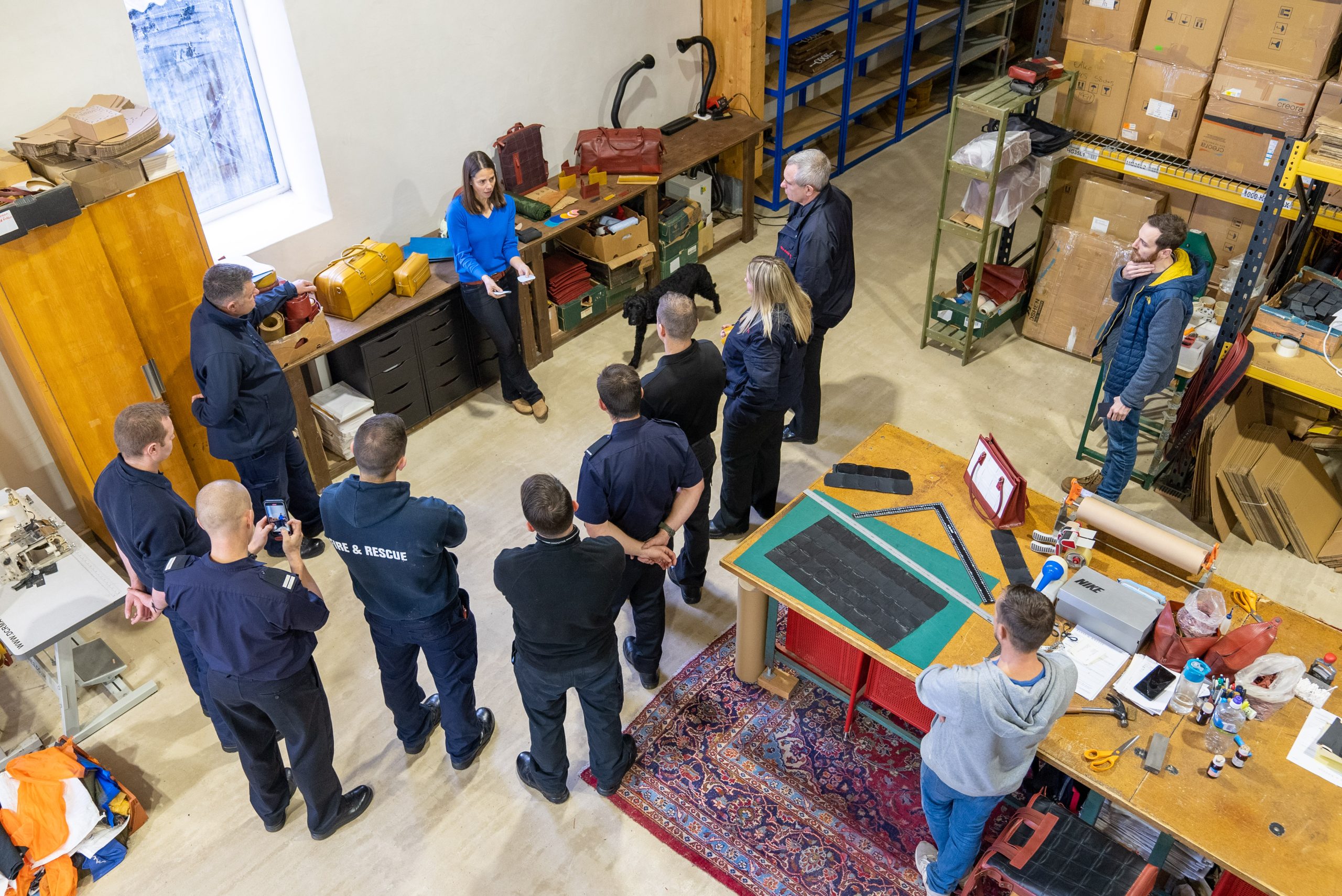 Kresse says: "We set up the business exclusively to rescue London's damaged decommissioned fire hoses. When we found out these were going to landfill, we knew that they deserved a better second life.
"The whole business has evolved from that one mission, which was to save the hoses. Over time we learned how to split them, clean them, cut them, prepare them, transform them into a textile… make products.
"We've never had a time in his business where we weren't working with the London Fire Brigade and now lots of different brigades, and The Fire Fighters Charity, so it's pretty much from day one."
We were joined on the day by personnel from several Fire and Rescue Services across the UK, as well as fellow supporters.
Chris Sellick from Hampshire & Isle of Wight Fire and Rescue Service, one of many firefighters there on the day, said: "It's quite overwhelming the quantity of hose they've got here and the craftmanship around some of the products like the little keyrings, the wallets, the handbags."
Ivan Horbacz, from West Midlands FRS, added: "Also what comes with that is the story and what the product is itself – so for me personally, I like to see a bit of damage on there, a bit of character."
You can see photos inside the new HQ here.
Could you support us as a Corporate Partner too? Find out more here: