When Shannon Sheehan's daughter, Poppy, was diagnosed with blood cancer in June 2022, her world was turned upside down.
Not only did she have to take Poppy out of a school she'd just joined and loved, but she also faced months on end of hospital appointments and intense chemo – all of which took a major toll on the little girl.
However, she says a shining light amid the ordeal was a visit to a fire station, thanks to Humberside Fire & Rescue Service – and now Poppy is planning a fundraising challenge this summer to say thank you to the firefighters that "made her feel like a princess".
"Poppy wanted to help the people that helped her," says Shannon. "That's exactly what The Fire Fighters Charity does. It helps the people fighting out there every single day to make sure we can all come home."
Shannon had recently moved to Grimsby with Poppy, following a marriage split, when she began to notice Poppy was paler than usual.
"At first we put it down to the fact she was busy at school – you never consider it'll be the worst case scenario," says Shannon, who worked for a local ambulance service doing transfers before Poppy's diagnosis.
Growing concerned for her when she appeared more unwell, however, Shannon's mum took Poppy to the doctors one day and just 24 hours later, she'd been diagnosed with acute lymphoblastic leukaemia.
"The diagnosis came as a huge shock to our family, and we were all heartbroken, Poppy included," says Shannon. "I can't remember much from the day we found out to be honest, I think I was in shock.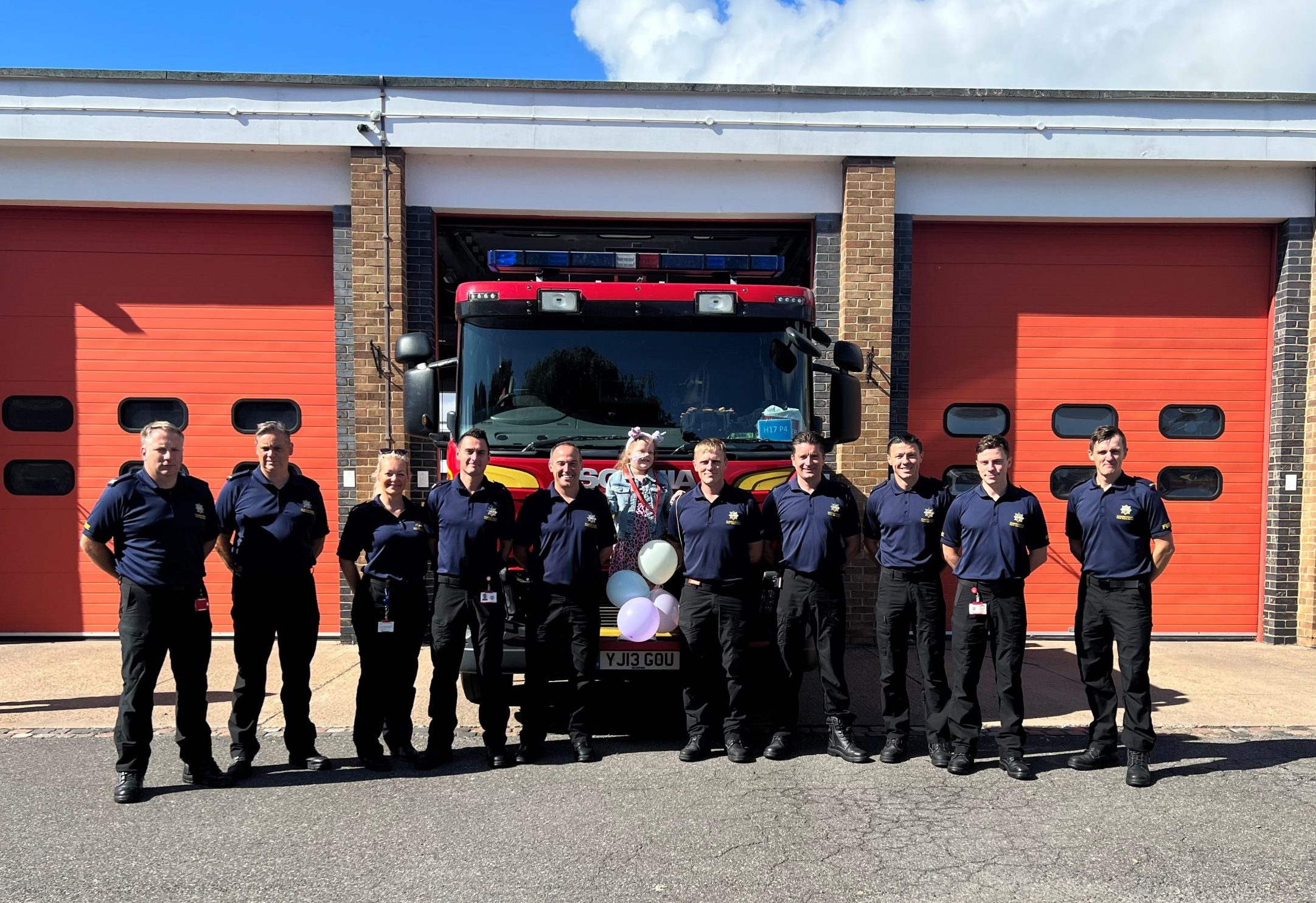 "Our whole world was turned upside down. She really struggled with it all, and as her mum, it was truly the most heartbreaking thing I've ever seen. The beginning was very rough, and my daughter, was not herself. She never smiled, laughed, played or barely even spoke. We tried everything, but nothing seemed to have worked.
"Poppy didn't understand why she couldn't go to school, play with her friends or do the things she used to do. Anyone who knows Poppy, knows how happy she normally is, there isn't a day, she isn't smiling. We lost that part of Poppy, when she was diagnosed."
Poppy had always loved watching emergency service vehicles, particularly ambulances and fire engines, so Shannon began to think of ways she could surprise her and cheer her up amid her chemotherapy treatments – which begun almost immediately from the moment she was diagnosed.
"When a fire engine goes past, Poppy stops everything to watch. She loves them," says Shannon. "That's what prompted me to reach out to Humberside Fire & Rescue Service, in the hopes of just having a five-minute one-to-one with a firefighter.
"On the 31st August, two days after her 5th birthday, Poppy was invited to Peaks Lane Fire Station in our hometown, where she was treated as a princess. I was so taken aback – they'd thought of everything.
"They dotted balloons around the station, played hide and seek, she had a ride in the fire engine, received gifts, held the hose, and a range of other things. This was the first time, she had smiled that beautiful smile in such a long time. I'll forever be grateful to all individuals who played a part in making her feel so special!"
Poppy continued speaking about her wonderful day for weeks afterwards and soon told her mum she wanted to do something to thank the firefighters she'd met on the day.
When Shannon began researching, she saw our Charity supports all fire service personnel, just like those that had been there for Poppy, and decided they'd focus on raising funds for us.
"On the 16th June 2023, Poppy, and all of our family, will be walking the Humber Bridge, which is around 1.4 miles long, in a bid to raise as much money as we possibly can. We will be dressed up, laughing and singing our hearts out!" says Shannon.
"If anyone can support Poppy on this journey, we would all be so very grateful!"
Shannon was recently told Poppy had gone into remission – some incredible news that she'd been dreaming of hearing. She will continue to receive chemo for the next two and a half year, to ensure the cancer remains at bay.
To support Poppy's fundraiser, click here.