As an on-call firefighter with Scottish Fire and Rescue Service, Rachel Sutherland knew about the support we offered beneficiaries – but until she received it herself, her husband Jim didn't know what a difference it could make.
However, having seen how far his wife has come in her recovery since, Jim wanted to do something to say thank you to not only our team, but also to our valued supporters who donate to us and make that support possible.
Jim, 57, who works as a teacher, cycled from Land's End to John o' Groats on a bike he'd built from spare parts in August, and raised an incredible £2,618 in the process.
Here, he and Rachel, 48, share his motivation behind the challenge:
"To be honest I didn't know much about the Charity – or that I'm also eligible – until Rach received support," says Jim.
"I was in mountain rescue for 20 years too, so it was new to me to hear there's this level of support for on-call firefighters too – as well as for partners."
That changed when Rachel injured her shoulder and was diagnosed with breast cancer shortly after – all of which led to a 'frozen shoulder'.
Rachel says: "It all stemmed from me having a rotator cuff injury at first. I then had a lumpectomy after my cancer diagnosis, followed by radiotherapy. The position you need to be in to have that treatment is on your back with your arms above your head.
"I think after roughly a week of that, my shoulder went from being a little bit sore to agony. I had to keep moving it for the treatment, I pretty much had to grit my teeth and get on with it, but once that was over I couldn't really move it.
"The time after was more impactful than the cancer treatment itself to be honest, I was in so much pain.
"I was off my work as a firefighter for a total of nine months… a frozen shoulder can take a lot longer than that, so I was relatively lucky.
"I had been aware of the Charity, not really knowing who could get the help, but there had been a few others who'd been supported and they recommended it to me. Everyone that I spoke to spoke so highly of how they'd benefitted from the help they had. I got in touch from there… that was November 2018.
"When I went to Penrith, I wasn't in terrible pain at that point but it was still bad. What they got me to do began loosening it up, it was very, very useful.
"Within three days of following a treatment plan created for me, I was managing to do 'freestyle' in a swimming pool! My trip there also helped enormously with my general wellbeing following my cancer. I met a variety of people as the charity is there to help firefighters, both serving and retired, and also their family members. Donations are essential for them to provide their amazing service.
"I was able to return to work a couple of months after that, which was brilliant.
"I'd really encourage anyone who maybe hasn't thought of it, to get in touch with the Charity if they're struggling, with whatever it may be."
As Rachel's movement and pain level continued to improve, Jim begun thinking of ways he could thank us.
"I got talking to some friends from mountain rescue, who do a lot of biking, and we thought of LEJOG – it set it up in my head," he says.
"Last year at the local bike shop, BaseCampBikes, which is just round the corner, my son told me that the owner, Lindsay, often left unwanted bike parts out the back for people to help themselves to.
"I went to check it out and picked up a frame that was very good, just old. I wasn't sure what I was going to use it for, as I have a lot of bikes, but I liked the idea of collecting parts and building a bike – with help from my friend Ian of Auldearn Bike Repairs – to use for Land's End to John O'Groats.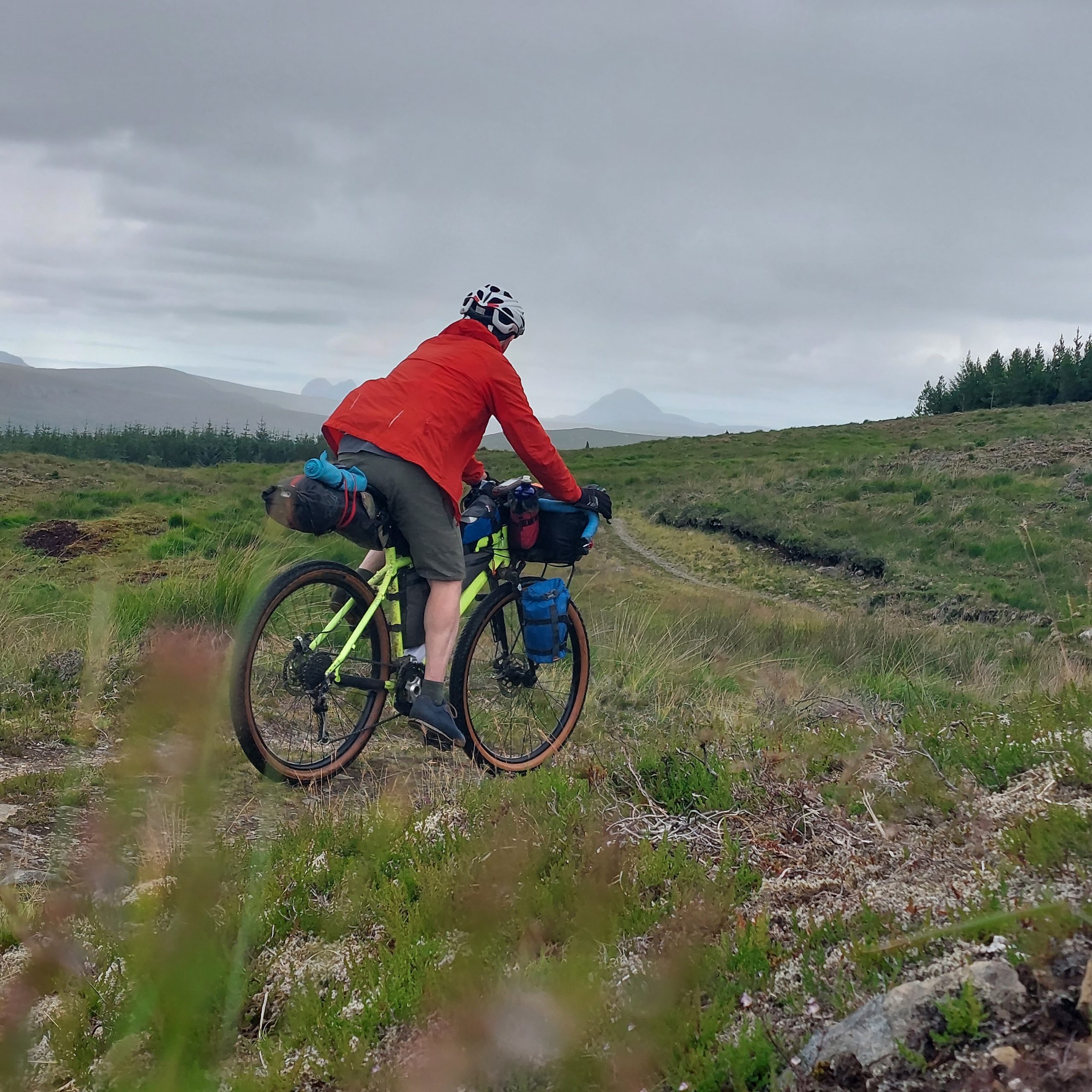 "I knew I didn't want to do the whole thing on road, because it would have been relentless. But I also wasn't hard enough to do the whole thing off road! So I did a bit of each on that bike which was really, really successful."
Jim stopped at fire stations along the way, as well as Jubilee House, all of which supported him and provided him with much-needed breaks and refreshments.
"The weather was scorching halfway through, so I changed my route so I didn't go over the Pennines, because I'd have just got fried with no opportunity for any shelter or water stops," he adds.
"I went to a local fire station – which I'd been doing throughout the route – and they let me use the computer to plan a new route and charge all my devices. They were all so helpful."
Jim adds: "The remarkable turnaround that my wife made as a result of her treatment at Penrith was life-changing and I would want others to have this chance as well."
The challenge – a total of 1,200 miles – took him 18-19 days overall and went to plan after six months of training and preparation. Jim is delighted to have raised so much money and he says it wouldn't have been possible without the support of clothing business Armadillo Merino, which helped him with his fundraising page and advice throughout.
Mat at Armadillo Merino says: "It was great to be able to speak with Jim and be a part of the team for such a great cause."
To support Jim's fundraiser, click here and to read his Six Moon Designs blog posts throughout, click here.