A group of London firefighters from Walk & Talk 999, a men's mental health walking group, walked 100km in aid of us and motor neurone disease research, to honour their friend's wish: "Live every day the best you can".
John Chart, a former LFB firefighter, is living with motor neurone disease (MND) which is starting to impact his mobility. His incredible bravery and positivity throughout is what inspired three of his friends to take on the walk.
"It's all about raising further awareness because not enough people know about MND," says John.
"It's a disease with no cure, so the more people that know about it the better. My advice to anyone who received an MND diagnosis is this – live every day the best you can. You've got to do everything they can today, like yesterday."
John's firefighter friends Dan Ascough, Dean Corney and Joe Pressney, who did the walk, all take part in men's walking group Walk and Talk 999 to promote mental health in London. They organised this walk to raise awareness not only of MND, but also the importance of talking and reaching out for support when you feel you need a helping hand.
And they raised an incredible £1,400+ in the process.
Recalling the challenging walk, Dan says:  "We started off very chipper laughing about how we wondered if it would be more difficult than we thought, we were certain that not getting to sleep would be the biggest barrier, how wrong we were!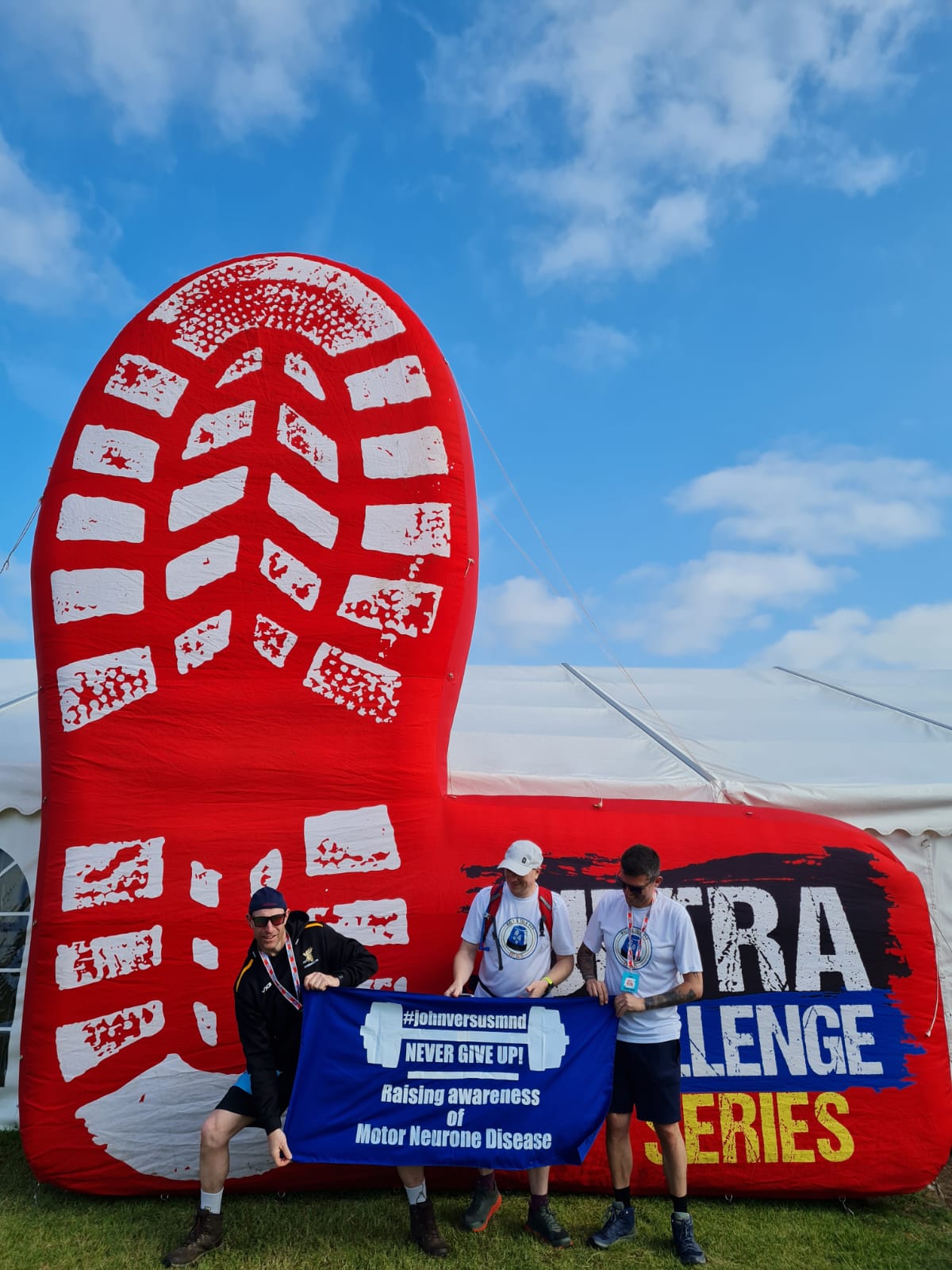 "We struggled on to the 56km checkpoint (35 miles) and spirits were not what they were. Feet were shredded and blistered, knees and ankles were starting to really hurt and we realised we really had vastly underestimated the challenge, far more than we thought.
"There was talk of stopping as we really were hurting and had been on our feet for 14 and a half hours. The idea of only just being over halfway seemed ridiculous. As we said before though, our mantra was 'what would John do'…"
Setting aside the pain they were in, the group continued right through the night and Dan says of the eventual completion: "What an amazing yet horrific experience! Along the way we spoke to so many people about MND, The Fire Fighters Charity and answered questions about Walk & Talk 999. Believe it or not we actually had people start talking about their mental health much like it was a Walk & Talk session, which really blew our minds, truly amazing!"
Dan adds: "I've always seen the good work that the Charity has done and I've had a lot of friends that have been supported.
"I've had my own struggles and I've always shied away in the past, because I've always thought there's someone worse off, but I finally did reach out recently.
"I'm very good at putting on a brave face and it's the whole duck think, underwater I'm paddling like mad. I've managed to book a week with my family later this year for some rest and recharge, and just having the knowledge that that was there was a weight off my shoulders."
Speaking about his friend John, Dan says: "Our walk was inspired by the amount John does to raise awareness of MND and the bravery he shows. We are so inspired by him that we wanted to show our support by trying to do our bit to raise awareness of his cause.
"John is very aware of what MND means for him and has never been under any illusion of what the future holds. But instead of giving up he has packed in more than many do in a lifetime with the sole aim of helping others and bringing awareness to this horrible condition. He spent years playing the hero in the fire service and you could argue he's become even more of one since."
To support the group's fundraiser, click here.
You can find out more about Walk and Talk 999 and how to join a group near you here.