Christmas can be an expensive time of year, especially if you've got a large family and group of friends you usually buy gifts for.
But as budgets are tighter than ever for many people this year, we wanted to share some simple ways you can get crafty and make your own decorations and presents. Not only are these healthier for the bank balance, but they're also lovely ways of showing someone you care – with personal touches and a lot of thought behind each one.
Taking time to make something yourself, meanwhile, can offer the opportunity for a moment of calm – which is hugely beneficial for your mental wellbeing.
Have a go and let us know how you get on on My Fire Fighters Charity:
Air-dry clay gifts
There are so many ways to use air-dry clay for gifts. Here are a few to get you started:
Coasters: roll out your clay evenly and cut out the coasters in the shape you'd like with biscuit cutters. Allow to dry, then paint.
Trinket pots: make a ball of clay and use your thumbs to press into the centre before working out to create a shallow bowl. Allow to dry, then paint.
Rings holder: depress the edges in sections to create points to hold rings. Allow to dry, then paint. Beads or sea glass pressed into the clay adds beautiful decoration too.
Personalised photo calendar
These can easily be made at home using your favourite photos for each month – and they're an incredibly thoughtful gift. Just print off or buy a calendar template and stick the photos on from there. Easy, quick and a gift that will truly impress.
Fruit-infused gin
Sloe gin is a favourite at this time of year, and the sloes are best for picking in November.
Pop them in the freezer to develop the flavour, then prick them all and add around 400g of sloes to 250g castor sugar and a litre of gin. Shake daily for a week, then leave to infuse for a few months before decanting.
If you can't get sloes then you could experiment with other fruits. Try frozen fruits of the forest or rhubarb – these may be ready sooner, so do taste occasionally to check!
Gin-infused fruit chocolate
You may have a bowl of gin infused berries that you don't want to waste, after finishing your gin. One idea to make use of them is to remove any pips and then create chocolate gifts. Melt some good quality dark chocolate and mix in the de-stoned berries, spoon into paper sweet cases, and allow to cool. Present in a small bowl… perhaps even one you've made from air-dry clay!
Upcycled jumper cushion
Got an old jumper that has worn on the elbow, or you no longer wear?
Mark out the front and back pieces of the jumper that will fit a cushion pad, allowing for seams and an overlap envelope edge. Run a line of stitching inside the line you will cut to prevent fraying and then cut out your front and back.
Pin together, right sides facing, and stitch together using a shallow zigzag stitch to allow stretch. Buttons and ribbons can be used for decoration.
Meanwhile, there's also some great decoration ideas for around the house that you can try:
Pomanders
These are oranges pierced by cloves to create a lovely, scented decoration. To make them, tie a ribbon around the orange dividing it into quarters, then stud the orange with cloves (pre-piercing using a cocktail stick can help save your fingers).
The cloves act as a natural preservative, and it can be rolled in powdered spices such as cinnamon, mixed spice, nutmeg and orris root, which will add to the delicious festive aroma, as well as help the pomander to dry out.
Christmas crackers
Crackers are so much more fun if you can add your own personalised touches, and they're eco-friendly too!
Simply fill a cardboard tube with treats such as some little chocolates, a nail varnish, a mini toiletry such as hand cream or lip salve, a seed packet, a home-made hat, a quiz question, a challenge, a promise or a personalised joke… then roll some recycled paper or brown paper around your filled cracker, and tie with ribbon.
A sprig of rosemary creates a lovely herby scent when you lay the crackers out for Christmas.
Christmas wreath
This is a wonderful activity for getting outside and exploring local green areas, known to boost wellbeing. Gather as much green foliage as you need, lengths of ivy are great for weaving, but any other greenery will be good too.
If you have plenty of ivy then it is possible to weave this entirely into a circle with no additional structure, but if not, then a wire coat hanger bent into a circle may be helpful. Keep adding foliage to build up your wreath, tying in with twine where necessary. Holly berries, slices of dried orange, and ribbon are all good for adding colour. Pine cones can look great too, and herbs like bay and rosemary both look and smell lovely.
Homemade Christmas bunting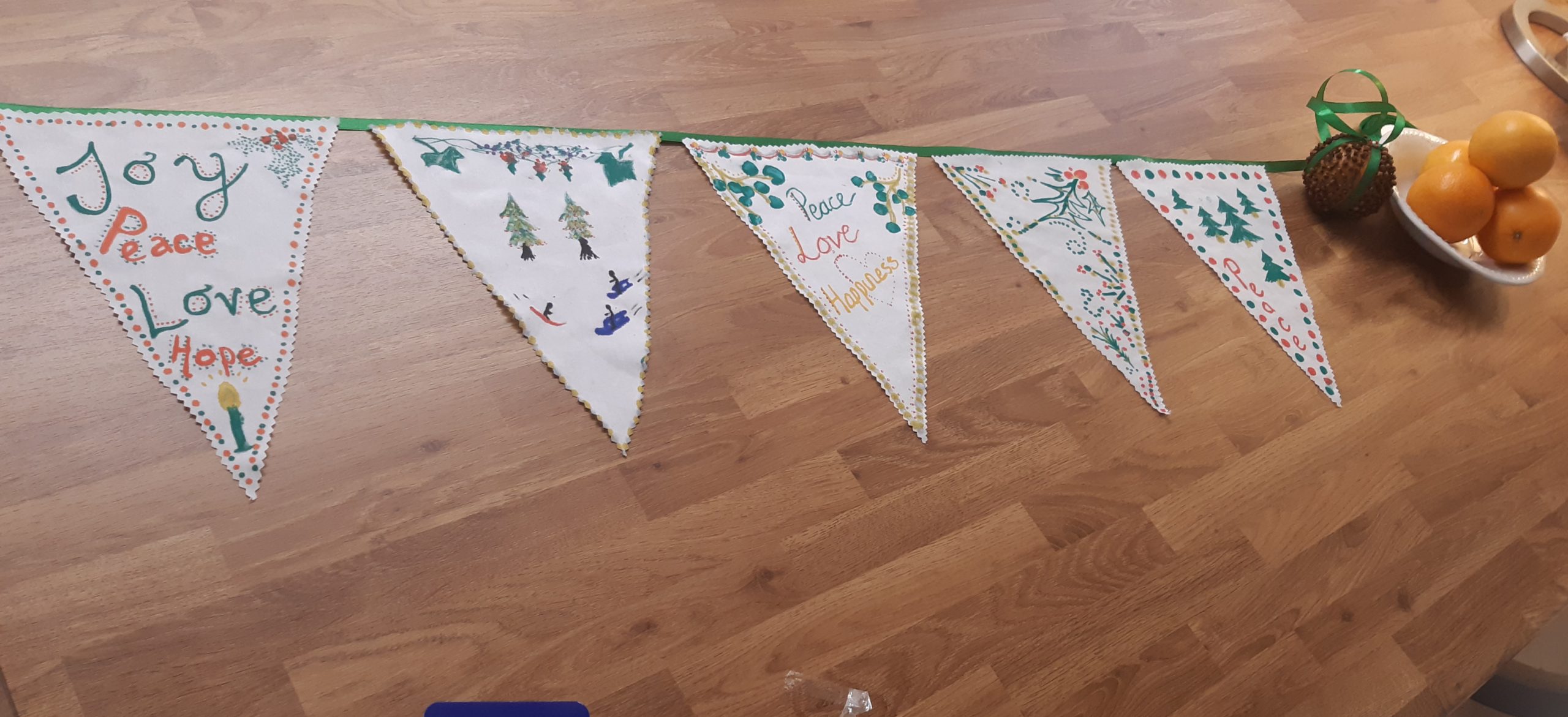 This is easy to make from old shirts or sheets. If you have red and green fabric then they can be cut into pendant shapes using pinking shears and then sewn onto ribbon. Alternatively, white fabric can be decorated with fabric pens allowing your creativity to run free!
Air-dry clay or salt dough tree decorations
Air dry clay is widely available, but if you prefer to use home-made salt dough it is easy to mix: one cup of plain flour, half a cup of table salt, and half a cup of water combined to make a dough ball.  Then roll out the clay or dough and create decorations.
Children can make handprints or fingerprints in a circle of dough, and biscuit cutters in the shape of bells and stars work well. Remember to make a little hole for a ribbon to tie them to the tree. Lie them flat on a sheet of baking paper and allow to dry naturally if clay, or bake the salt dough shapes for around three hours on a low setting, then when dried and hardened they are ready for painting.
We have a range of resources available to you to support you this winter. Find out more here:
Try our full online courses here:
Available courses include: Learning to change; Low mood; General anxiety and Gambling.