This #WorldMentalHealthDay we'd like to remind every member of our fire family that we're here for you, to help you through these troubling times.
Whatever challenges you are facing, we have advice, information, tools, courses, and resources to help. Accessible through our website, MyFFC and via our Support Line (0800 3898820), you can access a wealth of self-help resources or talk to us about a personalised programme of support, just for you.
Hope Programme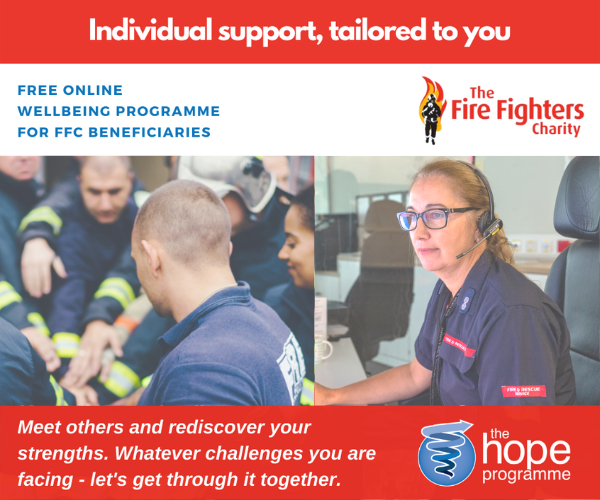 This November and January we have places available on our Hope Programme, an innovative online mental wellbeing programme in partnership with Hope for the Community.
These free, six-week online group self-management programmes help participants to feel more in control and to build resilience. Each week they cover topics like: managing stress, smarter goal setting, gratitude, character strengths, physical activity, eating well, coping with fatigue, practicing mindfulness, communications and relationships.
The programmes can be accessed from PC, laptop, tablet or smartphone and can be taken entirely at your own pace.
Ideally suited to those living with stress and anxiety, we have 60 places available on each programme for over 18s, with the following upcoming dates available to sign up to now:
1 November: Two programmes for all beneficiaries (120 places)
17 January: Four programmes for all beneficiaries (240 places)
Explore our Wellbeing Hub
Available through MyFFC, our new Wellbeing Hub includes a wide range of free online courses, on a variety of different subjects. From stress and anxiety to low mood, menopause, resilience and debt management, the courses vary in length, with five-minute Bitesize sessions, 10-15 minute Find Out More sessions and full six-week online courses.
Try these taster Bitesize sessions:
And log in to MyFFC to explore the full library of courses in our Wellbeing Hub