With our official 80th birthday fast approaching, our supporters have pulled off some incredible fundraising activities and challenges throughout July in aid of us.
Thank you to all of you who have cycled, ran, walked, donated, baked, crafted and more.
In an incredibly powerful fundraiser, Tom Pyman is cycling the equivalent of Land's End to John O' Groats – 837 miles – around his hometown of Potton, as a thank you to the firefighters who saved his life following a near-fatal car accident five years ago.
"I was in a near fatal car accident. I was trapped under the car and the Potton Fire Crew were able to dig a trench to safely pull me out. Without them, I likely wouldn't be here today, which is why I want to raise money for the The Fire Fighters Charity to show my gratitude," he says.
See some of his photos here:
Three firefighters from Shropshire and Staffordshire cycled the length of the UK to raise vital funds for us and Macmillan Cancer Support.
Rob Simcox and Alec Thomas, both from Shropshire Fire and Rescue Service, were joined by Station Manager Russ Brown, from Staffordshire Fire and Rescue Service, for the 1,000-mile ride – which they started on Thursday, 20 July. See photos from their ride here: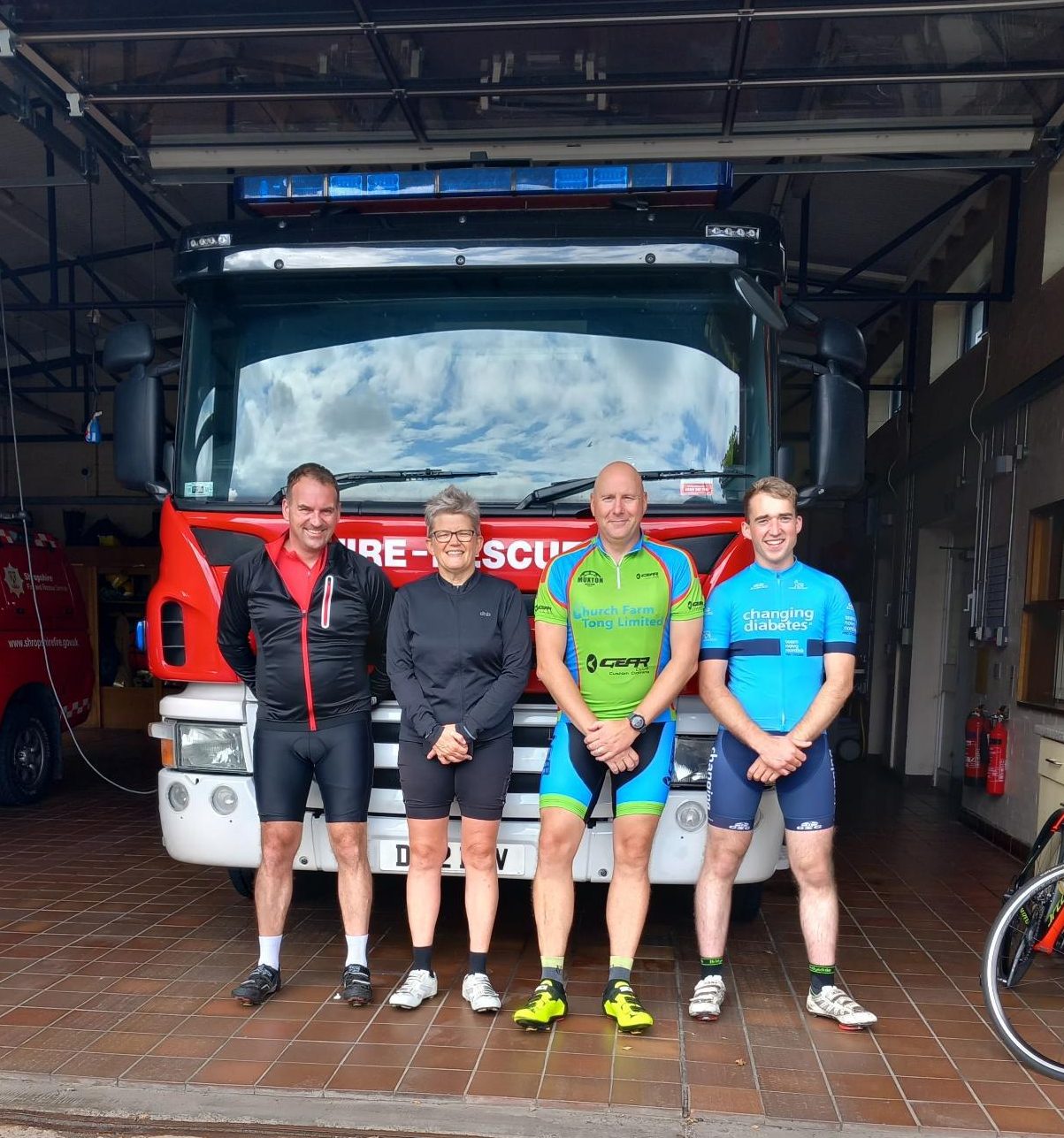 Meanwhile, a team of firefighters from West Yorkshire Fire and Rescue Service took on the Ilkley Half Marathon – some in full fire kit and BA – in memory of two of their colleagues and friends. Read their story here.
And retired firefighter Nigel Bulmer joined a friend of his for an epic fundraiser. They completed a 250-mile bike ride to mark 25 years of his friend in his company. You can donate to their fundraiser in aid of us here.
Elsewhere, three members of Green Watch London Oxford Airport walked in fire kit from the source of the River Thames (Thames Head) to the town of Lechalde – approximately 24 miles – in one day.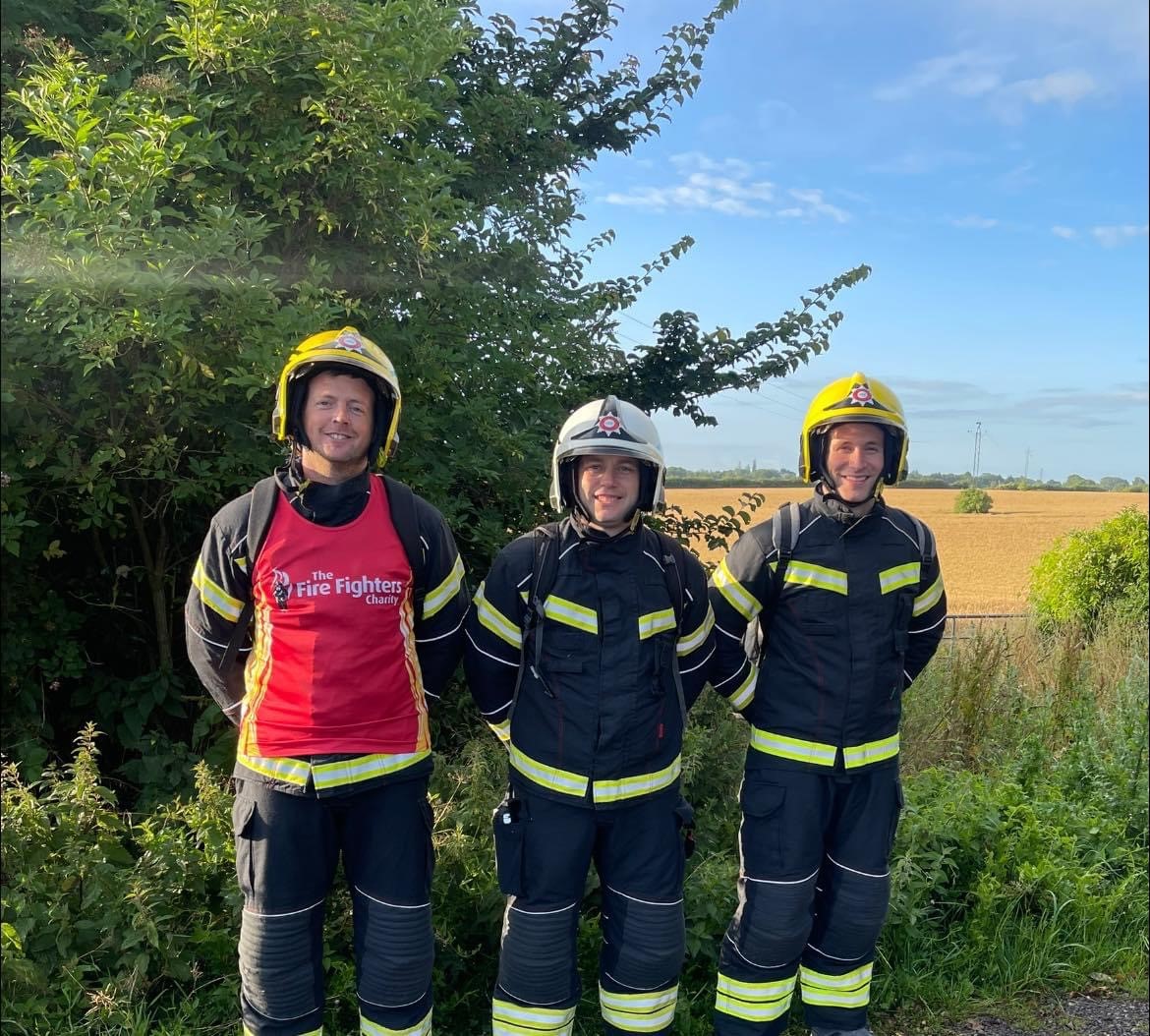 Below are just a few more of the highlights, as well as quotes from our donors…
And don't forget, you can share your amazing fundraising achievements, encourage others and share ideas on My Fire Fighters Charity. We have a series of dedicated groups you can join. Just register now and head to the 'Groups' tab at the top of the My Fire Fighters Charity homepage.
REGISTER FOR MY FIRE FIGHTERS CHARITY
🚒 "Shoutout to Callum, our second year #firecadet, for putting on an amazing comedy night to raise funds for two great charities, including our @firefighters999 charity. It's inspiring to see young people making a difference in their communities" @LFRScadets @LancashireFRS 🙌👏 pic.twitter.com/TbUwENC26K

— CFSP_Central (@CentralCfsp) July 1, 2023
BLAZING SADDLES FIVE.
HOT. EXHAUSTED. LEGENDARY.
IS HOME ….
Thank all the powers that be, from the unknown…to beer! Every rider counted in safely to a boiling hot Rome.
Legends
Thank you @ukinitaly @vigilidelfuoco & all sponsors & supporters….. pic.twitter.com/iKjzuqRts9

— Blazing Saddles 5 – WE'RE BACK! (@RidetoRome) July 30, 2023
"I have a lot of respect for the firefighters, who risk there lives to save others"

Donor
The fantastic post box topper in memory of former Search Dog Diesel has raised a phenomenal £1006.40 for @firefighters999 A fantastic tribute to a brilliant dog and valuable money that will assist the Firefighters charity in looking after colleagues who require rehabilitation. pic.twitter.com/28mXgtZEty

— Scottish Fire and Rescue Service ISAR (@fire_scotISAR) July 18, 2023
Last Sunday the amazing young people from @encore_fire performed in fundraising concert for @firefighters999 It was a privilege to hear their beautiful singing & perform alongside them with Bury Fire Choir. They enjoyed a few @coopuk biscuits in the break too! 🍪 #ItsWhatWeDo pic.twitter.com/KX773vNEEz

— Becca Co-op Member Pioneer (@BeccaCoopMP) July 14, 2023
"My partner has benefited from the service provided"

Donor
A massive thank you to @Hargreaves_Cont for their recent donation of £1000 to @firefighters999 this is for letting them park at @stockportfire whilst they build some flats next door pic.twitter.com/GJZexGQh4T

— Alex Byers FFC – NW & Yorks (@AlexByersFFC) July 27, 2023
"I donated to say thank you for the wonderful stay at Harcombe House."

Donor
Megan Gait was involved in a RTC, with firefighters working hard to free her. She suffered a spinal injury but was so thankful that she donated £100 to us & hand-delivered a hamper to the crew. 🧡

Read about her heartwarming reunion 👉 https://t.co/GkN5qDOznw @SWFireandRescue pic.twitter.com/QXGMrIapSK

— The Fire Fighters Charity (@firefighters999) July 23, 2023
We're so pleased to have been selected to be @PanthersIHC September Charity! Thanks to everyone at @nottsfire who put in a nomination for us – we're so grateful for your support 🏒🚒 https://t.co/SUzeUnDPSy

— The Fire Fighters Charity (@firefighters999) July 5, 2023
Play and Give Challenge Leaderboard – Week 1 🏆

Here's how things stand 👇

1⃣ @UK_COPS
2⃣ @OfficialPSCF
3⃣ @firefighters999
4⃣ @SSAFA
5⃣ @NHSCharities #PlayAndGive23 pic.twitter.com/AjrJ9IeZcv

— Serve & Protect (@serveandprotect) July 7, 2023
"I donated after I used the facilities at Penrith"

Donor
We are stunned by the amount we've raised for @firefighters999! The reason we show up to @TeamGB_Fire 🔥♥️ You are all making a difference!! Still time to donate if you wanted too! Tomorrow we head to Manchester! IT'S GO TIME! 🚀 @Glosfirehttps://t.co/6fVma8Oj6w pic.twitter.com/6E1d6kNy14

— Amy Lynex (@AmyLynex) July 27, 2023
We're raising money for @firefighters999 so they can help more firefighters like they did with Cory, from Green Watch at Pegswood.
After an injury, the work he did with The Fire Fighters Charity was pivotal in helping him recover. pic.twitter.com/L4rey7KXBi

— Northumberland Fire & Rescue Service (@NlandFRS) July 13, 2023
"I donated to support a good cause"

Donor
A heartfelt thank you to Mark, Keith, Danny and our friends at Western Business Media @WestSussexFire who have been fundraising for us at The Fire and Security Matters Awards… https://t.co/vm7dafRvtL they have raised a brilliant £9,865.47 @firefighters999 pic.twitter.com/0pylSusZSI

— Louise Furneaux ( FFC) (@louise_ffc_furn) July 17, 2023
In an attempt to create a 'human 80' to celebrate the 80th anniversary of the Fire Fighters Charity, Year 9 students were steered into position with staff and our local firefighters. Watch this space for the drone footage!@firefighters999 pic.twitter.com/HkAg4j7jPh

— The Abbey School (@TheAbbeyTHAT) July 19, 2023
"I donated because you are amazing"

Donor
Walk 9 of my #80wainwrightpeaksin18weeks @firefighters999 @LancashireFRS challenge saw another 10 peaks added to the tally.

Total now 49/80 https://t.co/zKNII2zM8X

Check out Rota Day Wonder bagging Wainwrights on @relivecc! #GetOutThere https://t.co/wY9Da6S7kz

— Mal Dewhurst (@MalDewhurst999) July 19, 2023
Nearly half way for these hero's on their route to JOG. It's great to see the support from the two Cheif's of Staffordshire & Shropshire Rob Barber & Si Hardiman @firefighters999 @StaffsFire @shropsfire pic.twitter.com/5AILf4kkjy

— lisa_courtneyffc (@LCourtneyffc) July 23, 2023
"I donated as gratitude to local firefighting services"

Donor
The Glowing Embers, a team of retired Fire Fighters from @manchesterfire took on a Land's End to John O'Groats cycle last month for @firefighters999 raising over £7000. A massive thank you for your ongoing support! pic.twitter.com/7AMO7YfMYb

— Alex Byers FFC – NW & Yorks (@AlexByersFFC) July 27, 2023
"I donated because they were there to help when needed"

Donor
We're delighted to have received £25,000 from @SYFR – the latest donation from its 3-year internal lottery, following just 18 months of plays! 🤩🚒

Thank you to everyone who took part in this initiative and made this incredible donation possible. 🌟👉 https://t.co/vC1thE1usk pic.twitter.com/UoHtn7UWTW

— The Fire Fighters Charity (@firefighters999) July 30, 2023
In our 80th year @WYFRS has donated an incredible £20,300 to us 🌟🧡

A massive thank you to everyone involved in the service's lottery & to all those who took part – we're so grateful for your dedication & continued support 🚒

Find out more 👉 https://t.co/16NijEhX2E pic.twitter.com/CYi5TJs4up

— The Fire Fighters Charity (@firefighters999) July 26, 2023