We caught up with some of our employees in 2020 to hear how they're kind to themselves when feelings of worry or anxiety begin to creep in, and what they do to make time for themselves.
They've also shared their tips for anyone wanting to take up their favourite pastimes… because kindness matters.
So If you need us, get in touch. Call our Support Line on 0800 389 8820 or make an enquiry via our website.
Because the fire family stands together, always.
---
Dr Jill Tolfrey, Chief Executive
I go out for a walk across the moors at home every morning. Being out in nature always makes me feel better, especially the early morning sunshine. The curlews and lapwings are just amazing, and I love hearing the hedgerow birds singing their hearts out. I recommend a good pair of walking boots and a Fire Fighters Charity fleece to recreate my experience.
---
Will Halfacree, Multimedia Producer
As well as getting out in the fresh air, I really enjoy listening to music while cooking in the kitchen. Music is uplifting, especially on a Saturday evening when Radio 6 is playing. It can really take you out of a head space and into a different one. Cooking is something you can focus on, and look forward to the results at the end (maybe not the washing up!) To enjoy cooking like me, I'd say get a radio or speaker for you phone, so you can listen to a radio station, a playlist of a podcast/audio book. And if you're cooking something new, check the recipe in advance to make sure you have the ingredients and the time to prepare it.
---
Laura Connolly, Physiotherapist, Jubilee House
Flowers brighten up any space, so I like flower arranging because it is away of bringing a little bit of nature into your home. Each flower or foliage has a joy of their own and when arranged together it multiplies their beauty. You don't need any special skills to take part. Just start small, by gathering a few stems and arranging then into small pots or containers, you can create a really striking arrangement. You can use little jars and bottles (which may be destined for the recycling) and even flowers from your lawn can make a pretty display! Buttercups and daisies, even dandelions, bring a splash of colour to you windowsill. There are so many wildflowers along the verges and hedgerows too (but picking wildflowers should be kept to a minimum and only when there is a plentiful supply). Each time you arrange your flowers and grasses you will create a unique display, so if you want to go the full Kirsty Alsop, you can take a photo of your display and turn them into e-messages or print them off and make your own cards!
---
Judith Gate, Continuous Improvement Manager
I have re-started running. It gives me fresh air, some headspace and a real sense of achievement as I build up my distance over the weeks. I have been using the Couch to 5k app, which is great for building up slowly and tracking your activity. I'd definitely recommend it.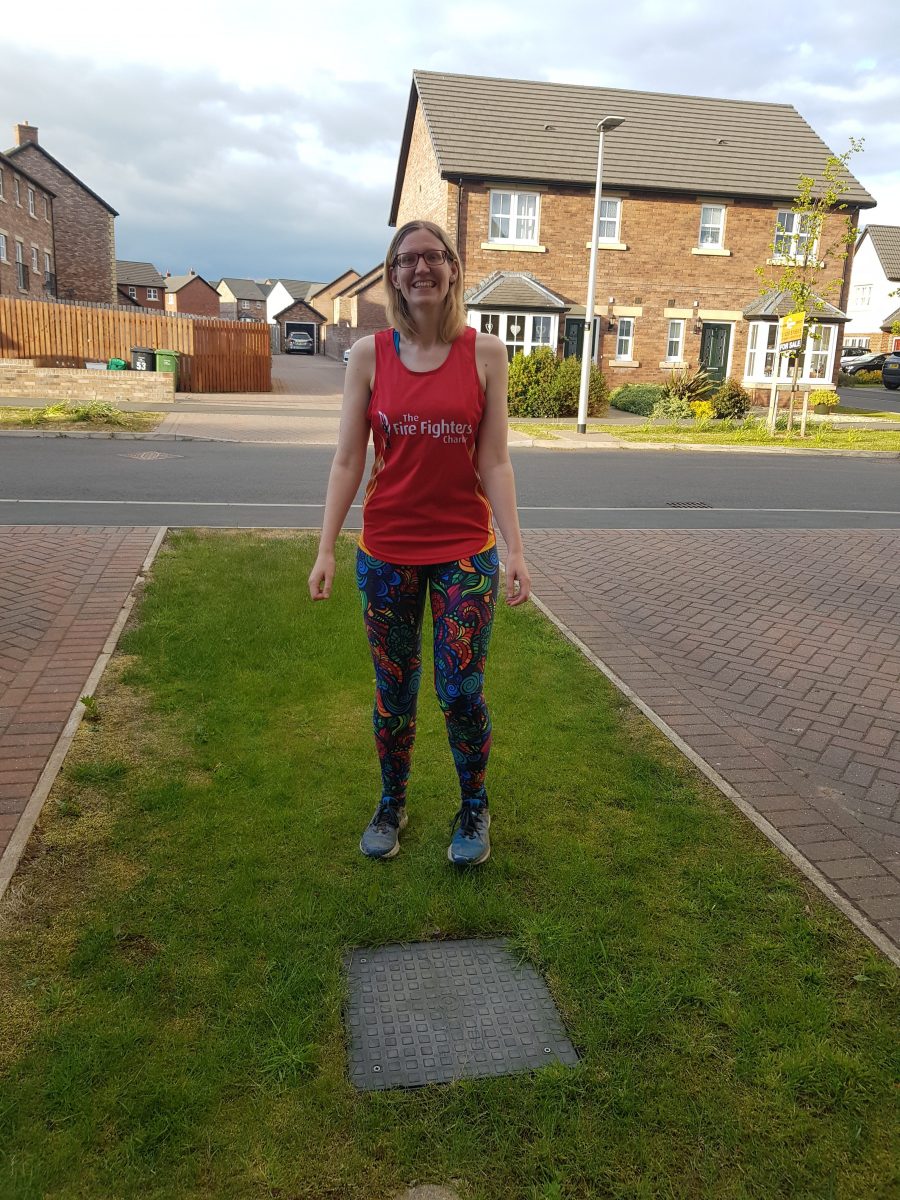 ---
Sophie Pierce, Copywriter.
Whenever I'm feeling a bit down, I go and sit on my back doorstep with a cup of tea and my latest craft project and just enjoy the sounds of the birds and the smell of the flowers, feeling the sun on my face. It always makes me feel better and I find having something to do to keep my hands busy means I don't dwell on the news as much. I'm currently crocheting a blanket for a friend's young daughter, which is just the right side of repetitive to be therapeutic. There are plenty of videos on YouTube if you'd like to learn how to crochet, all you need is some wool and a hook (most wool has a recommendation of which size hook you'll need). I'd say the best thing to start with is a simple granny square.
---
Jason Stone, Welfare Caseworker
I left the Army 10 years ago and for a number of those years, I suffered with mental health issues. When I'm feeling a bit low, I put the trainers on, earphones in and hit the streets for a run! I really enjoy running and exercising, especially with music as I am able to release all the negative energy and focus on feeling good about myself and I firmly believe that a healthy body, helps to create a healthy mind! You don't have to be an experienced runner to complete this exercise, you could jog around your garden or on the spot at home but I recommend doing it with music. I even have a classical album on my playlist!
---
Lisa Matthews, Trusts and Legacies Manager
I have been going for walks and enjoying the countryside.  I didn't really appreciate how many beautiful areas are close to my house and I'm really loving the opportunity to explore. My 17-year-old son quite often joins me, and we talk about everything, which has helped to improve our relationship and I really feel closer to him as a result – feeling blessed!  Walking whilst enjoying the sunshine and fresh air helps me to clear my head, I recommend everyone gets walking. You don't need to drive to go for a walk, just pick a direction to start walking from your home and see what new areas you come across.
---
Katy Parsons, Individual Giving Officer
I love gardening at my allotment. It's great exercise and being in the fresh air just makes me feel so much better and healthier. I love to see the plants start to thrive from tiny little seeds and get very excited when I see new shoots of life appearing. I'm not so keen on all the weeds, although strangely I find it very therapeutic getting rid of them, I think it must be the tidy side of me coming out! Seeing the different stages of the plants growing and then being able to pick your own vegetable for dinner is so rewarding, home grown food tastes amazing, and after only having the allotment for over a year, I am very proud of how much has been achieved. If you'd like an allotment of your own, I recommend contacting your county council and get your name on the waiting list with the local allotment organisation. It's definitely worth the wait.
---
Sascha Wiltshire, Marketing Coordinator
Ever since childhood, I've always loved arts and crafts. Nothing made me happier than having a colouring book and pencils to hand. This love of art has never gone away, and I am still at my most content when I have a table full of paper, paints and pens. I can lose hours sketching or painting. When I feel unhappy or stressed, I get completely lost in my activity and it helps me to relax. The magic of art is you can create it anywhere, with whatever you have to hand. I love sitting in my back garden with a scrappy piece of paper and a pencil and drawing what's around me. Don't worry about creating a perfect picture, it's all about the fun of making and doodling!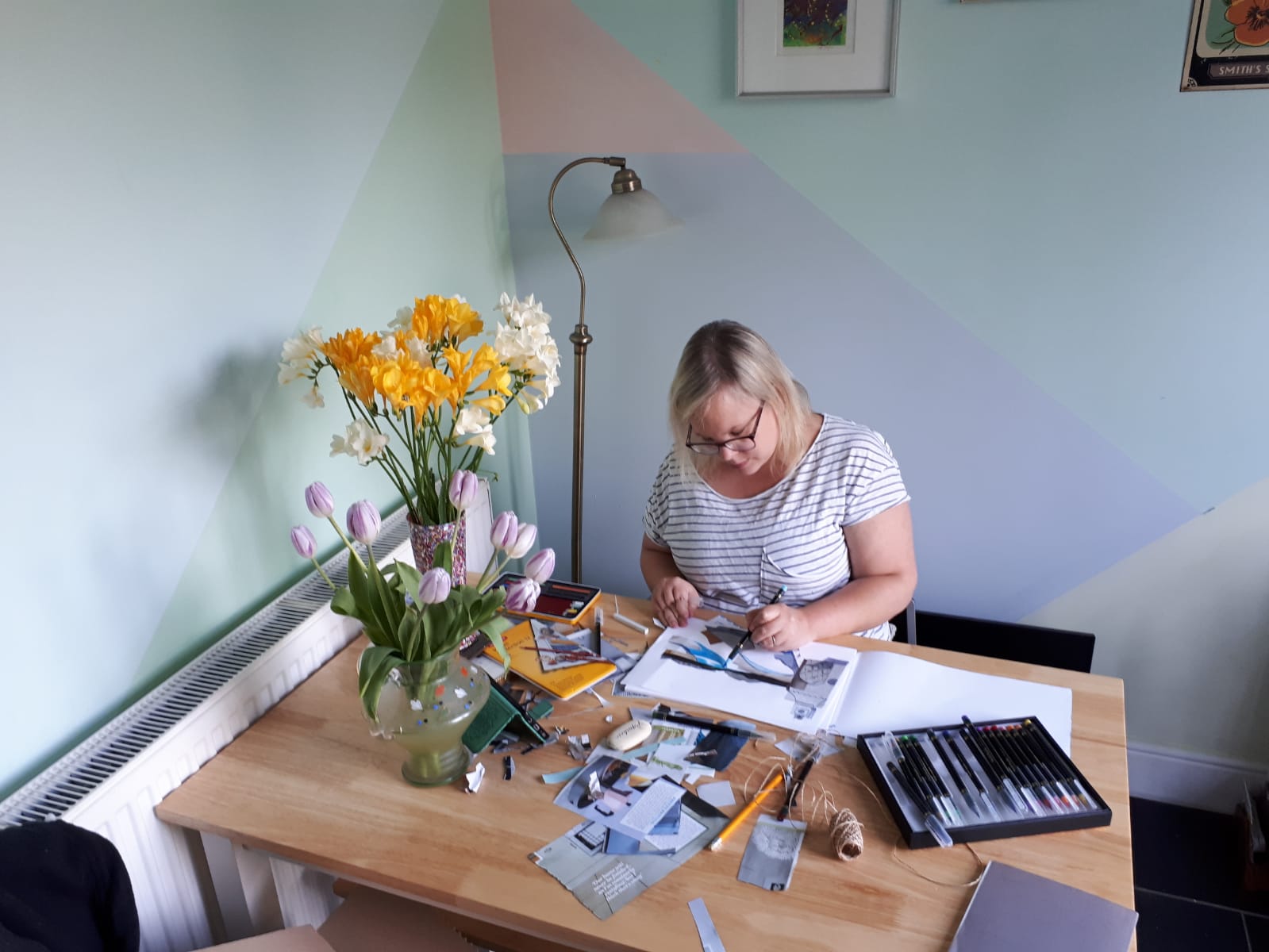 ---
Nicky Patton, Physical Health Lead
I am lucky enough to own Narnia, a 19 year old horse, who is my best therapy for keeping me active fit and sane. Any time spent with her is therapeutic as she has no idea what is going on outside her world of eating grass, sleeping, eating hay, being ridden, going out in the field and more eating. This has been particularly key over the last few weeks when our lives have become so topsy turvy. Horses can easily pick up on our emotions and so time with her is time where all other elements of my life get put to one side to focus on her needs, and working on improving our test scores for dressage competitions. Working towards goals in this way gives me structure and something to focus on while continuing to ensure she is fit and healthy into her later years in life. It's also a great opportunity to catch up with my friends who also keep horses at the same yard – there's really nothing like a good natter!  And it's also amazing how much closer to our wildlife you can get when on horseback. As there is always an element of risk being around these beautiful but big animals, the best way to start riding would be through a recognised licensed riding school or through a registered instructor (once restrictions have lifted).
---
Kerry James, Fundraising Manager
I run at lunchtime to help me get a break away from my desk, round the river by my house. The fresh air, seeing the chicks growing each time I run past the water is lovely and I just feel healthier, able to tackle the rest of the day when I get back. I have been following the Couch to 5k app, which is fantastic and I am slowly building up my running. I never thought I would be able to run for 25 minutes without stopping, but I am. It makes me feel like I've achieved something and keeps me focused to keep going. If I can do it, anyone can!
---
Carrie Pearce, Welfare Services Lead
I really miss contact with my grandchildren, so being able to read them a story through Facetime or Zoom helps us to maintain our special bond. It makes me smile and we all love stories! If you have young children in your life, reading to them over a video call can be a lovely way to stay connected. Choose a regular time to do it and make it part of your weekly routine. Pick a book you all enjoy so you'll look forward to reading the next chapter or adventure together. And make it fun!
---
Nick Jeneway, Marketing Manager
Playing board games is a peaceful activity which helps to boost my mood and refocus my mind on something fun. It allows me to relax and concentrate my mind on something that doesn't involve a screen for a couple of hours. It helps if you find the right games and enjoy the time spent playing rather than the outcome. There are thousands of great board games out there that are both competitive and cooperative (and not as stressful or frustrating as Monopoly) so why not try something new? Boardgamegeek.com is a great resource to find new games. It has ratings, video reviews and complexity ratings for nearly any board game you can think of. Pick a theme or genre that you're interested in and there's bound to be a board game about it.
---
Rebecca Webster, Organisational Development & People Partner
Whenever I want to improve my mood, I go for an evening walk, either on my own or socially-distanced with my friend and her two dogs. Being lucky enough to live in a village with beautiful surroundings means there is little excuse for not getting outside and one of the positives of the past lockdowns is that they encouraged me to explore what's on my doorstep. Normally I am rushing around sorting the boys out with their various activities with little time of an evening to go out wandering without having to rush back. Being outside in the fresh air and beautiful surroundings makes me feel relaxed, happy and grateful for what I have. Meeting up with a friend is an added bonus too! I'd recommend everyone to just go for a walk, whether it's on your own, with a friend or family member, and maybe even borrowing a dog or two. You won't regret it.
---
Laura Challis, Community, Corporate and Events Fundraiser
It's nice to be able to use my time to learn something new, produce something I'm relatively pleased with or perhaps give to someone special. So that's why I love any sort of craft, as long as it's something that doesn't tax my mind too much and allows me to switch off. Although some people laugh at my 'old-fashioned' or 'unfashionable' craft activities, I would say people should just give it a go before they form an opinion. I'd like to think my grandson would save this piggy bank I decoupaged for him, to show his own children and grandchildren when I'm long gone.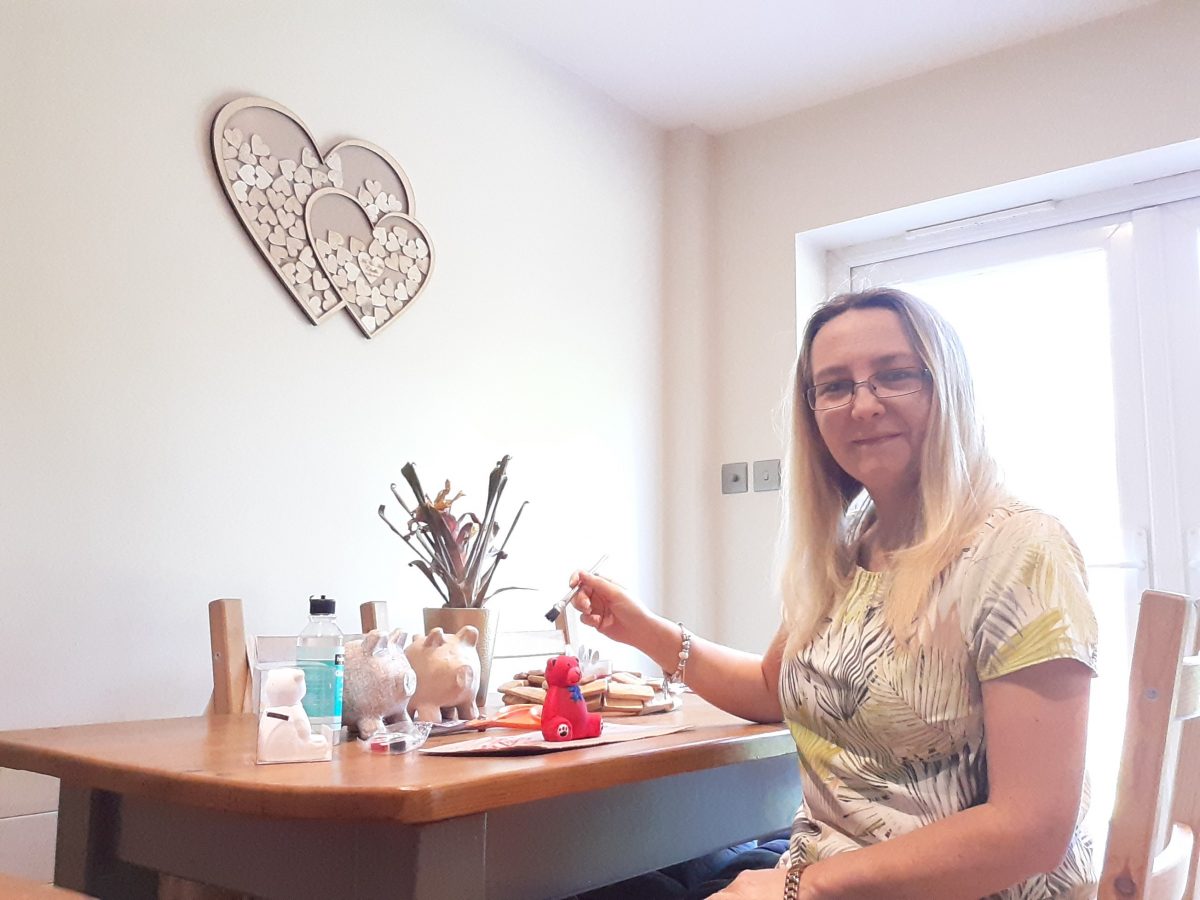 ---
Sharon Dobson, Welfare Caseworker
I'm working from home so I love walking my dog, Mylie, a flat coat retriever. It gets me out of the house and enjoy some fresh air, plus it's good exercise as we usually walk around five or six miles a way. There's not much to do at the moment and I think I might have overdone the walking a little… the dog used to bring me her lead and ask to go out, now when I pick up the lead she jumps up on the sofa to lie down, haha! But she does love it when we get out there. I wouldn't be without my girl, but dogs are a big commitment and shouldn't be considered without careful thought. So maybe see if any animal rescues or friends want their dogs walking (while following government guidelines).
---
Tom Stone, Lead Practitioner, Marine Court
Usually things that fill me with happiness and joy involve being in the outdoors, particularly the beach and the sea. I love to surf, kayak and play sports like football and rugby. This has all been put on pause at the minute. Whilst I'm very excited to return to these activities, I've replaced them with reading, playing board games and getting into a good TV series (usually involving sport in some way or other!). This makes me feel better by distracting me from day to day stresses and the board games help me maintain my competitive edge! I've just finished reading Ant Middleton's 'First Man In' which I recommend. Getting lost in a book is very relaxing and the good news is there are plenty of book shops open for business still online!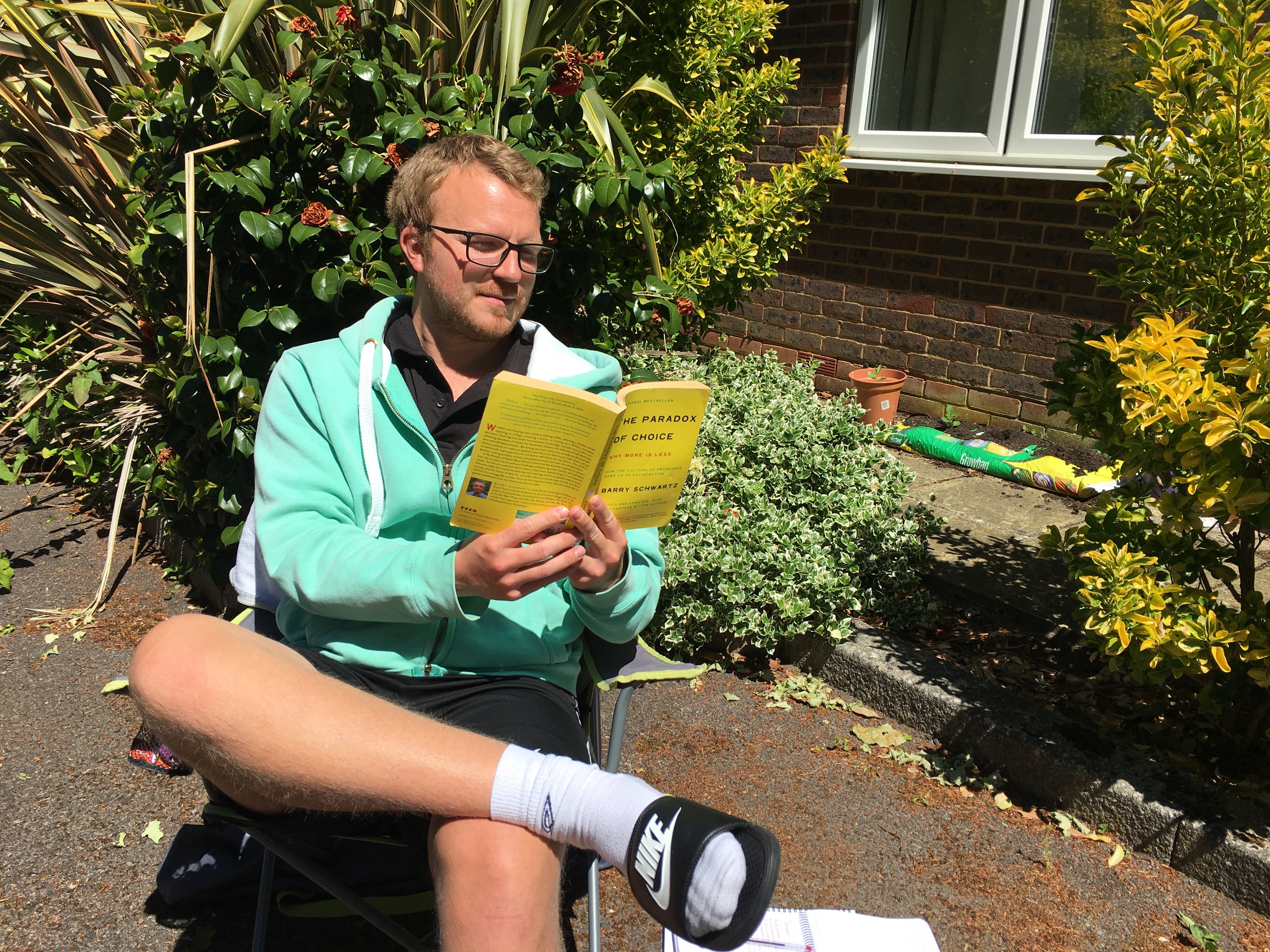 ---
Kath Savage, Nursing Services Lead
I play the cornet. Playing music gives me a sense of purpose and achievement as well as being a great boost. There is a lot of evidence around about the psychological impact music has on people's wellbeing, whether that's playing an instrument or singing. Now is the perfect time to learn a new skill, so have a go at learning to read music or treat yourself to a (reasonably!) simple instrument like a recorder or a ukulele. There are lots of tutorials and resources on YouTube and the internet, or you could join an online virtual choir that brings together people from all walks of life and all over the world with a common interest.
---
Kelly Brown, Senior Exercise Therapist
To relax and unwind I spend time looking after my horse. I've always loved animals, horses in particular. When I'm with them I find I can switch off from the outside world and focus solely on them. I enjoy being outdoors and find it gives me a great sense of responsibility caring for them. For anyone wanting to get in to horses, I'd recommend getting in touch with your local riding school and going from there.
---
Kevin Biles, Sales Manager
Running is my release, particularly Trail Running where I can run off-road, explore new trails, hills, woods and countryside to totally escape and 'just run!'. My favourite runs would be to take a map (and compass), work out a rough route, but literally make it up as I go along. If I find a new path or trail, I'll run it, see where it takes me and then work out where to go and how to run back home. When restrictions are lifted some of my favourite runs are up in the mountains of the Lake District and when we return to normality (whatever that looks like) then the Lakes will be high on my list to run the fells.
It's such a simple activity, it doesn't have to be fast, I can mix running with walking, I can add some speed sessions, I can push my pace, and I can always enjoy the views that our awesome countryside offers. I usually run very early in the morning, it's my perfect 'wake-up call' and sets me up for the day with fresh, clean air, physical activity and superb scenery. For anyone wishing to try running, believe me, you can do it. If you are new to running, start with a steady walk and try to add in a bit of running and build this up over time. There are plenty of apps out there such as 'Couch to 5k', but to be honest, the best thing is just to get out there and 'give it a go', make it up yourself and run!
---
Sharon Bailey, Director of Beneficiary Services
Crocheting is my go-to activity when I want to improve my mood. I find it a good stress reliever, the repetitive motions are relaxing and therapeutic, and it's great to have that sense of achievement when you have finished a project. Having had surgery on my hand previously to wire a joint and repair ligaments I also find it good exercise for my hands, it helps with dexterity and fine motor skills. If you'd like to learn, I'd say start with basic stitches, learn to master them, and build from there. My grandmother taught me and we started with simple round mats and granny squares, my skills developed from there. There are so many excellent books now to help you as well as videos on YouTube.
---
Clare Hannaford, Communities Development Lead
I like gardening generally, but I particularly like spending time in the greenhouse.  At this time of year it's filled with tomato and pepper seedlings and salad leaves that I plant in troughs. I never get tired of seeing sprouting leaves where I previously put a seed in compost a week or so before. As a bonus, the greenhouse is also warm and I can be found in there on chillier days reading a book and enjoying the spring sunshine! If you want to get into gardening vegetables, you really don't need lots of room to get growing; a container, a sunny windowsill, compost and a packet of seeds is all that's required.
---
Rachel Rees, Senior Exercise Therapist, Marine Court
When I'm feeling stressed or anxious I like to go for a long walk and surround myself with nature. I find being around outdoors extremely calming, whether that's at the beach listening to the waves or in the woods surrounded by the trees. Nature has a soothing effect, beautiful scenery, gentle sounds and a nice scent all contribute to relaxation. Walking in a beautiful place is a easy activity to participate in, explore your local areas I'm sure there are many hidden gems. As well as the scenery exercise produces endorphins those happy hormones which help to make you feel good. Why not give it a go!
---
Kate Griffiths, Income Generation and Engagement Manager
I love baking. I love the way that often similar ingredient make different things based on the way you mix them. The smell of freshly baked scones, cakes and biscuits take me back to my childhood. And the final perk is you get to eat them 😊 The trick with baking is not to be frightened to have a go. Nothing I bake would ever win an award for presentation, but I think it tastes good. To quote Bob Ross, "We don't make mistakes, just happy accidents".
---
Vicki Fox, PA to the Executive Team
When I want to relax, I like to immerse myself in a good crime novel. There are many benefits to reading such as sharpening memory, increasing vocabulary and improving the functioning of the brain; much like doing yoga or running to keep fit. I find that losing myself in a good story helps me to switch off from the stresses of daily life. I would recommend you curl up on the sofa with a blanket, a cup of tea and get reading! Or if you're struggling to concentrate, why not try listening to an audiobook?
---
Irene Ramsden, Welfare Caseworker
I love gardening and growing vegetables, both in our garden and allotment. It makes me feel better as I am outdoors in the fresh air and have the satisfaction of watching the plants grow from seed and then cooking and eating the vegetables. This is an easy and cheap activity to do even if you don't have a big garden as it can be done in pots or even grow some salad or flowers on a windowsill if you have no garden. Everyone should have a go, it is a great activity with kids too.
---
Jane Rosso, Lead Practitioner, Harcombe House
Keeping in touch with my family by phoning, video calling and sending videos brings us all so much joy and allows us to share special moments like my granddaughter truly giggling which always lifts my spirits.
---
Sylvia Stoneham, Community, Corporate & Events Fundraiser
I love to walk my dog, Luca, through the local woods, where the sounds of the birds and the wind through the trees is much heightened due to lack of traffic noise. I love the sights and smells of the spring flowers; everything seems much greener and cleaner too! It relaxes me almost instantly, but I feel energised too; I now see it as "me time". I breathe deeply and slowly and can feel the stresses of sitting at a laptop in my bedroom all day draining away. I really miss camping, especially in The Lakes, but this little haven of green with its peace and tranquillity helps me get by 'til I can experience the great outdoors under canvas. Any advice for my fellow dog walkers to enjoy your own bit of me time? Yes! Choose a place to walk your dog where there are no muddy puddles! Luca seems to find stagnant, smelly water in the driest of places! Downside? Having to bath him afterwards 😊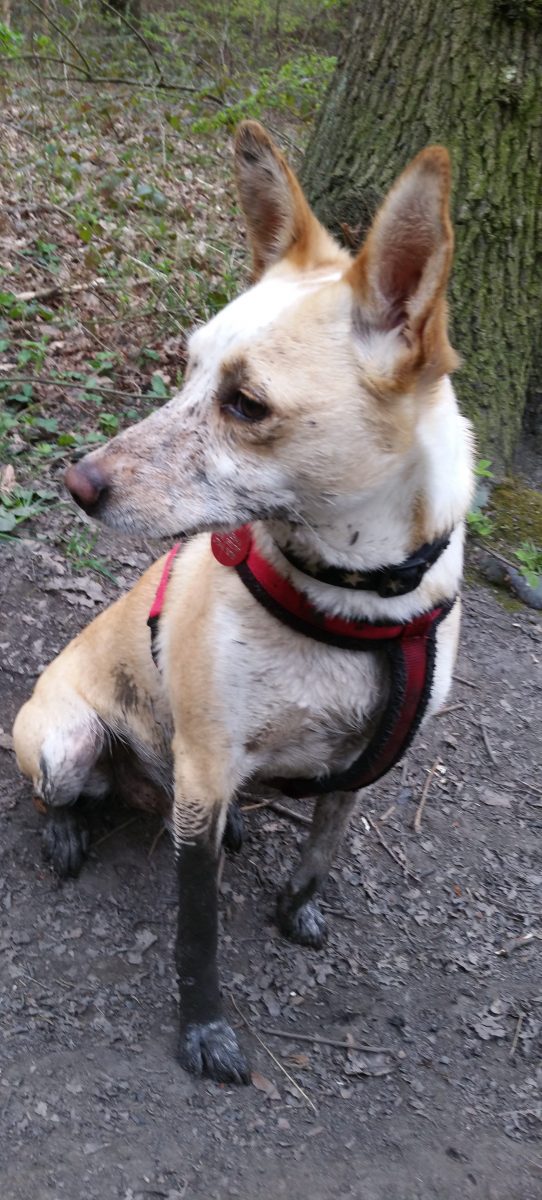 ---
Juliette Dean, Lead Practitioner, Harcombe House
Allotment and baking… What's not to like?
Tim Beynon, Head of Marketing and Engagement
During lockdown in 2020 I got really into virtual running. As I was unable to run with my normal running club, virtual running allowed me to run with others across the world and to compete in events, all while on my treadmill. So you get the buzz of competitive running, the social aspect of running with real people and you stay safe at home. If anyone wanted to join in, I'd say there's no need to spend a fortune on a treadmill. I got ours on a local Facebook selling page for £50! Then try one of the virtual running apps like Zwift, but beware they're addictive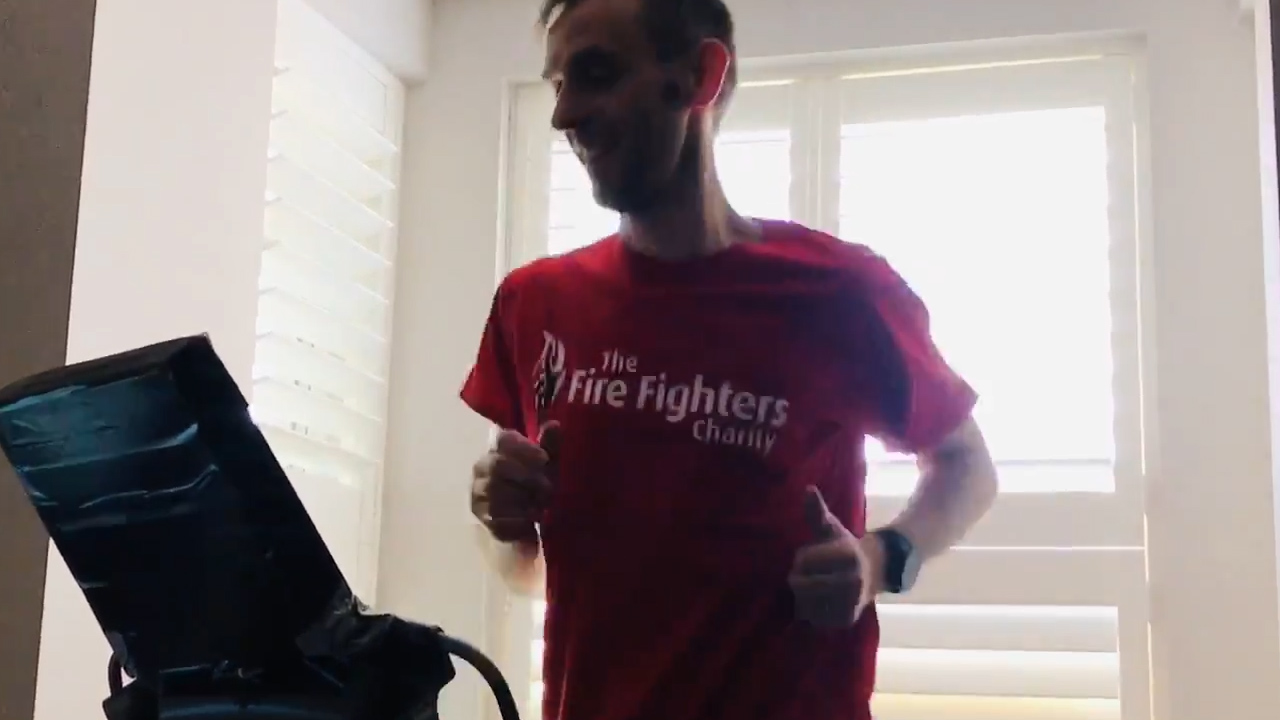 ---
Liz James, Assessment Practitioner, Support Line
Some of you who I've spoken to on the Support Line will know that my 'go-to' activity for switching off is knitting, usually accompanied by a cup of tea. My mum taught me to knit when I was five or six and the first thing I made was a strip of knitting that she turned into a skirt for one of my dolls! These days I'm more likely to be knitting for either my own children or those of family and friends. This is a cardigan that I started in the autumn for myself but which I've put down several times to begin something else, so I've still a bit to do. I find the repetitiveness of the stitches quite mindful on a project like this, and I find great pleasure in watching a project 'grow' into a garment that either I or someone else can enjoy. There are lots of tutorials on YouTube if you would like to learn, you just need a pair of needles and a ball of yarn, though I'd recommend you start with some yarn you really like since that's much more motivating.
---
Nicky Young, Individual Giving Officer
At the beginning of 2020 I got an allotment to tend to and being down there gives  me some much-needed 'me time'. At home, I'm everyone else's go-to, but when I'm at the allotment, no one needs me. I have time to unwind, potter and dig to my heart's content. I find my mind just becomes clear. It's all quite new still and I'm loving the successes and learning from my failures. Roll on the summer. My recommendation for anyone wanting to have a go at growing your own is plant something that gives results in a few weeks, salad in pots for example. It springs into life, and you'll be eating your own veg in no time at all.
---
Margaret Barnes, Community, Corporate and Events Fundraiser
I love baking. It takes my mind away from everything else, and it reminds me of my parents. My mum was a professional cook and baker, and I loved watching her in the kitchen when I was young. Her favourite thing as she grew older was visiting me and my family and having someone else cook for her. For VE Day weekend, we celebrated with the community in Gateside village in Fife (from a safe distance). I was in my element baking my contribution for the celebrations. It took me back to those days with my mum and also my dad, who was in the Buffs Regiment during World War II. I raised a toast to those in the past wars and a wee toast to my dad, who came home from his to my mum who was waiting for him.
---
Louise Furneaux, Community, Corporate and Events Fundraiser
I listen to songs from musicals (mainly) whilst I go for a walk or dance around my house singing at the top of my voice. My daughter and son join in often… Husband less so, unless it's a song from Wicked! Musical music just makes me feel instantly happier. Theatre is my happy place and I try and go often as my purse will allow. Any advice for anyone wanting to join in? Just go for it. Yes it's silly and embarrassing, but so what? Just find your favourite music and go for it, dance in your head if not with your body. It doesn't matter what you listen to, just find a tune you like and sing along as loud as you can, just for one song. Feeling self conscious? "Let it go!"
---
Katy Macklin, Customer Care Administrator
I love jogging, it gives me a chance to watch the world go by with no screens and just my music and fresh air for company. I run in town or through parks, and then enjoy a cup of tea when I get home. For anyone wanting to get into jogging, I'd say start small and build up. There are no medals for going fast, just do your best on that day.
---
Chris Gould, Lead Practitioner, Jubilee House
I really enjoy Wing Chun / Tai Chi. It is something I did a long time ago when I was in my teens, which I enjoyed a lot. I got out of the habit over the years, whilst working / studying / raising a family. For me this period of lock down has been a time to revisit the types of things I used to like doing, but have just drifted away from. I consider it like learning a new skill. It adds something fresh to enjoy and look forward to. I also have three teenage boys who are interested in it, so it is something we can all do together. Along with that it gives me some sparring partners when practising Wing Chun, which is a bit scary as they are all bigger than me now!Tai Chi is great for any age. You need no equipment, it is very gentle on joints and it is not an intensive activity. There are components of relaxation, meditation and mindfulness in the exercises and fundamentally at its core is the concept of maintaining balance, which could be thought about as the balance between both physical and mental health which co-exists in us all. There are you tube videos relating to Tai Chi which are easy to follow and very good in my opinion: I would recommend this one.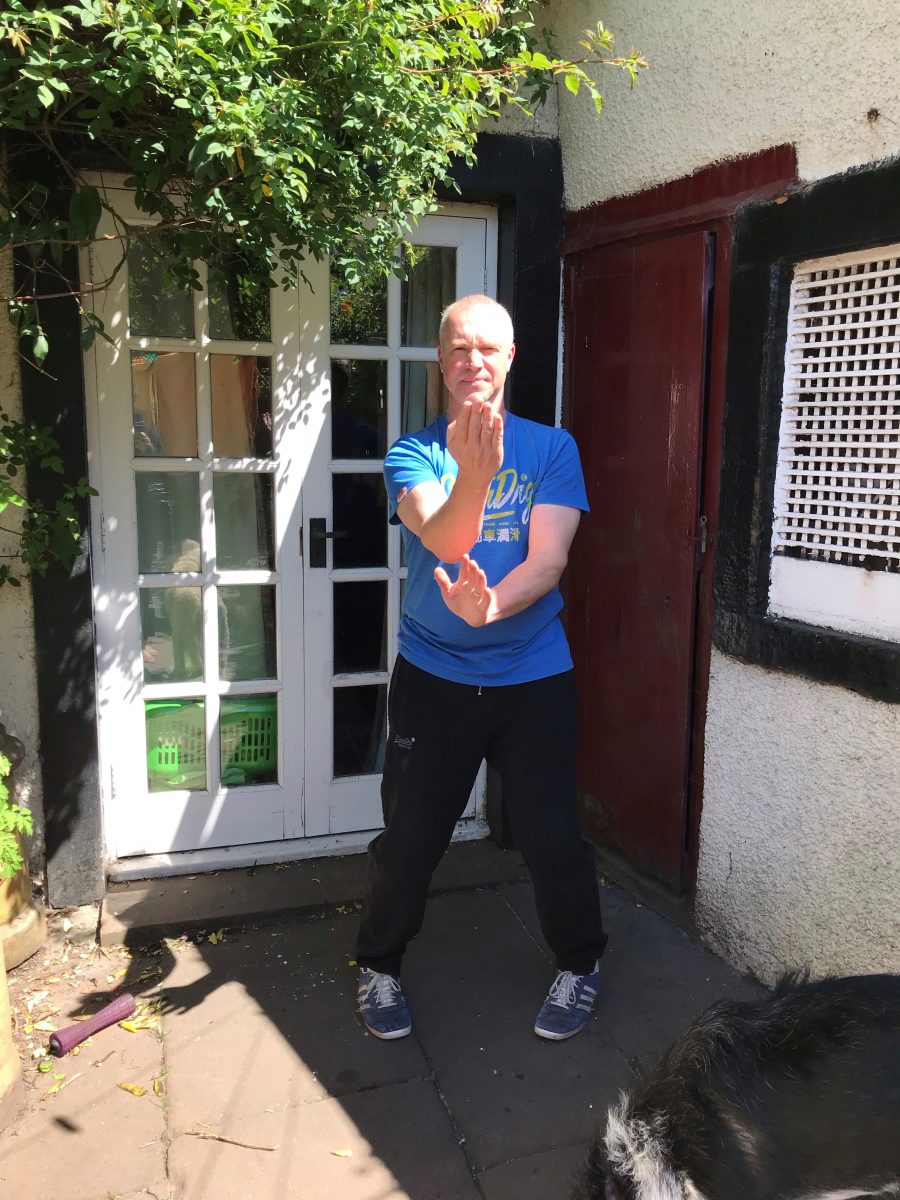 ---
While we've got you here
If, like us, you're passionate about protecting the mental health of the UK's fire service heroes who are stepping up to support the NHS through this national crisis, please consider donating to our Charity.
We can't do what we do without people like you. Thank you.