Northern Ireland Firefighter Chris Morrison says it was during his visit to Harcombe House that he drew a 'line in the sand' for his post-op recovery and accepting the emotional impact a serious illness had taken on him. It seems fitting, therefore, that to say thank you to the Charity for helping him get back to his beloved operational uniform, he will be trekking through the Sahara Desert in November as part of one of our fundraising events.
"I hadn't thought of it that way before!" laughs Chris, when we catch up with him to hear about his reasons for taking part in this super-human feat. "The Charity is so close to my heart, and my time at Harcombe played such an important role in my recovery, so I wanted to say thank you. And when I saw the advert for the Sahara Desert Trek, I thought that would be the perfect way. I can't repay their kindness, but I can raise money for them."
Three years ago, the thought of trekking through a desert was a long way from the Londonderry firefighter's mind, as his health suddenly took a turn for the worse.
"I'd lost a lot of weight and noticed bleeding from my rear," he says. "My wife insisted I went to the GP who sent me away with a bottle of laxatives and a referral to the haemorrhoid clinic. But things were getting consistently worse."
A few months later, Chris reached a breaking point, as even climbing the stairs left him exhausted. He went off work sick, managing to get an emergency appointment with a GP the next day. Determined to make doctors take him seriously this time, he brought his wife for support, who happened to show the doctor a photo of Chris taken six months earlier.
"I'd never seen someone recoil with shock so much before… They reckoned I was about a week away from having a massive heart attack."

Chris Morrison
"I'd never seen someone recoil with shock so much before," he says. "She could see how much weight I had lost, and took a round of blood tests. This was at 10am, and by 4pm I was being referred to hospital. My red blood cell count was around half what it should have been, and they reckoned I was about a week away from having a massive heart attack. That's how sick I'd let myself get."
After receiving numerous scans and tests, an MRI scan revealed a large tumour in his bowel: "The size of this thing was unbelievable. They said it was roughly the size of a coke can. But biopsies proved inconclusive, so after nine days I was discharged and put on the consultant's list."
At his first appointment, the consultant suggested a permanent colostomy bag was the best course of treatment. As they weren't sure what the tumour was and it was positioned so low in the rectum, he felt removing the whole area was the only way to deal with it.
For Chris, who had wanted to be a firefighter since being a little boy, one thought overtook the rest: "After we'd got all the relevant health questions out the way, I asked, did he think I could still be a firefighter? And he said yep, no problem. That was my first switch-on moment, I thought let's get this sorted."
"My colorectal nurse specialist said there had been an audible gasp in the room when it came back clear. It was the best news I have ever been given, being told there was no cancer."

Chris Morrison
Six weeks after he was first admitted to hospital, the tumour was removed and sent for testing. And miraculously, it was benign: "My colorectal nurse specialist said there had been an audible gasp in the room when it came back clear. They were all convinced it was cancerous, because it was so big. But it was the best news I have ever been given, being told there was no cancer. After two weeks anxiously waiting for the results, the relief at being told my treatment was over and I could get on with life was huge. Then it was just a matter of getting used to my stoma and working towards getting back to work."
Having returned on light duties, Chris applied for help from The Fire Fighters Charity. The five hours his surgery should have taken had actually been eleven, and he had residual pain in his shoulder and back from having been on the table for so long. He was offered a week's stay at Harcombe House, our residential centre in Devon to help him tackle the root of the pain.
"It was an absolutely brilliant week, full of tough work where I was tested to my limits," he says. "We'd spend all day in different sessions, working out, walking and swimming. They also gave me acupuncture which completely freed up my shoulder, it was amazing and I consider myself so lucky that I got to go there."
During his week at Harcombe, he also realised the emotional toll his experience had taken on him, and sought psychological support: "I had really been struggling, and I don't think I had realised just how fragile I actually felt. I'd gone from the peak of my fitness – training and running three or four times a week – to feeling like I'd been hit by a bus. I asked AJ if we could have a wee chat, and it all came pouring out, how much stress I'd been under pre and post operation, the impact it had made on my family, and just how much I'd neglected to realise how ill I was."
Two years since managing to put his operational uniform on once more, which was just over a year since his diagnosis, Chris is now training for a three-day trek through the Sahara Desert, putting his body and his stoma bag to the test.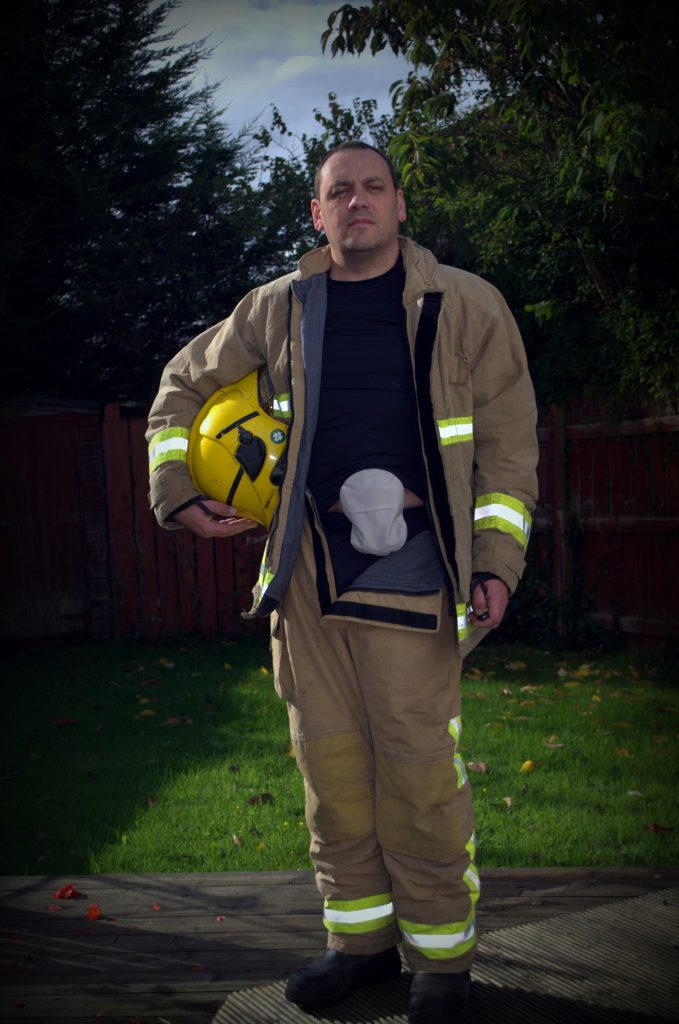 "I want to prove to people having a stoma really isn't the end of the world, it's just a different way of doing a bodily function," he says. "I do a lot of work with one of the big stoma companies around raising awareness. I'm just out there doing my thing and hoping it inspires people who are struggling. Being in the desert will be difficult, and I am hoping I can at least find a tent for a bit of privacy with my wet wipes! But there's nothing a person living with a stoma can't do, as long as they know their own limits."
Chris says the Charity will always have a special place in his heart for helping him at the moment it did: "I thank my lucky stars every day," he says. "To be in the twilight of your career and to able to go back and finish was a big thing for me. People keep saying to me, you don't need to prove yourself anymore, you've won the big fight. But I have to do this, to prove it to myself if nothing else. The day after I return from the desert will be my 50th birthday, and without The Fire Fighters Charity, I would not be where I am now. It's an amazing, amazing service, and more people need to know they can use it."
Chris has so far raised nearly £1,300. If you'd like to donate to help him get to his target, you can do so via his online page.
And if you're facing a life-changing diagnosis and worrying about how you will cope, just remember you are not alone. The Fire Fighters Charity is here to help you in any way we can. Call us on 0800 389 8820 or get in touch online, and see what a difference we could make to your life.
Share your story