When it comes to struggling with our mental wellbeing, it can catch us out when we least expect it – and without taking time to care for ourselves, it can begin to impact our day-to-day lives hugely.
Our Reset Programme is aimed at developing and improving resilience and overall mental fitness, with a programme of workshops and activities tailored to individual needs – ensuring, should that moment ever happen, you feel prepared and can be armed with the tools you need to cope.
Hosted at Harcombe House, our centre in the heart of Devon's spectacular countryside, the programme offers a relaxing environment for you to escape the pressures of day-to-day life, so that you have the space and time to focus on improving your overall wellbeing.
But we wouldn't be able to continue offering this vital programme without your regular donations.
These donations go directly towards supporting individuals right across our fire services community with their mental wellbeing, through avenues like our Reset Programme.
Jaspreet Kaur, 39, a Business and Project Support Officer with Surrey FRS, attended one of the programmes at the start of this year, after a sudden, short illness threw her daily life upside down.
Support people like Jaspreet by donating now
"I had a short illness for four months, that started at the end of last year. It was quite sudden," says Jaspreet.
"I've got a prolapsed heart valve basically, one of my heart valves just decided to collapse one day without warning. I went into A&E because I felt like I couldn't breathe, and that's when they diagnosed it.
"I've never had my life suddenly stop like that before. The first month was really difficult in particular, I don't remember Christmas much because I was dealing with my heart issue.
"The main issue for me was suddenly having no routine. I was unaligned with myself, with my mind and body. I just wasn't myself. My anxiety really crept up during that time and being off work for four months didn't help that."
On top of that, Jaspreet began having some thyroid issues and she couldn't take medication as it could trigger more problems with her heart.
"That meant I was over-eating because of the thyroid problem, plus I had no routine," she adds. "I'd be eating in the early hours of the morning, like 3am as if it was daytime, my mind and body didn't know the difference.
"My body started to change too… my period was coming more, I was getting skin rashes having never had skin issues. I could see my body breaking down a bit, it was really hard.
"I was the most depressive person to be around at the time, I just felt helpless."
Jaspreet's boss, having heard how she was struggling, initially sent her information on our Hope Programme, an online mental wellbeing programme specifically designed to support your overall wellbeing.
"Because I'm not a firefighter I was a bit reluctant, mistakenly thinking it was more for them – but it wasn't," says Jaspreet. "The Hope Programme really kept me going. Every other day I knew I had to log on and complete one of the tasks or activities, and that gave me that bit of routine. It was really brilliant."
You can read more about the Hope Programme here.
Having found that so beneficial, Jaspreet then enquired about further support we could offer her, before her return to work in March.
"I was really lucky that they suggested I go to Harcombe House, on the Reset Programme. They could actually accommodate me within two weeks," says Jaspreet.
"The timings worked out really, really well. I was suddenly eating three times a day, healthily, and sleeping properly – in bed by 9pm every night. I slept more than ever because it was the first time I was back into a full routine.
"It pushed me and I've continued that routine since I got home. I immediately joined a gym, I was eating at the same times, it was such a positive effect."
She adds: "I live in a really highly populated area of London and it was the most refreshing thing to be in an area where noise pollution was non-existent and it taught me to embrace nature.
"It actually rained every day! But I still went out – that was so beneficial for the mind.
"The pool was great too. We'd have all the floats out and we'd just float around for an hour, it was really relaxing, especially as I couldn't really do much in the gym because of my heart problem."
Jaspreet now wants to not only spread the word round her colleagues about the support we offer, but has also been fundraising with others on the programme as a way of saying thank you. While she is leaving the fire service for a different job in the coming months, she plans to continue supporting us in the future and hopes to volunteer too.
"I started paying into the Lottery from the moment I started and I've always seen colleagues doing fundraising challenges," she says.
"As a collective, the group I was with, we're now fundraising for the Charity to give back.
"We'd all come from across the UK, so we added the mileages up that we'd travelled and then we're going to exercise it back, whether it's walking, cycling, swimming, whatever. It had such an impact on all of our lives. We were all there for a different reason, and it helped us all.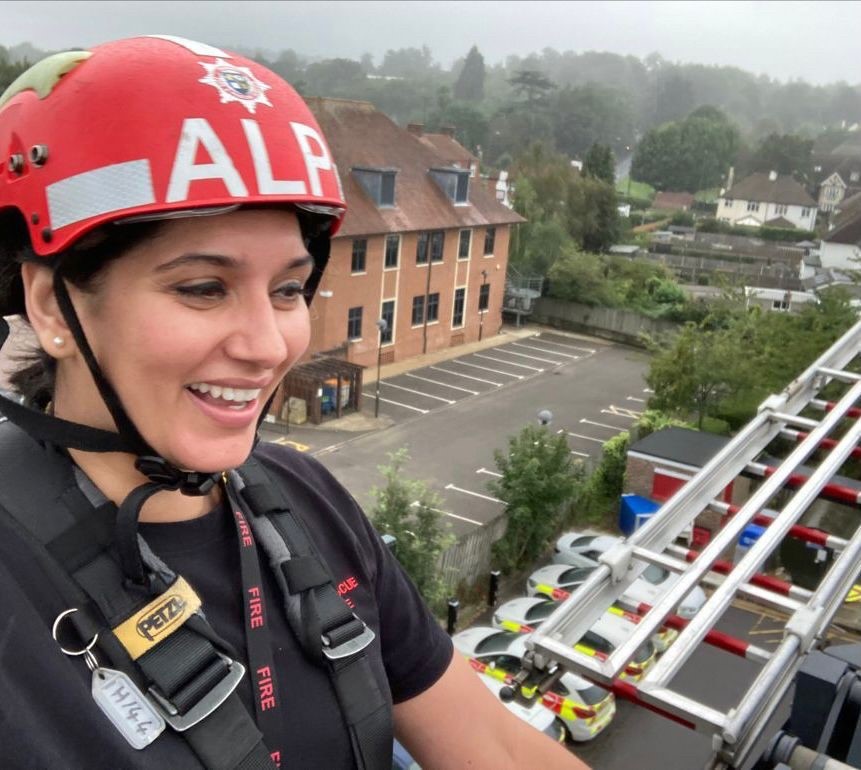 "Overall it was an amazing experience and for me it was perfect timing. It just got me back on track to align myself.
"I've gone back to the office and I'm going to do a short presentation to our team about it, because a lot of staff don't know it's there for them – it's there for all of us."
We couldn't help people like Jaspreet without your support. Donate now to ensure we can be there for you and your colleagues when you're most in need:
You can find out more about our Reset Programme HERE and you can share your experiences of how we've helped you in our Share Your Story Group in MyFFC. Register now and find it in the 'Groups' tab at the top of the MyFFC homepage.