Have you ever wondered what happens to London's fire hoses once they're decommissioned? Well they used to all end up in landfill – that is, until Elvis & Kresse was born.
The sustainable luxury accessory manufacturer transforms discarded hoses into stunning handbags, wallets, belts and more – with 50% of the profits coming directly to the Charity. And now, following years of generous donations, Elvis & Kresse has donated a staggering £66,977.83 to us this year alone – and we want to say a huge thank you.
These funds will not only ensure vital services can continue to be delivered right across our Charity, but they will also enable us to directly support beneficiaries with their mental health, physical health and social wellbeing needs.
Elvis & Kresse first began as the brainchild of co-founder and director Kresse Wesling in 2005, following a chance encounter with London Fire Brigade. Speaking in our Shout!Podcast, she recalled falling instantly in love with its decommissioned fire hose and vowed to not only rescue it, but donate 50% of whatever she made to the fire service.
"I promised in that moment that we would give them half," says Kresse. "Obviously you can't give half of your money to a public sector body, that's really complicated, but there is this wonderful organisation, The Fire Fighters Charity, and we've had a partnership with them now since day one."
From that very first year, the team have not only honoured that vow, but gone above and beyond to nurture our relationship. When they made just £134 in the first year, they donated the lot to the Charity, before seeing profits soar in the years that followed. And for over a decade, none of London's fire-hose has gone to landfill and over 200 tons of material has been reclaimed.
"Elvis & Kresse essentially does three things, we rescue materials, we transform them into beautiful things and then we donate 50% of the profits to charity," explains Kresse. "I was always looking for a way in… In order to put that much time and effort and love into something, you do have to be inspired by it, and the fire hose is just so beautiful and it has so much history, and each hose has its own scars and its own story to tell… it was love at first sight."
Elvis & Kresse's stunning handbags and wallets have since captured the attention of high-end, designer names and as the company has grown, so have its incredible donations to the Charity.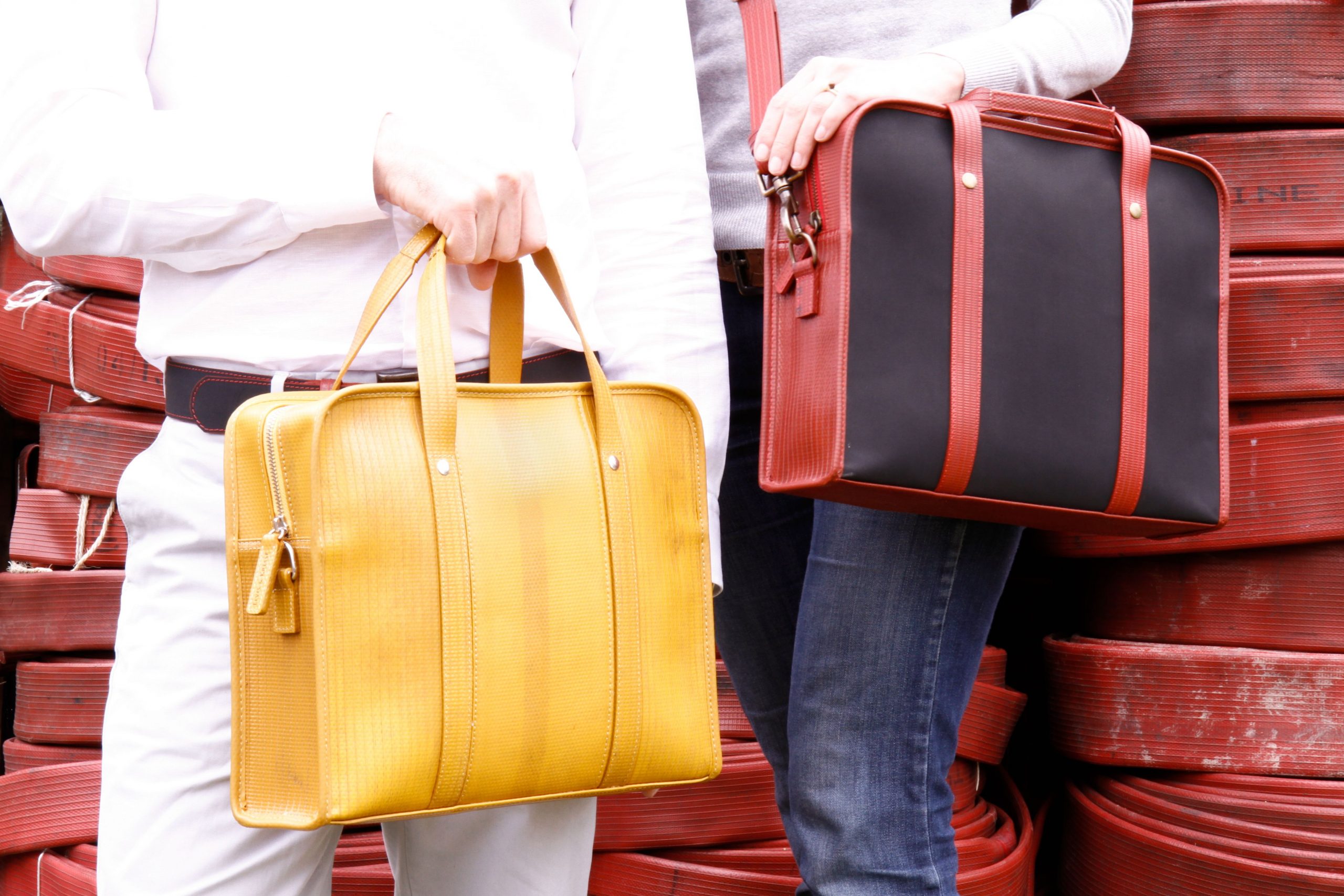 "You have to go back to that first day and from my perspective, I think it's amazing the work that the fire service does… the fact that they were willing to share this decommissioned hose with me made me think, well what are we going to share in return," says Kresse.
One of the earlier cheques came to around £3,000 and Kresse says: "When we broke that down into what that achieves, in terms of therapy sessions, in terms of keeping the access line open, it was already a profound amount. Then the more we grow, the more we're able to donate."
Since then, the donations have gone above £50,000, with the latest reaching the highest amount yet at £66,977.30.
"Firefighters are there when we need them," says Kresse of the latest donation. "When they get a call, they drop everything, suit up, and jump in the truck. They run toward danger. When we started Elvis & Kresse our first goal was to rescue London's decommissioned fire-hose. When we promised to donate half of our profits to The Fire Fighters Charity we had no idea where this promise would take us, and what an impact it would have.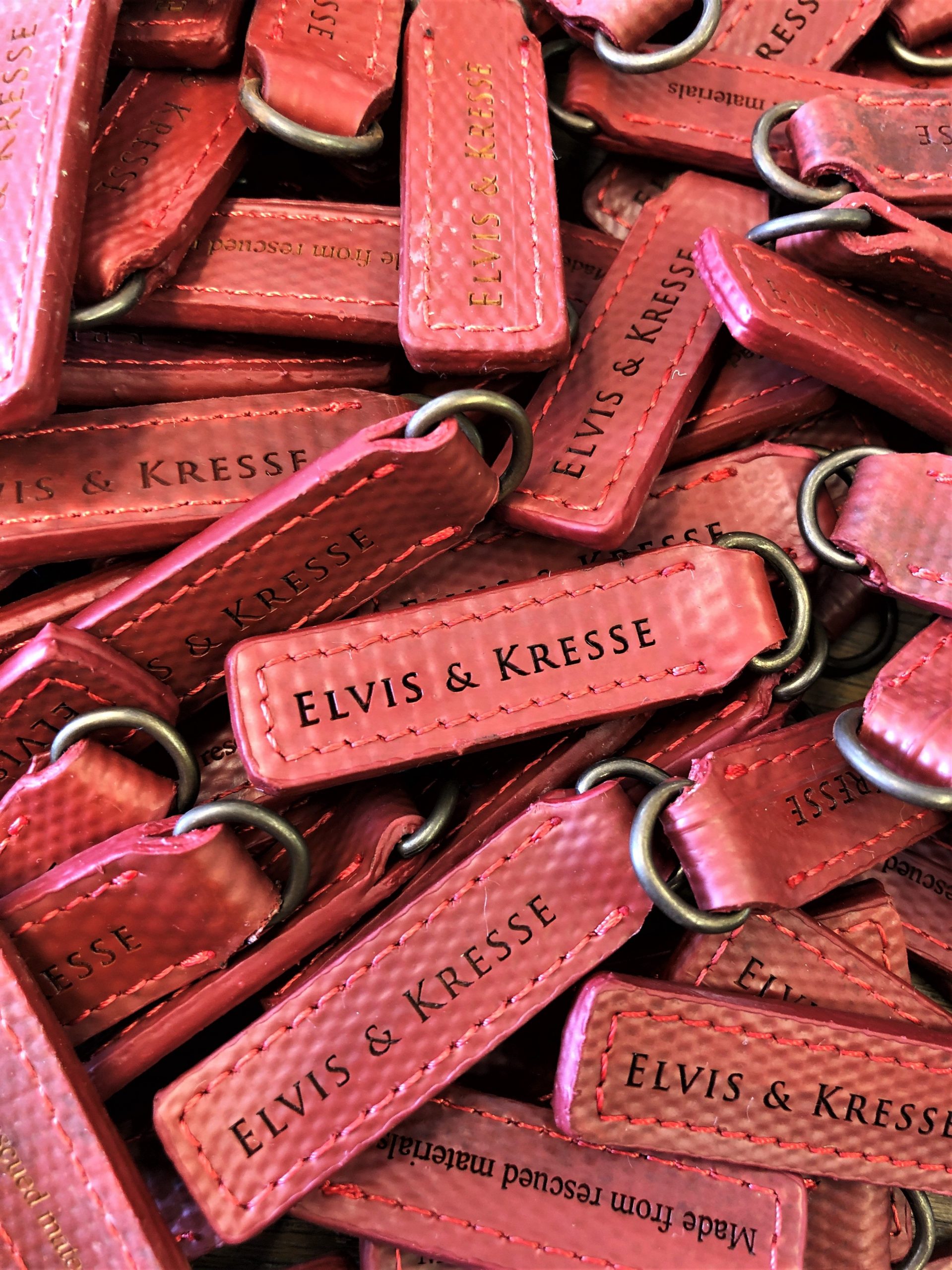 "Unwittingly, but overwhelmingly willingly we have created this truly virtuous circle. Firefighters rescue us, we rescue the fire-hose, and the proceeds help to rescue firefighters and their families in their time of need."
For Elvis & Kresse, their message is clear: "You can have something that's beautiful and wonderful but that also has impact and purpose at its very core."
So, to Elvis & Kresse, we cannot thank you enough for your continued support. The impact you're having is nothing short of incredible.