Our Senior Leadership Team
Our Senior Leadership Team is employed by the Charity and oversees the day-to-day running of activity.
Dr Jill Tolfrey,
Chief Executive
Dr Tolfrey started work with The Fire Fighters Charity in 2010 as Director of Operations, to lead the development of our services. Initially qualified in physiotherapy, she has a broad range of experience in trauma management, intensive care, rehabilitation, acute and chronic cardiorespiratory care, education and research. She was appointed our Chief Executive in June 2014 and has overseen the recent £1.8m redevelopment of Harcombe House in Devon.
Sharon Bailey,
Director of Beneficiary Services 
Sharon joined the Charity as a Registered Nurse in 1995 and was part of the original team who implemented the Charity's first rehabilitation and nursing services. Before joining the Charity, Sharon worked for the NHS within the field of orthopedic nursing. She has held a number of roles within the organisation, overseeing service development and change, and is responsible for the leadership and management of the our beneficiary services
Martin Smith,
Finance Director
Martin has been The Fire Fighters Charity's Finance Director since joining the Charity in 2007, having previously worked in accountancy practice and then commercial and charitable organisations. As well as navigating the Charity through a turbulent period of global financial crisis, he has also managed a number of other departments including a successful three-year spell managing income generation and engagement. Recently he has led on digital transformation and strategic planning.
Chris Goonan,
Director of Organisational Development and Corporate Services
Chris has worked in the voluntary sector for several years and joined The Fire Fighters Charity in 2011. With a broad range of experience in human resource and organisational development, she has also worked in a leadership capacity and has been responsible for a variety of both support and development functions. Chris leads the Charity's organisation development and corporate governance and oversees our estates and facilities.
Joss Gaynor, Director of Health Improvement & Influencing
Joss joined The Fire Fighters Charity in 2022 from The Disabilities Trust, where she was responsible for integrating external facing activity into an innovative drive to create practice, system and policy change for people with a brain injury as Head of Foundation. Prior to joining The Disabilities Trust, Joss has extensive experience working with vulnerable populations in both front-line drug and alcohol treatment settings and within policy and strategic functions. She has led on the development and implementation of national good practice research influencing both local and national structures to develop creative and innovative solutions.
---
Our Board of Trustees
Our Trustees are a body of volunteers who bring a wide range of knowledge, experience and expertise to the Charity. The Trustees approve our strategic and business plans and annual budget. They must ensure that everything done we do genuinely and solely in pursuit of our objectives. We have 12 Trustees who are appointed by our Company Members.
John Baines, Chair of the Board of Trustees
John served with Tyne and Wear Fire and Rescue Service since joining as a fire fighter in 1990 and retired in 2020 as Assistant Chief Fire Officer, leading the Organisational Development Group. Previously as Assistant Chief, John led the Community Safety Group, delivering emergency response together with operations and resilience planning, legislative fire safety, prevention, education and community engagement. He has also co-lead the production of the last two reviews of national operational guidance for Incident Command for the UK Fire Service. Previously John was Vice Chair of the National Fire Chief's Council's National Operational Effectiveness working group, Chair of the British American Project, Chair of Northumbria Local Resilience Forum and Chair of Governors at Fellside Community Primary School.

Neil Gibbins, Deputy Chair of the Board of Trustees
Neil's 37-year operational fire service career included serving at all ranks, commencing as a firefighter in Derbyshire. He became Deputy Chief Fire Officer for Devon and Somerset Fire and Rescue Service after co-directing the merger of the two services. Neil was lead officer for fire protection within the UK Chief Fire Officers Association from 2007 to 2013, and before this, chaired the working group that managed the implementation of the Fire Safety Order by English and Welsh fire services.
Neil is a Fellow of the Institution of Fire Engineers, he is a Past-President and former CEO. He sits on the Advisory Group for The Office for Product Safety and Standards (OPSS) and is the fire safety lead for CROSS-UK, the confidential reporting system. He has been awarded the Queen's Fire Service Medal and has been an active member of the Charity for his whole career, from involvement with work parties at Harcombe House in the early 1980s to being a company member.
Simon Routh-Jones, Member of the Board of Trustees
Simon served as a fire officer for over 37 years and retired from his post as Chief Fire Officer and Chief Executive of Wiltshire Fire and Rescue Service in April 2016. He was instrumental in Wiltshire's merger to become Dorset and Wiltshire Fire and Rescue Service. He implemented a Juvenile Firesetters programme, intervening and educating young people on the dangers and consequences of fire setting, which subsequently formed part of the national approach to youth education in fire prevention. On his retirement he joined HM Fire Service Inspectorate for Scotland in September 2016 and was appointed HM Chief Inspector for the Scottish Fire and Rescue Service. More recently, Simon has undertaken several Government appointments, forming part of the Castlereagh Foundation and undertaking a review for the Northern Ireland Office. Simon is a Fellow of the Institution of Fire Engineers and a Fellow of the Institute of Leadership and Management. In 2016, he was awarded the Queen's Fire Service Medal for services to the Fire and Rescue Service. In 2020, Simon was awarded the CBE for Services to the Fire & Rescue Service in the Queen's Birthday Honours.
George Wood, Member of the Board of Trustees
George is a Chartered Accountant and a graduate of Heriot-Watt University. After starting his career in the profession, he then moved through management consultancy and internal audit into financial services where he worked for many years before entering the not-for-profit sector.  He has served in a variety of senior charity FD/CFO roles over the course of the last twenty years, including working for professional membership bodies and benevolent funds and has extensive experience of working with Trustee Boards and Finance/Audit sub-committees.

Chris Bilby, Member of the Board of Trustees
Chris joined Leicestershire Fire & Rescue Service in 1982 and served for 32 years, ending his active FRS career as substantive Assistant Divisional Officer in 2014. He was then reemployed into the post for a further two years. Chris worked in many roles over the years, but finished running the national New Dimensions Assets and FRS Technical Rescue team. Chris maintains a strong connection to the fire service, including in his roles as a Company Member of the Charity, as a Director and Trustee of the IFE and with his connection to his area's fundraising efforts. As of 2022, Chris will have been an active supporter and fundraiser for the Charity for 40 years. He is passionate about the delivery of first-class service but also in the promotion and marketing of it. Chris hopes to aid the Board in their efforts to strengthen the ties between the Charity and the UK's fire and rescue services.

Michael Graham, Member of the Board of Trustees
Michael served with Northern Ireland Fire & Rescue Service for over 30 years, joining as a firefighter in 1991 and retiring as the Chief Fire & Rescue Officer (CFRO) in 2021. During his time as CFRO, Michael led the service through a period of significant organisational uncertainty, as well as through the Covid-19 pandemic, requiring him to demonstrate strong, yet compassionate, strategic leadership. Michael also spent three years at the National Fire Service College as an instructor and has a strong background in the development of people, both in the operational environment and as strategic leaders. Michael has a keen interest in many sports, having represented Northern Ireland Fire & Rescue Service in golf and played for the British Fire Service Rugby Team. Michael is also currently a Non-Executive (Lay) Member of the Northern Ireland Blood Transfusion Service (NIBTS).

Ross Haggart, Member of the Board of Trustees
Ross has been an operational member of the fire and rescue service since 1994 and is currently the Interim Chief Officer at Scottish Fire & Rescue Service. Prior to taking up this post, Ross was the SFRS' Director of Prevention and Protection, and has also served as Deputy Assistant Chief Officer within the Service's Strategic Planning, Performance and Communications Directorate. Ross is also a Trustee of the Chief Fire Officers Association, former Board member of the Scottish Business Resilience Centre, and a Member of the Institution of Fire Engineers.
Shantha Dickinson, Member of the Board of Trustees
Shantha is Deputy Chief Officer of Hampshire & Isle of Wight Fire and Rescue Service. Within her role, Shantha is responsible for the development of policy, performance and assurance, and organisational learning, for her Service. She also completed the Fire Executive Leadership Programme in 2016 and is an alumna of the National Leadership Centre 'Accelerate' programme. Shantha began her career serving as an officer in the British Army, before moving into local government and the fire sector. She has undertaken a variety of roles within Hampshire & Isle of Wight, as well as nationally, which have all shared a common theme: using intelligence to improve firefighter and public safety. Shantha is also the National Fire Chiefs Council lead for the Charity, working with a diverse group of colleagues from the sector to enable the Charity to extend its reach and relevance to beneficiaries.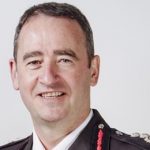 Roger Thomas, Member of the Board of Trustees
Roger is currently Chief Fire Officer of Mid & West Wales Fire & Rescue Service (MWWFRS). He has worked in the service since 1996 and has extensive experience managing disparate areas of work, including training delivery, organisational development, national resilience, community risk reduction and corporate planning and performance. In 2007/08, Roger was seconded to Welsh Government, acting as an advisor for the implementation of the Integrated Personal Development System. Roger is also a Trustee of the National Fire Chiefs Council (NFCC), Vice Chair of Swansea and Neath Port Talbot Public Services Boards and Senior Responsible Officer for the Wales Safer Communities Network.
Peter Connolly, Lead Trustee, Digital
Peter is an Operations Manager for the Environment Agency, with expertise in digital transformation, business operations, change management and incident management. Currently, he leads the Environment Agency's incident response and forecasting system teams. His responsibilities extend to overseeing developments, shaping digital policy, embedding business change and ensuring critical services are highly resilient and secure. In addition to his digital role, Peter has been a Tactical Commander for 15 years, leading the response to, and recovery from, environmental incidents – including flooding, fire, and pollution events. Peter is an accomplished leader and passionate about helping people by evolving business approaches and digital services.
Steve Tolan, Lead Trustee, Clinical
Steve is the London Regional Chief Allied Health Professional for NHS England and NHS Improvement, with a clinical background in physiotherapy. He has been leading the AHP pandemic response for NHS England and Improvement in London including supporting the set-up of London Nightingale, coordinating strategic workforce deployment and leading the delivery of Long Covid services at a regional level. He is also a non-executive director for a health and care innovation hub, Care City. His general professional interests are rehabilitation and recovery, digital healthcare, system transformation, leadership and diversity, and health inequalities.
Chris Hirst, Lead Trustee, Business Development and Marketing
Chris Hirst is currently the Global Director of Fundraising for an international sustainability charity. He has extensive experience leading fundraising teams in the UK and overseas, managing significant corporate, trust and statutory fundraising income. A vital element of this work has been funding wellness programmes for beneficiaries which address the impact on physical and mental health. Outside this working role, Chris is an experienced trustee, having served on the board of an international conservation charity and a UK-based sail training charity.