Meeting the Queen is something many people dream of, but Ian Adam had the honour of spending almost two hours with Her Majesty at our Golden Jubilee celebration in 1993.
Ian, who was Chairman for the Charity at the time and former Fire Master (CFO) for Central Scotland, accompanied the Queen as she met several beneficiaries of the Charity, as well as fire and rescue service personnel from across the UK, at London's Guildhall.
Ian also gave one of just two speeches at the event. Here he shares his memories from that special day…
Ian says: "We first met the Queen outside, by some new and old fire appliances and there were pipers and bell ringers and things like that to welcome her. Then we escorted her inside and there were a couple of speeches straight away.
"We were advised beforehand not to go on too long in them, so I remember making sure mine didn't!
"We'd just had the big fire at Windsor Castle and I remember I mentioned in my speech about the Guildhall being destroyed by fire many years before. It did mean the Queen had good knowledge of the fire brigade, because of the Windsor situation.
"After that we went walkabout. I was beside the Queen, while my wife walked a few paces behind with her Lady in Waiting.
"They'd divided the place up across a library and another two halls and there were about 12 groups of people for her to meet, who I was introducing her to.
"There was a buffet ready in each room for after the Queen left, but what happened was, after the Queen and I walked from the library into a little corridor to go to the next room, the PA system announced that the buffet was open – it had not been switched off in the hallway, so she heard it.
"The Queen turned and put her hand up, and her words were something like, 'Mr Adam will be knocked over in the rush!'
"That one mistake gave us a really spontaneous reaction from her and the photo is fantastic – it captures the moment well. I think it was perhaps one of my greatest memories of the whole day.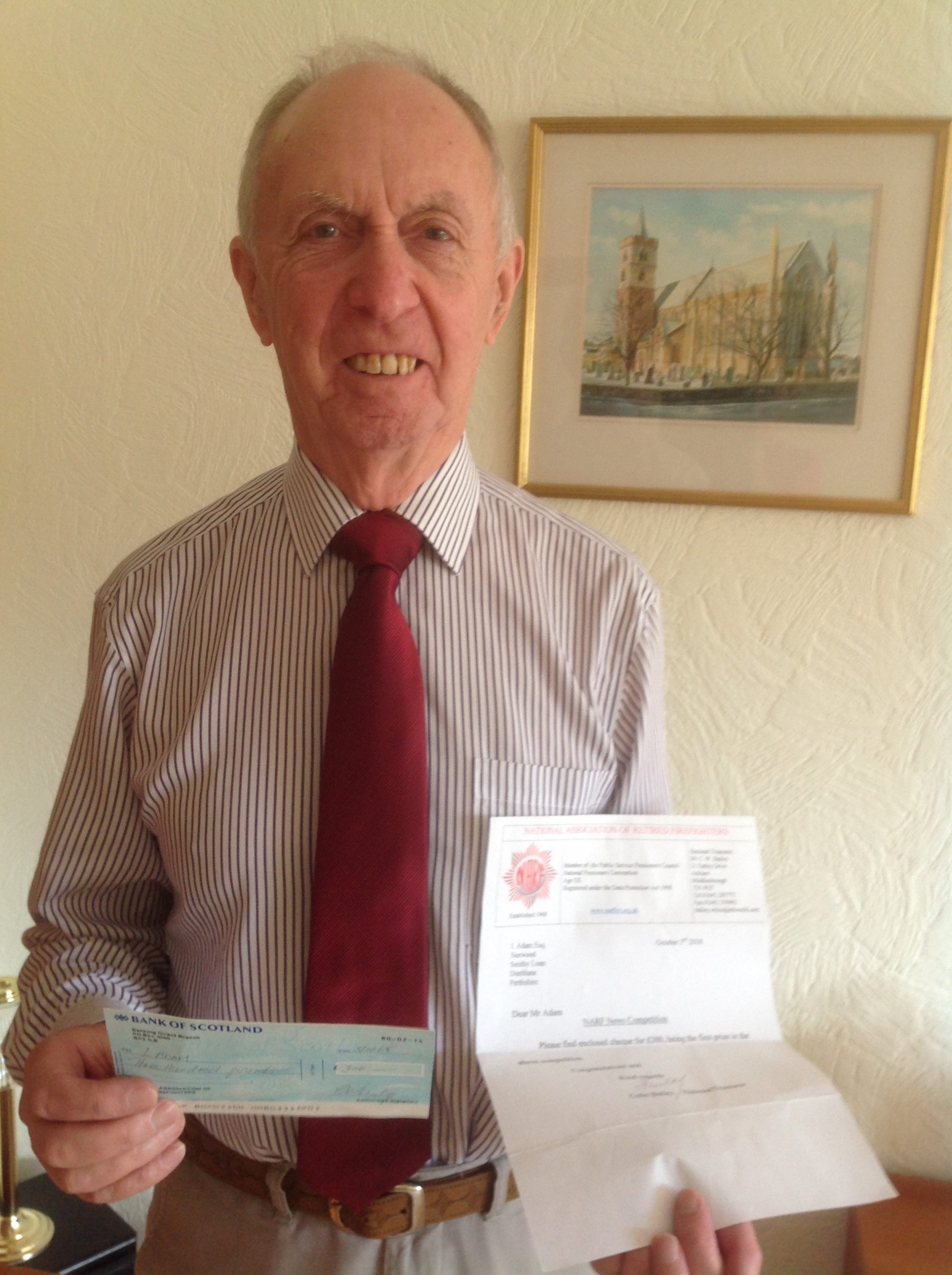 "We were all on our best behaviour as you can imagine, expecting everything to go bang on, and just a little mishap caused a great stir! It's a lovely photograph.
"You'll also see in the photo there's a drinks tray with a few glasses of wine and a smaller glass, and that followed us round the whole time in case the Queen wanted a sip of something."
He adds: "She really was on great form throughout the day. She was smashing to speak to and she was very interested in particular in the children there and families.
"There were one or two children in wheelchairs, who were what we then called recipients of our support, and she spoke to all of them personally.
"I do remember, one of the children that she spoke to was a boy of about eight years old and he said to the Queen, 'it's the Duke of Edinburgh's birthday today, will you wish him a Happy Birthday', and she replied, 'I'll be seeing him this evening, I'll mention that to him'.
"It was actually very moving, seeing her reactions – to the children in particular.
"I then remember, as we left the Guildhall – and she'd run over time – we had a table set up with photos and memorabilia that went back to 1947 and the war years.
"Her mother and father were in the photographs too and there was a lot of things she remembered from the war years and the work of the fire service. She was very interested in it.
"I then got a lovely letter saying how much she'd enjoyed it.
"I do remember when it was finished, I was relieved. To have the Queen there, that was quite something, and for it to go so well, without a hitch, was so great.
"There was a great representation from across the UK too, which was essential, because it represented the work the Charity does."
Ian went on to open Jubilee House, our residential centre in Cumbria, that same year – and the foundation stone still has his name on it now.
Just three years later, he then had the honour of meeting Her Majesty again in 1996, when he was awarded an OBE.
Have you met our Patron? Let us know your memories on MyFFC, our health, wellbeing and social space for the fire services community. Register by clicking on this link: