With the summer season fast approaching, we wanted to provide you with some fun and creative fundraising ideas to help make your event a great success.
Fire Fighting Demonstrations
Put on some fire fighting demonstrations for the public, they love to see Fire Fighters at work!
Refreshment Stands
Invite local catering businesses to sell food and drinks or hold a BBQ.
Bake Sale
Invite local baking enthusiasts to bake some goodies to sell at a stall.
Glitter and Face Painting Stall
Glitter and face painting is always a winner with children and some adults too
Tombola
Ask local businesses to donate some prizes and raffle them off on the day.
Fitness Challenge
Set up a fitness challenge between Fire Fighters and the public/local fitness groups.
Entertainers
Invite local schools, dance troops or choirs to perform for the crowds.
Soak the W/C or a Hose Challenge
Soak the Watch Commander or new recruit with a hit the target game or set up targets for people to hit with the hoses. You'll find our Hose Challenge A4 poster in our event toolkit here.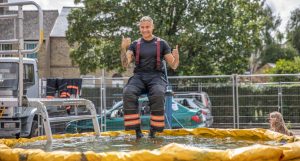 Set up a colouring in stall and hold a competition
The winner gets a prize.
Scavenger Hunt
Organise a scavenger hunt within the station grounds and the whoever finds the clues first wins a prize.
Funfair Games
Set up some traditional funfair games such as hook the duck and a coconut shy or a bouncy castle where permitted.
Tug of War
Hold a competition between the crews to see who's the strongest.
Beat the Goalie Competition
Take 5 penalty shots against the goalkeeper (£1 for 5 shots), can you score all 5 to win a prize! You'll find our 'Beat the Goalie' A4 poster in our event toolkit here.
Arm wrestle a Firefighter
Set up an arm-wrestling contest for a donation and crown the champion.
Mascots
Bring the children along to meet Blaze Bear (photo opportunities).
On Call Recruitment stand (retained stations)
Home Fire Safety information.
Guess How Many
Challenge people to guess how many items are in a jar.
If you'd like to discuss these, or any of your own ideas, get in touch with your Community Fundraiser here.