Activities for crafty crafters
Blaze Bear colouring sheets
Why not print out one of our colouring sheets and post it to your local fire station or control room to say thanks for keeping us all safe, like Jessica has done!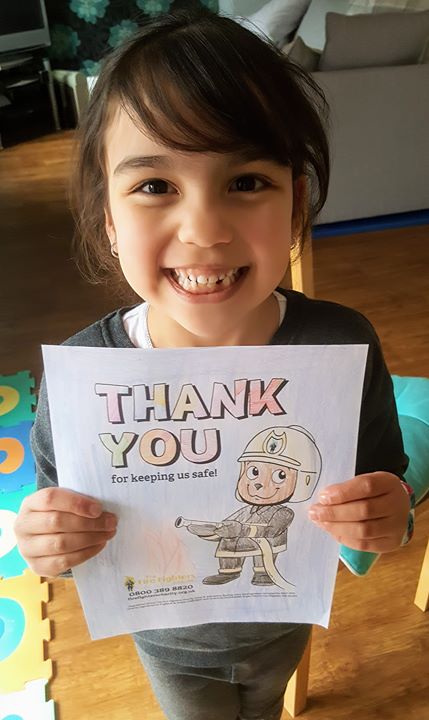 Colour in Neenaw
Everyone's favourite fire engine is also available to print off and colour in. Find a Neenaw colouring-in sheet here.
Blaze Bear Activity Sheets
We've got a special Easter-themed Blaze Bear activity sheet, which you can find here. And we've also saved the Blaze of Glory pages from past copies of Shout! magazine, which you can find here and here.
Activities to keep healthy, fit and active
Bike rides
It may seem simple, but there's often nothing better than jumping on a bike – whether you own one, or rent it for the day – and spending a day in the countryside.
Why not pack up a picnic and take it along for the ride, stopping along the way to (hopefully) enjoy some sun and sights. Not only does it help the whole family get active, but it also brings everyone together – away from screens – and pushes you to go further than you would on foot.
The benefits of activity are not just physical. Yes, they contribute to our fitness, strength and stamina among many other things, but they also have an extremely positive effect on our mental health as well. When you exercise, your body releases endorphins, a feel-good hormone that makes a hugely positive impact on your overall sense of wellbeing.
Outdoor adventures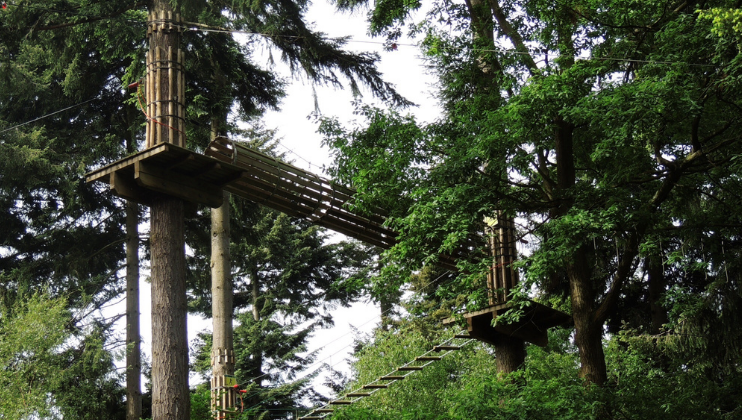 There are plenty of outdoor activities on offer if you fancy something a bit different this Half Term.
Go Ape is a treetop adventure course offering families the chance to push their limits with a series of difficult courses, as well as brave a number of sky-high ziplines over the trees. They have locations right across the country, so check out their homepage to see if there's one near you.
If your kids (or you!) fancy getting close up to animals, there are also several safari parks across the UK. You can find out more about some of them here. You could also try out a wildlife walk or break with UK Wildlife Safaris.
Depending where you live, there could be mountaineering courses, water-based activities or hikes closer than you think, so have a scour online to see if there's something the whole family will enjoy within driving distance – ensuring you stick to government guidelines in your area throughout.
YouTube is your friend
There's plenty of amazing stuff out there to encourage kids to get moving, so ask them what they'd like to do and do your research. YouTube is packed full of fun ideas, with CBeebies keeping kids entertained for years.
Scavenger hunt
As restrictions continue to ease there are more opportunities to soak up the great outdoors and all it has to offer – so why not try our scavenger hunt? It's a fantastic way to enjoy something fun as a group, no matter what your age.
"We are very pleased to share our outdoor family scavenger hunt PDF," says Nursing Services Lead Kath Savage. "We encourage you to get moving as a family and take some time away from your screens to be a little bit more mindful of your surroundings."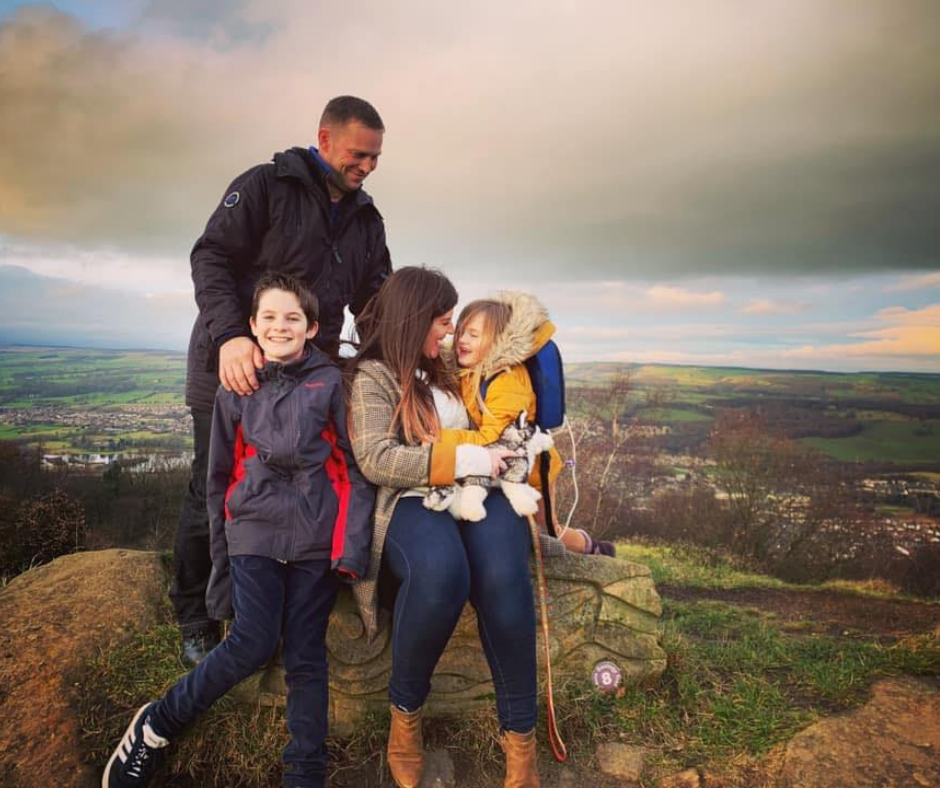 Find the list via the button below, which you can either print off or take a screenshot of on your phone, then see how many you can spot. You don't have to capture them all in one day, why not spread them out over the week? And maybe you could take photographs of everything on the list, so you can keep track of what you've seen so far.
Please ensure you always adhere to government guidelines for your area.
Activities to nourish your soul
Attract birds to your garden/outdoor area
One way you can feel more connected to the outdoors is by watching the birds through the seasons. So, whether you've got a balcony, a garden, or a local park, you can help nature and, in turn, it will help you.
A great way to help nature in the winter is to put out food for the birds. You can buy ready-made fat balls, or you can have fun making your own. Here's one way:
You will need:
Bowl
Small yoghurt pot (or similar)
Twine
Twig
Lard or suet, room temperature
A selection of mixed bird seed, sunflower seeds, pumpkin seeds, oats, dried meal worms
Instructions:
Make a small hole in the base of your pot and thread the twine through, tying the twig in across the top.
Mix together the ingredients, about one part fat to two parts dry.
Push the mixture tightly into the pot and leave to chill in the fridge.
Get reading
Reading is one of the best ways to relax and unwind, and take your mind off any worries. If your children don't like reading books, why not listen to them? David Walliams has several readings of his books and Audible have made loads of children's books free to download as well.
Mindfulness for children
There are lots of guided meditations on YouTube for you to watch and enjoy, which will help you take some much-needed time to relax. Here are some of our favourites:
Enjoy the grounds of Harcombe
Our Wellbeing and Behaviour Change Coach Sally Walker has provided a relaxation video featuring some of the beautiful grounds of our residential centre in Devon, Harcombe House. Sit back, relax and enjoy unwinding.
Enjoy nature
Host a field trip to your back garden or a patch of greenery near your house. Write down five things you can hear, see, smell, and touch. Not only is being outdoors great for our wellbeing, but this activity also helps ground people in the present, something extremely important during periods of stress or uncertainty.
Activities for the arts lovers
Create your own cinema
Host a family movie night and set your living room up to feel like a cinema. Design tickets and create tasty snacks to enjoy while you watch. Or if you want a low-key affair, what's better than "going to the cinema" in your pyjamas? However, if you're after the real thing, cinemas are once again open across the UK so why not book your family in to see their favourite film?
Visit museums and galleries
#TateIsOpen! We shell see you soon. 🐌

Henri Matisse's The Snail 1953, welcoming visitors back to Tate Modern. © Succession Henri Matisse/DACS 2021. https://t.co/lNY3elGdYM pic.twitter.com/d10rtmzYIq

— Tate (@Tate) May 18, 2021
Some of the most famous museums and galleries opened their virtual doors to us to enjoy their contents from the comfort of our own home over the pandemic. Now, however, they're opening again for real – so why not enjoy a trip out to see some of your favourite artists' works?
Look to the future
Make a time capsule
Why not create a time capsule for the future? You could fill a shoebox with newspaper clippings, letters or cards you've been sent, things you love at the moment and seal it up to put away somewhere safe. Write on it 'Not to be opened until 2030' or even '2040', so you can look back and remember just how you felt during these times. Or if you're feeling particularly bold, why not bury a timecapsule in your back garden? Create it as a family, write down how you felt about things and enjoy collecting stuff to go in it.
Whatever you end up doing, make sure you show us! You can tag us on Facebook, Twitter and Instagram or email us at marketing@firefighterscharity.org.uk