For many people, completing one marathon in their lifetime is a huge achievement, but this year will mark Jacqui McDonald's 20th – and she's running her final one in support of the Charity as a thank you for the support she has received.
Jacqui, who was a wholetime firefighter with Scottish Fire and Rescue Service for 10 years before moving into an occupational health role in the fire service, reached out for support after struggling with sciatica, which in turn triggered a battle with her mental health.
She eventually visited Jubilee House, our centre in Penrith, Cumbria, in 2018 and says the support she received for both her physical and mental health has now helped her find a series of coping strategies that have transformed her day-to-day life.
Jacqui says she'd struggled with alcohol addiction for years before her sciatica flared up, but was determined to get sober before reaching out to the Charity for support.
"I didn't apply to the Charity until I was sober, I knew I needed to be okay with that first," says Jacqui. "I went to Penrith in 2018. I was there for a musculoskeletal issue, but I think in the back of my mind, I knew I was needing some psychological support too. It was a two-pronged attack!
"I had really bad sciatica which had been going on for years and it got to the point it was affecting my mental health I think too. I knew I needed to get help before that developed, at the early stages.
"When you're very active and that's suddenly taken away, everything can snowball.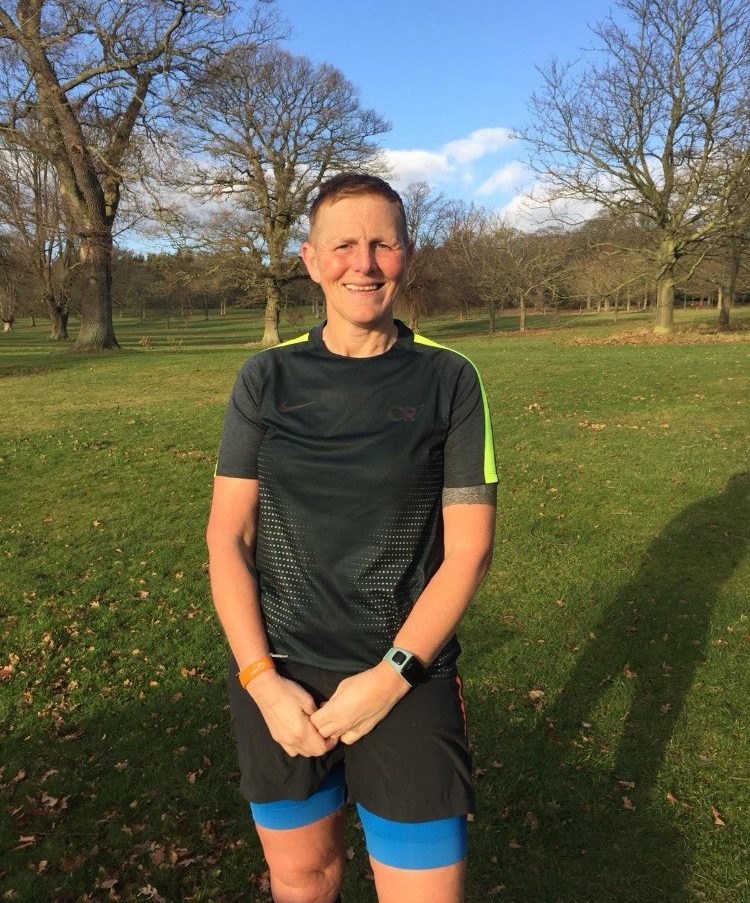 "They did everything at the centre really, it wasn't just for physical fitness. I made friends I'm still in touch with now too. I remember thinking before I went, 'I really don't deserve to go here, I should leave these places for operational staff who are frontline', but it's there for everyone."
Jacqui says she'd suffered with anxiety throughout most of her life, but taking the time out to focus on her physical health proved a huge help for her mental health at the time too.
"I've experienced anxiety from a very young age, on and off. In those days it wasn't really recognised, certainly compared to now. I just basically felt I needed to get on with it," says Jacqui. "The service, though, has been incredible, and more recently the Charity.
"I'd encourage anyone to get in touch, as early as possible. If you feel it could be a benefit to you in any way, get in touch. There's also the support line now and digital counselling services, if that best suits you, so there's so much support.
"It covered everything from nutrition to mental health to physical health, then there were the structured meals which was amazing."
Jacqui says she's felt more in control ever since her stay at Jubilee, but is constantly working on it – and has now learnt when to watch for potential triggers when it comes to her mental health, ensuring she looks after herself into the future.
"I've now got really good coping strategies if I'm having a bad day – and a lot of those stem from Penrith," she says.
"It's so reassuring knowing the Charity's there when I need it in my future."

Jacqui McDonald
"I was doing a mental health video at work recently and I thought that morning, 'I'm not in the best place today'. I'm terrified of triggers and I'm now very mindful that I've got to stay on top of it all the time, not be complacent. I'm fine, I'm well, but I'm using those coping strategies every day.
"Penrith came at the right time, before it got really bad. Now it's so reassuring knowing the Charity's there when I need it in my future.
"I'm always reminding myself of the chaos the alcohol caused, and the sadness. I don't want to go back to that again."
Jacqui has now vowed this will be the last marathon she does, as she hits an incredible 20 in her life, and has already raised more than £2,400 for the Charity.
To donate to Jacqui's fundraising page, click here.