Teams of firefighters from here in the UK and across Europe pushed themselves to the limit in a series of gruelling challenges at this year's British Firefighter Challenge, with some of those taking part kindly fundraising for us.
Firefighters of all ages took on difficult stair ascents, fire hose drags, 'casualty' rescues, lifts and more across two days in Manchester – with some incredible efforts by all.
And this year's competitors raised an incredible £7,146 for us.
The fitness competition is open to all operational and retired firefighters. It was initially organised to promote the benefits of exercise on firefighters' overall health, while also showcasing the huge demands of their day-to-day job for spectators.
Gloucestershire FRS's team alone raised a huge £2,725 for us and teammate Amy Lynex says: "Everyone on the team has witnessed the support offered by The Fire Fighters Charity, either first-hand or for their colleagues. Training for The Firefighter Challenge promotes improving physical fitness so it makes sense to use this as a platform to raise funds for the Charity which supports firefighters recovering from ill health or injury. The success and support of team GFRS helps us raise incredible amounts every year. We're grateful for the opportunity to give back!"
Below you can browse just a few of the highlights: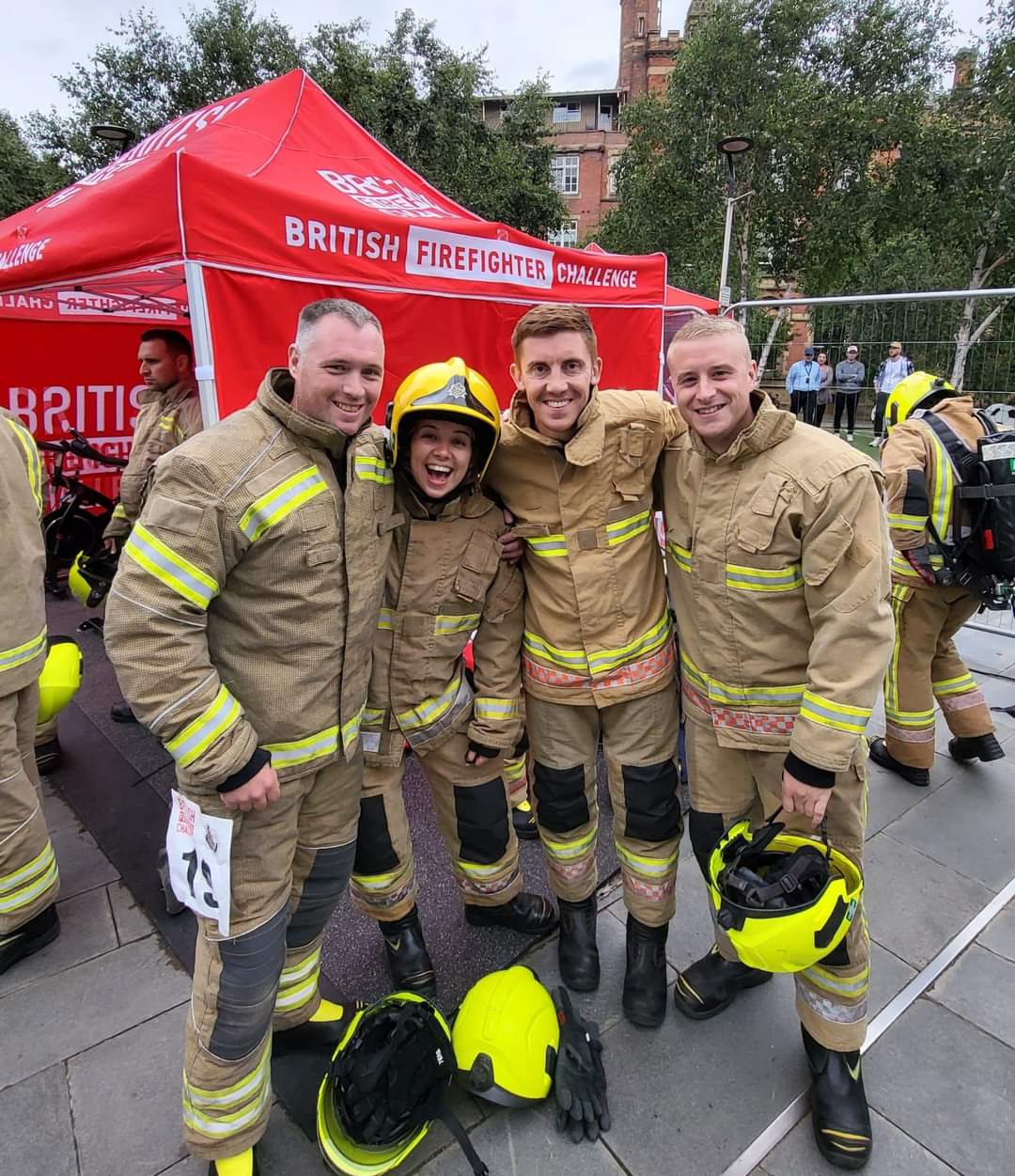 An amazing achievement🎉

Sixteen of our firefighters travelled to Manchester for the Annual British Firefighter Challenge at the end of July and won first place out of a total of 20 services with the fastest three combined race times.https://t.co/T9zOvhOEdi@firefighters999 pic.twitter.com/jt3LT7DDwX

— Glosfire (@Glosfire) August 8, 2023
CM Cook, FF McCall and FF Archer from White Watch, along with FF Calvert from Middlewich were busy over the weekend competing at the British Firefighter Challenge, taking home three medals including team gold in the mixed relay!#BFC #BritishFirefighterChallenge #firefit pic.twitter.com/ILYxiu0K7Z

— Lymm Fire Station (@LymmFS) August 1, 2023
As we end a fabulous weekend we are soooo thrilled to see our very own Helena win the female 30-39 category. She beat the current British record holder.
We now have the British female champion in our service!!
Big hug from the chief as he presents her with her gold medal.… pic.twitter.com/2kMsNnVcde

— Greater Manchester Fire & Rescue Service (@manchesterfire) July 30, 2023
Lots of home support noise as our Dave and Francis battle it out against each other. Crew mates, colleagues and family all cheering them on loudly from the side 🚒❤️#BritishFirefighterChallenge pic.twitter.com/ItdqQKFsnO

— Greater Manchester Fire & Rescue Service (@manchesterfire) July 29, 2023
We've got a husband and wife taking each other on 👫
They met back on their new recruit course.
Rich my have finished first but he's recovered quickly to cheer wife Dawn on ❤️#BritishFireFighterChallenge pic.twitter.com/GAlHlaL5dO

— Greater Manchester Fire & Rescue Service (@manchesterfire) July 30, 2023
Well done to Firefighters Cally Beal and Jamie McCarron who completed in the #BritishFirefighterChallenge this weeekend. Cally finished 17th out of 36,and was 3rd in her age category. Jamie finished 47th out of 169. An incredible effort by them both @NLandFRS_CFO pic.twitter.com/FRd5rSZUTo

— Northumberland Fire & Rescue Service (@NlandFRS) July 30, 2023
Scotland's B Team – mixed team with the only mums from Scotland here! #BritishFirefighterChallenge pic.twitter.com/2jqOVnh5IZ

— Jessica Entwistle (@JessicaEntwist3) July 30, 2023
Gutted to not be at the #BritishFirefighterChallenge in person but thoroughly enjoyed the updates from everyone involved this w/e & this photo just summed it all up for me- so many familiar faces, truly inspirational women from @Glosfire @CumbriaFire @manchesterfire 💜🤩💪✨ pic.twitter.com/lxV8kZJu6m

— Liana (@LianaSJFire) July 30, 2023
We're immensely proud to say that our very own, FF Jack Baker took 1st place in:🥇18-29 Male,🥇Overall British Male and the prestigious title of🥇Overall Open BFC Champion! And they are all retained titles from last year! #BritishFirefighterChallenge pic.twitter.com/Rc4hFenl4k

— Highgate Fire Station (@WMFSHighgate) July 31, 2023
Watch a snippet of Jack's winning heat here! (Wearing blue) #BritishFirefighterChallenge pic.twitter.com/8VrhdayXXJ

— Highgate Fire Station (@WMFSHighgate) July 31, 2023
Firefighters were given some pretty gruelling tests alongside the Manchester Day celebrations 🚒 pic.twitter.com/JLxiv9SAxI

— Manchester News MEN (@MENnewsdesk) July 29, 2023
Wishing our #MFRS team the best of luck as they compete in the #BritishFirefighterChallenge today!

They will be competing in the Relay Team Event today at approximately 2pm 🏃

You can watch them live here: https://t.co/KSj5vVhr8z pic.twitter.com/ldxqrPSHCI

— Mersey Fire (@MerseyFire) July 30, 2023
Had a fantastic day at the #britishfirefighterchallenge enjoyed spending time with my fire family. It's on again all day tomorrow. If you're near by come along and cheer on our fantastic Firefighters!! @manchesterfire pic.twitter.com/svVl8BuGVZ

— Mike Clark (@MikeClarkFire1) July 29, 2023