While our incredible NHS works tirelessly to tackle the coronavirus (COVID-19) spread, the work of our Fire and Rescue Services cannot go unmentioned as they continue to keep the country safe.
We thought we'd share just a few examples of the extraordinary lengths our emergency services are going to out in their communities during this time.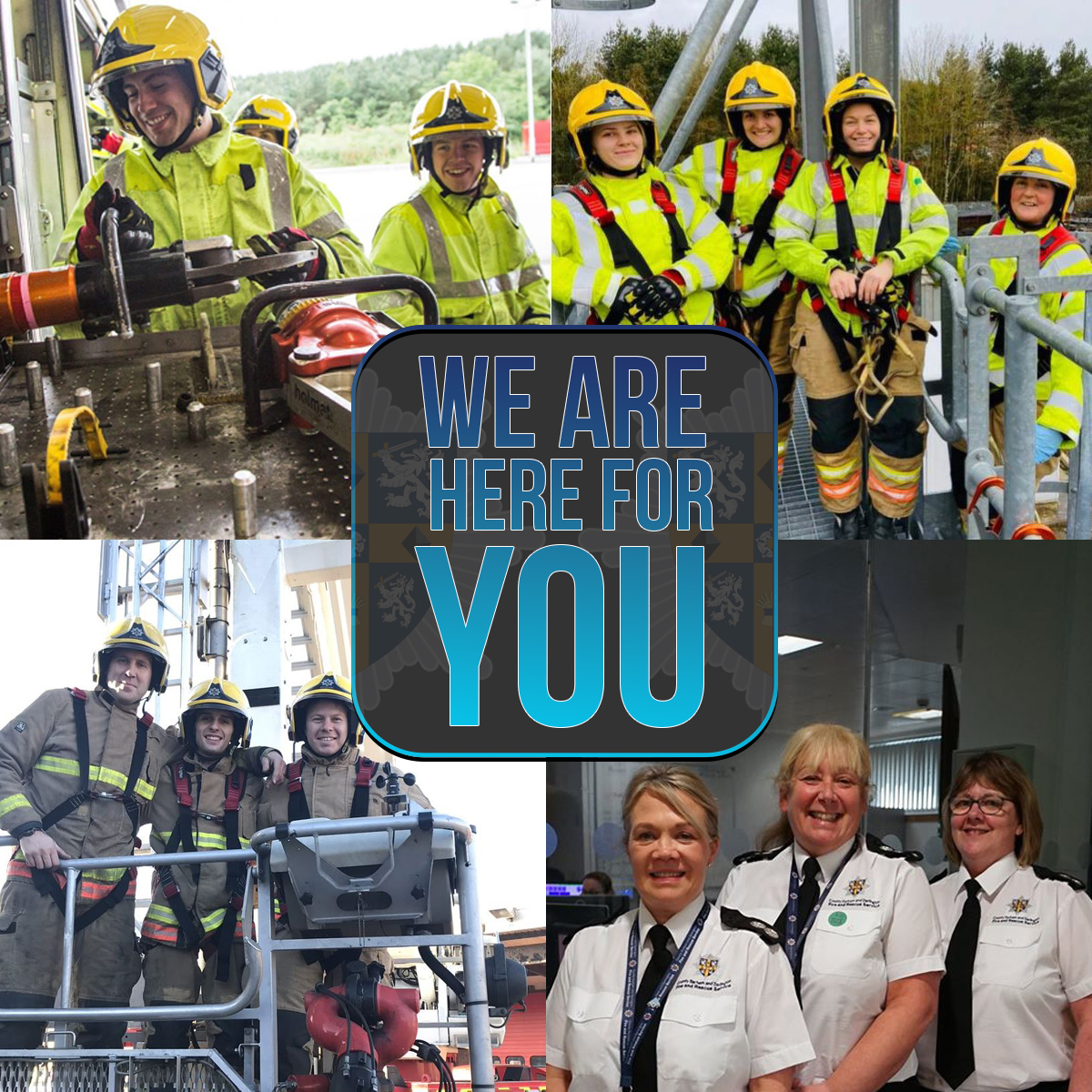 But first, an important reminder from Cambridgeshire Fire and Rescue.
📣 Our firefighters have a message for you 🚒 📣

It's simple.

Be a hero. Stay at home. Save lives. #StayAtHomeSaveLives #BeAHero pic.twitter.com/DfwpQvGuOd

— Cambridgeshire Fire and Rescue Service (@cambsfrs) March 23, 2020
Silsden Fire Station have been asking for your rainbow & sunshine pictures to help brighten up the station this week! 🌞🌈

Thanks for everyone who has sent one in.

We ♥️ them all!

You can get involved & send us a pic here: https://t.co/LAORC6Glx5 #StayHomeSaveLives pic.twitter.com/MCK5Ov0rTF

— West Yorkshire Fire and Rescue Service (@WYFRS) April 1, 2020
We're here to help you. While you're doing your bit by staying indoors, here's an important message from Firefighter Wilson of #Aberbargoed Fire Station to help you keep safe. 🚒#HereForYou pic.twitter.com/iRIXV4DcWG

— South Wales Fire and Rescue Service (@SWFireandRescue) April 1, 2020
Our firefighters have a message for you 📢

Stay Home. Save Lives. pic.twitter.com/FruBfW4dXF

— Nottinghamshire Fire and Rescue Service (@nottsfire) March 30, 2020
As Course T3/20 undergo their essential training, preparing them for their emergency response roles, they would like to remind everyone to STAY SAFE! #coronavirus #COVID19 pic.twitter.com/wb2E6a6Sh5

— SFRS Trainees (@sfrs_trainees) March 30, 2020
Week one✅How have you been spending your time at home? Fitness?🚴 Baking? 🧁 Colouring? Films? 🎬Craft? 🎨Cleaning? 🧹🌟 Post your photos below (Bonus points for any fire safety related tasks!)🌟HINT: Don't forget to test your smoke alarm #StayAtHome #StaySafe 📷Tilly, Hinckley pic.twitter.com/rBz22k1L74

— Leicestershire Fire and Rescue Service (@LeicsFireRescue) March 30, 2020
Thank you to our fantastic emergency services. #StayHomeSaveLives #COVID19 #Coronavirus pic.twitter.com/AHpm1SKBqj

— Home Office (@ukhomeoffice) March 24, 2020
We want to reassure Scottish communities as the #coronavirus (#COVIDー19) pandemic develops.

📽️: Here, Chief Officer Martin Blunden (@FireScot_Chief) discusses the measures being taken to minimise the impact on our emergency response.

Read more ▶️ https://t.co/rg1xxT69F0 🚒 pic.twitter.com/5sCLbjDiRC

— Scottish Fire and Rescue Service #StayHome (@fire_scot) March 25, 2020
Our Control Officers are busy taking calls and dispatching fire engines wherever they're needed. There's always someone on the end of the phone if you call us on 999 in an emergency pic.twitter.com/RUqBLVxz5I

— London Fire Brigade (@LondonFire) March 21, 2020
Calling all children (and adults 😀) in #EastSussex #Brighton #Hove! Wakey, wakey…time for some homeschooling.

Sometimes, you just have to say it with #Lego #Covid19 #SocialDistancinguk

Now, let the figurine do all the talking! Take it away…

🏫🧑🎓🖊️ 🚒 pic.twitter.com/9N0t77pjOP

— East Sussex FRS #StayHomeSaveLives (@EastSussexFRS) March 26, 2020
With more people working from home there's a lot more cars parked up in the streets and housing estates. Please park safe and leave enough room for your emergency services to get through. #CantHelpYouIfWeCantGetThru @NEAmbulance @northumbriapol pic.twitter.com/qddgMMSZsB

— Northumberland Fire & Rescue Service (@NlandFRS) March 26, 2020
We've spotted some fab #chasetherainbow drawings around #Kent today! Great to see so many children spreading a little joy with this initiative to cheer everyone up! 😊🙌 #KentTogether pic.twitter.com/Qmrds7nUzQ

— Kent Fire and Rescue Service (@kentfirerescue) March 25, 2020
Trainee fire dog Louis understands the importance of self-isolating with his housemates on #FireDogFriday 🐶#DogsOfTwitter #FridayFeeling pic.twitter.com/sJ6zkR71Vl

— Hampshire Fire and Rescue Service (@Hants_fire) March 20, 2020
Stay at home. Protect the NHS. Save lives.
We are still working to help and support you. We're working closely with all other organisations across Suffolk. Please follow the Government advice #Covid19Suffolk #StayHomeSaveLives pic.twitter.com/R9oPaqVfQx

— Suffolk Fire & Rescue Service (@SuffolkFire) March 25, 2020
COVID-19: We Can't #FightBack
Please watch, share, and take care. pic.twitter.com/VgycIfwu2i

— David Meade (@DavidMeadeLive) March 25, 2020
In this video, @FireChiefNhants gives an update on what the service is doing through the current coronavirus crisis.
#covid-19 #coronavirus #StayHomeSaveLives pic.twitter.com/A57Xu4uF6M

— NorthantsFire (@northantsfire) March 26, 2020
#StayAtHomeSaveLives #999Family👨‍🚒👩‍🚒🚒❤️ pic.twitter.com/NNjKydEHS8

— County Durham & Darlington Fire & Rescue Service (@CDDFRS) March 24, 2020
Just a few of the faces from last night's ambo shift, a paramedic who's also an ED Nurse, a firefighter who's also an EVO, a stocker washer keeping the trucks kitted, everyone doing their bit. We are going to work for you, please stay home for us! #kickingcoronasbutt #iwight #iow pic.twitter.com/FkNgrIw1iG

— Freshwater Fire Stn (@FreshwaterFire) March 24, 2020
Latest information and advice on protecting yourself and others from coronavirus here https://t.co/Qxo7DaQObQ and remember please keep washing your hands Hertfordshire pic.twitter.com/sKgRnBVOfi

— Herts Fire & Rescue (@HFRS) March 15, 2020
This is Lynsey, mother to 3 children… & W.Yorkshire Firefighter!👩‍🚒

📣"I love my role. It makes me happy doing something that my children are proud of."

😊We know this is a day late, but heroes should be celebrated everyday. #HappyMothersDay to all the amazing mums out there! pic.twitter.com/l1o3cQuqtp

— West Yorkshire Fire and Rescue Service (@WYFRS) March 23, 2020
We'll keep responding to emergencies to keep you safe, you stay indoors to protect everyone else. Together, we will get through this. #KentTogether #Coronavirus #Covid19 #StayHomeSaveLives pic.twitter.com/TVbEscr7vT

— Kent Fire and Rescue Service (@kentfirerescue) March 26, 2020
Today some of our officers 👩‍🚒 have been doing some breathing apparatus refresher training🔥😁so that they are ready 💪 should you need them #AlwaysReady #FireFamily pic.twitter.com/LiVn0deZMe

— County Durham & Darlington Fire & Rescue Service (@CDDFRS) March 25, 2020