While most 14-year-olds were enjoying a long break from school in August, Gil Endicott has set his sights on a huge challenge to say thank you to two charities close to his heart.
The young teen, whose father Neil has been a firefighter with Dorset and Wiltshire Fire and Rescue Service for 26 years, wanted to raise vital funds for our Charity after we helped Neil on two separate occasions, as well as Bliss, which supports families with premature or sick babies. And he chose to do it by cycling 217 miles in just two days.
Gil not only managed it, he's also smashed his fundraising target. Here, Neil looks back on their ride and what motivated them…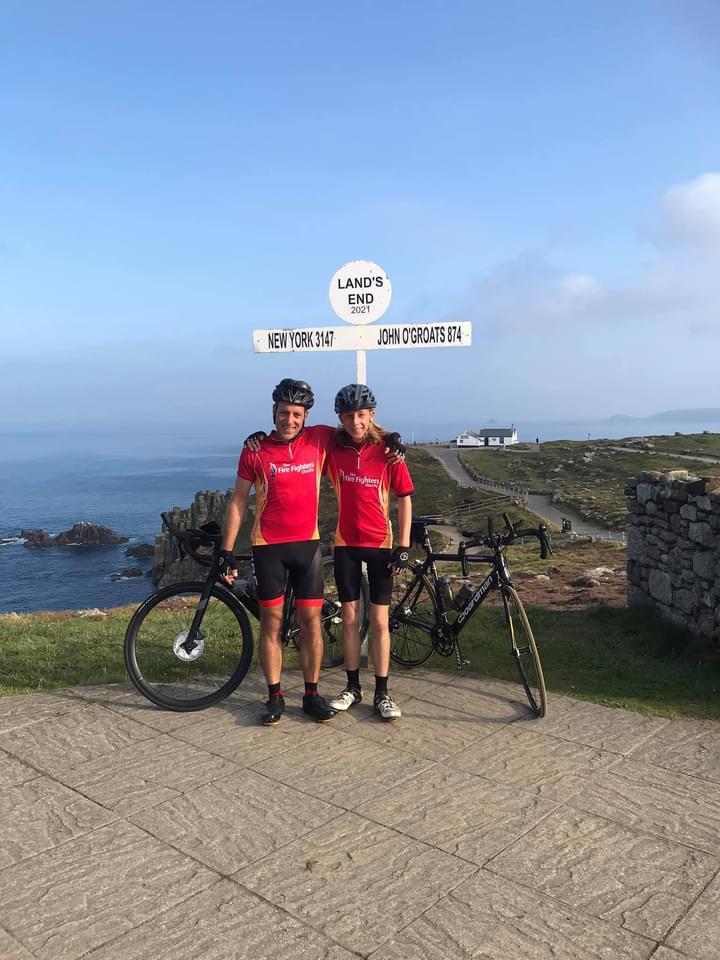 Neil says: "In 2006, my wife Emma and I had three wonderful boys. Born at 28 weeks, they were effectively three months early and dangerously small… Kimi the big 'un at 2lb 14, Dillon at 1lb 9 and Gil at 1lb 10… think the weight of a box of cornflakes!
They spent the first three months of their lives in Bath's Royal United Hospital Neonatal Unit receiving amazing care and, thanks to the whole team, we were able to bring them home and start the hard work of raising triplets ourselves.
Fast forward to recent times and the excess of lockdown energy prompted Gil, my youngest (by 120 seconds) to suggest a challenge to raise money for two charities. One is Bliss, the charity for babies born too early, too sick or too small, and also you, The Fire Fighters Charity, not only as the cause is extremely worthy, but as a serving firefighter of 26 years I have benefitted twice from stays at Harcombe House to tackle separate back issues.
I've had two bouts of sciatica unfortunately, one was when I was 40 and it was all in my right leg, leading to seven months off operationally.
After a few months I managed to get a place at Harcombe House on a rehabilitation programme and it was absolutely brilliant, I could not fault the team in any way. They also gave me a programme which I went away with and I stuck with religiously.
Then unfortunately about three or four years ago I got it in my other leg. At least I haven't got any other legs left now! It luckily fell into place with me getting another stay at Harcombe on a slightly different programme, which again I've carried on with.
Thanks to the wonderful team and their support at the Charity, I am now able to be the active father that I always hoped to be – and, importantly, I'm operational again.
Gil wanted to cycle from Lands' End to home, Frome in Somerset, a distance of 217 miles. Broken up with an overnight stop in Bude, we were aiming to complete the ride in two days.
Several months of training followed, starting with 40-mile rides, working up to a 117-miler with a 50-mile chaser the next day. Sometimes towards the end of these rides I would notice Gil starting to flag and have to remind myself that he is only 14 for heaven's sake!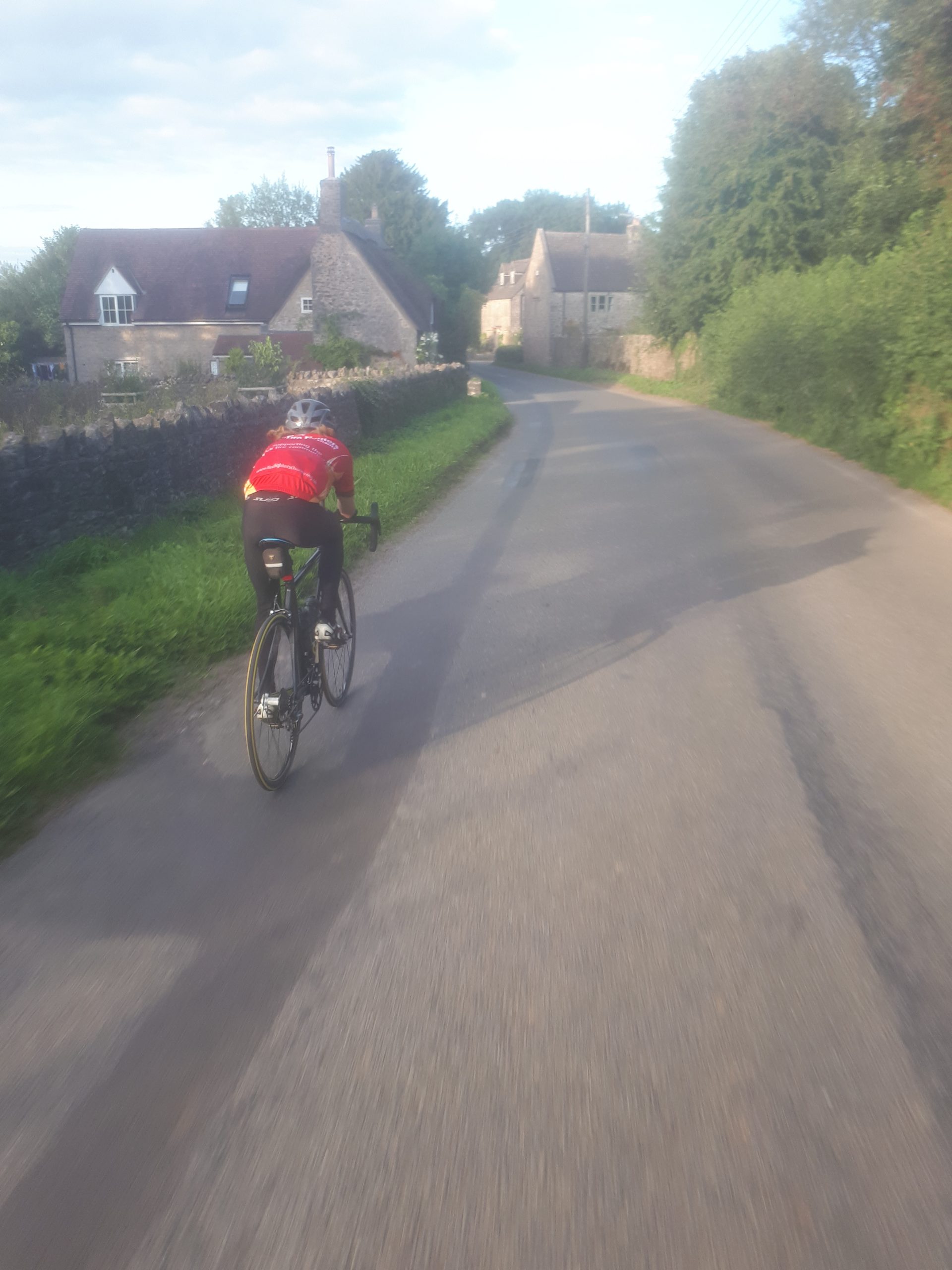 On the morning of 27 August, Emma and Dillon waved us off from the iconic Lands' End marker post, way before the tourist masses descended, and we began pedalling steadily under a beautiful sky.
The usual cycle route from this starting point spears inland but you can't be amid such scenery and not take full advantage of it so I had altered the route to lead us along the south coast and then chop north to traverse the north coast for as long as we could, before needing to head more in the direction of home.
With an uncharacteristic headwind the entire way, we tapped away and made steady progress. Arriving just outside of Bude for the night, stage 1 was complete. 109 miles, 7136ft of climbing at an average of 13.8 mph wasn't too shabby, having consumed an inordinate amount of cake, Soreen and sandwiches. A huge pasta meal and a solid sleep quickly followed.
The next day it dawned bright but chilly. We quickly got into a rhythm traversing the rolling countryside. More cake, Soreen, energy bars, drinks and even a stop for chips kept us fuelled and as the day wore on we entered our home county and the light at the end of the tunnel appeared.
However, with over 170 miles under our belts already, the distance was starting to take its toll. Gil soldiered on but I could tell by the reduction in conversation from behind that there was not much left in his tank. The final big climb at 15 miles to go sapped any residual energy left over, but a rolling path back home was all that stood in our way.
That's when Gil noticed his average speed at 13.9mph. I have no idea where he gets this competitive streak from, but he decided that 14mph was required and from who knows where, he dug in and took the lead pedalling harder than a 14-year-old with over 200 miles in his legs has any right to.
Freewheeling the last 200 metres to our house, we were greeted by family, friends, banners, bubbly and finally a rest. We had done it… another 108 miles, 6585ft of climbing at an average of 14.4mph.
I'm so proud of my son. He has raised over £1,100 so far, to be split between the two charities."
To support their fundraiser, click here.