A group of six firefighters cycled1,100 miles in just two weeks as a thank you to the Charity, for the support they and their loved ones have received over the years.
The team, which is made up of serving and retired firefighters from Oxfordshire Fire & Rescue Service, biked from Lands' End to John O'Groats in an event the members initially planned last year, but had to postpone due to the pandemic.
Incredibly, they've raised more than £16,400. All funds raised will now be split equally between The Fire Fighters Charity and Bowel Cancer UK.
The team have had a fantastic challenge & always arrived back after each leg with a smile on their face! They've had all weathers and pushed on through it all! If anyone would like to donate or share our cause, there is still time to do so if you are able! https://t.co/AuDbXfd9ph pic.twitter.com/cbg4PdKWcq

— BRIKCOIN LEJOG 2020 (@LEJOG2020) July 18, 2021
Dave Etheridge, former Chief Fire Officer for Oxfordshire, is part of the team and says they averaged around 85 miles a day – come rain or shine. But he says they couldn't have done it without the unending support of the public, fire stations right across the country – which opened their doors to let the cyclists sleep over each night – their sponsors and the staff at two of the Charity's centres, Harcombe House in Devon and Jubilee House in Penrith, who welcomed them for some much-needed rest along the way.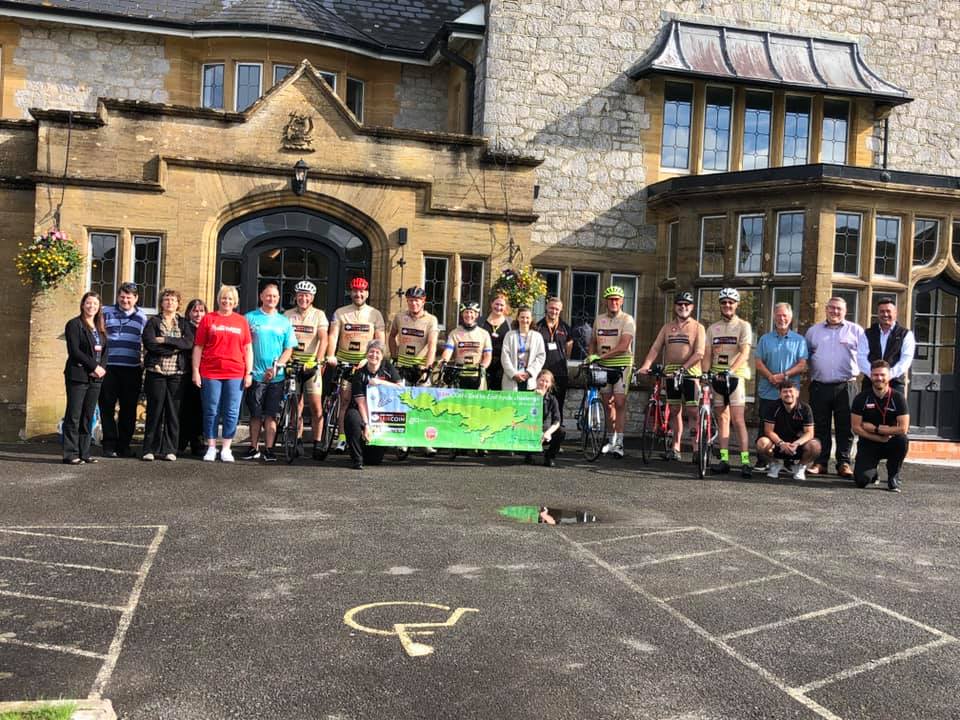 "The whole ride has been a complete mixture of British weather! It's been amazing though… I'm in heaven when I'm on a bike!" says Dave.
"I retired four years ago from the service, I was Chief Fire Officer for Oxfordshire for seven of those years. But as a service we've always been a massive supporter of The Fire Fighters Charity. We've all, in one shape or form, been beneficiaries and used the support.
"I broke my leg when I was skiing about 15 years ago and I went to Jubilee House, which was the difference between me being able to be operational and not – it gave me the springboard to get back operational."
Having begun their journey on Sunday 4 July, the cyclists made their way up the country from there, before stopping at Harcombe House to look round our facilities there and enjoy a well-earned break. They then continued, stopping at fire stations along the way, before enjoying two nights at Jubilee.
The team set off from @firefighters999 Harcombe House this morning for their third leg up to Wells! 75 miles with 3800ft of climbing, so a slightly easier day than yesterday! No aches and pains and they are rearing to go. Hopefully the rain stays away today! @bowelcanceruk pic.twitter.com/ymQmUuCQrW

— BRIKCOIN LEJOG 2020 (@LEJOG2020) July 6, 2021
For Dave, he says raising awareness of the work the Charity does – and how it can benefit beneficiaries like himself – is just as important as raising vital funds.
"I think the biggest challenge, and I faced it as Chief Fire Officer, was… we were fantastic at raising money for the Charity but we were dreadful when it came to using it," says Dave.
They have made it halfway!! The team arrived at @firefighters999 Jubilee House last night to a lovely welcome! The rain didn't quite hold off, but that didn't stop them arriving with a smile! They also defeated Shap and the first unsupported leg! @bowelcanceruk pic.twitter.com/R7WhPP8M7G

— BRIKCOIN LEJOG 2020 (@LEJOG2020) July 11, 2021
"We think that there's someone else that deserves it more and therefore there's no reason to put yourself forward. For me, I just think if I'm going to give advice to anyone, I'd say we are so good at giving our time away for other people and going the extra mile for the Fire and Rescue Service, we're so good at raising money for all charities, but every now and then you just need to make sure that you create a bit of 'me time'.
"Just sometimes it's a case of saying, I just need to clock off and clock into the Charity for that final little adjustment, or mental health support or physical health support, whatever it may be.
"The phrase I used to use in the service was, if we didn't have the Charity, we'd pretty quickly make one. It is the bridge between where people can get to through the NHS or private health and the operational level we need people to be at. Ultimately we are ordinary people doing an extraordinary job. Therefore, we sometimes need some extraordinary help to get us back up to that level."
The team also chose to support Bowel Cancer UK with the challenge after Dave sadly lost his father to bowel cancer in 2019. Shortly after, a very close friend of theirs was also diagnosed. She luckily underwent a course of successful treatments and is now cancer free and part of their support team on the ride.
"Ultimately we are ordinary people doing an extraordinary job. Therefore, we sometimes need some extraordinary help"

Dave Etheridge
"As soon as I mentioned it to the others, quite literally everybody else around the table had either got or have got a loved one who's gone through bowel cancer treatment," says Dave.
He cycled alongside Shaun Waters, Bob Paterson, Clive Durbin, Gary Stables and Gary Mattingley, with the event – named BRIKCOIN LEJOG – sponsored by a host of names including BRIKCOIN – which builds social and affordable housing in the UK – as well as GCi Health, Bristol Uniforms, PBi Products and HR Solutions Hub.
Debbie Rushbrooke, The Fire Fighters Charity Community, Corporate and Events Fundraiser, says: "A huge thank you to the whole of the BRIKCOIN LEJOG team for their outstanding support. They cracked on at an amazing pace cycling from South to North and it's amazing to see. We're so grateful to all of you."
To donate to them, you can visit their fundraising page here.