Marine Court recently held a Functional Drills Week to help firefighters who have been off on long-term sickness physically and psychologically prepare for their fitness test and return to work.
Exercise Therapists Kirsty Gladdis and Craig Williamson came up with the idea after being asked to plan a targeted week at our centre in Littlehampton.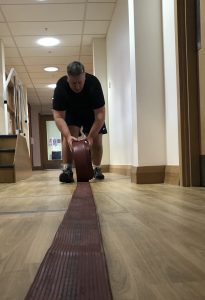 "We'd spoken to a few beneficiaries about a physical focus to help get them ready for the fitness test, but the more we spoke to, the more we realised there was also a huge psychological block about returning to work as well," says Kirsty. "People worry about passing their fitness test after being off sick for a while, and this helped us shape our focus for planning the week."
The physical and psychological teams worked together to create a programme designed to improve fitness as well as emotional resilience, not only in the short-term, but also for long-term recovery.
"The atmosphere during the week was brilliant and everyone was clearly very motivated, not only the beneficiaries but also the team here," says Kirsty. "Getting back into fitness, especially when you've been sick, can be a lonely place. But everyone was working together towards the same goal to get back on the run, and the team was thinking creatively to help them do so."
The team took elements from the fire ground fitness test – which firefighters have to complete in 11 minutes – and adapted it slightly for their facilities. Included in the circuits were a dummy drag, car cutters simulation, hose roll out and re-roll, a simulated ladder run and lifting weights wearing breathing apparatus.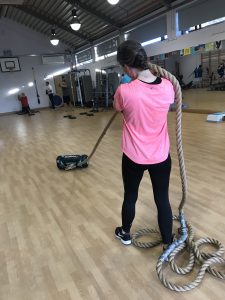 Days would start with a session in the hydrotherapy pool, before exercises and lectures throughout the day, ending with guided meditation. Psychological discussions covered topics such as motivation and resilience, stress and anxiety reduction techniques, nutrition and pain management.
"By the end of the week, everyone had knocked off an average of over a minute from their functional drills test, which was amazing," says Kirsty. "I'm so pleased with how it all went. It took a lot of planning and collaboration, but it was so successful for everyone involved. I'd love to do more in future and to help even more people get back on the run."