The world famous Virgin Money London Marathon is set to take place on Sunday 22 April and will once again see 50,000 runners making their way through the iconic streets of the Capital.
Amidst that staggering number will be a small army of inspirational runners who have either secured a place as part of The Fire Fighters Charity's London Marathon team, or who will be running independently for us.
The 17 who secured one of our official places have together pledged to raise an astonishing £34,000 to support injured firefighters across the UK. Countless others, meanwhile, will be running independently for the Charity and raising thousands of their own along the way.
In the lead up to the big event we will be introducing you to members of our official team as they prepare for their turn on London's gruelling 26.2 mile course. However, if you're one of the many who didn't secure a place with us, but who is running on our behalf regardless, please Tweet us @firefighters999 to introduce yourself too.
Here are four of our runners, Scott, Kathryn, Russell and Paul.
Scott Mathie, Lincolnshire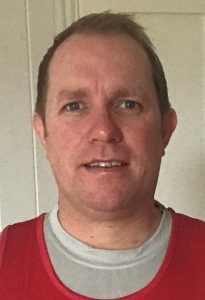 "Having been a firefighter since 2005 I am running The London Marathon for The Fire Fighters Charity because of the amazing work they do for firefighters. For the biggest part there is a happy ending to what we do, but unfortunately we also see people with various injuries and sometimes have to comfort people in their final moments. All of this takes its toll, both physically and mentally but the Charity has sites across the country to aid those firefighters and their families."
You can help Scott reach his fundraising target by donating via his JustGiving page here.
Kathryn Frost, Shropshire
"Being a firefighter for Shropshire Fire and Rescue Service I have been involved in fundraising for The Fire Fighters Charity and have seen the amazing work they do for those in need. I want to raise as much as possible to help them to continue supporting my fellow colleagues and their families."
You can support Kathryn by donating via her JustGiving page here.
Russell Bow, West Midlands
"My dad was Graham Bow MBE and he worked for the fire service and volunteered for the Charity for many years. During most of this time he also had a debilitating illness but was known for his smile and charm. He was recognised with a lifetime achievement award at the 2014 Spirit of Fire Awards. Running the London Marathon has always been something to tick off my bucket list and I couldn't think of a finer reason to put myself through it. It's my way of giving something back."
You can show Russell your support by donating via his JustGiving page here
Paul Clark, West Midlands
"I have completed 26 years in The West Midlands Fire Service and have witnessed first-hand how the charity have assisted my colleagues, and I have also seen the tireless work that their staff do. I now thought it's time that I assisted the charity to raise money and what better experience than competing in the London Marathon, where I could give a bit back to this well deserving charity."
You can help Paul to give back to our Charity by donating via his JustGiving page here.