The world famous Virgin Money London Marathon is set to take place on Sunday 22 April and will once again see 50,000 runners making their way through the iconic streets of the Capital.
Amidst that staggering number will be a small army of inspirational runners who have either secured a place as part of The Fire Fighters Charity's London Marathon team, or who will be running independently for us.
The 17 who secured one of our official places have together pledged to raise an astonishing £34,000 to support injured firefighters across the UK. Countless others, meanwhile, will be running independently for the Charity and raising thousands of their own along the way.
In the lead up to the big event we will be introducing you to members of our official team as they prepare for their turn on London's gruelling 26.2 mile course. However, if you're one of the many who didn't secure a place with us, but who is running on our behalf regardless, please Tweet us @firefighters999 to introduce yourself too.
Here are three of our runners, Terry, Chris and Tom.
Terry Jones, Carmarthenshire
"I am running for The Fire Fighters Charity because in 2017 I had an accident on duty resulting in loss of feeling in my shoulder and right arm. I applied for some rehabilitation and attended a six-day programme in Littlehampton. I could not believe the progress that I had made from very little movement to 80% in a week. On the sixth day I was asked to return for another five days, and again I saw a massive improvement and I'm now able to go back to work."
You can show Terry your support by donating via his JustGiving page here.
Chris Parnham, Buckinghamshire
"Many of you that know me will think there is no way I can run for 26 miles. So, I am setting out to prove everyone wrong and whilst doing this I want to raise some funds for a very good cause that means a lot to me as a firefighter."
You can help Chris prove everyone wrong and donate via his JustGiving page here.
Tom Houseman, Oxfordshire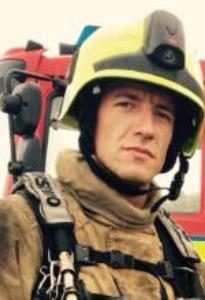 "I am extremely proud to be a firefighter and it gives me great pleasure to try and raise money by running an event such as the London Marathon for such an amazing cause. The work The Fire Fighters Charity do to help my colleagues with their daily struggles is inspiring so it is the least I can do in supporting this fantastic cause."
You can support Tom by donating via his JustGiving page here