Former Highlands and Islands Chief Fire Officer, and now retained firefighter, Brian Murray has completed the epic Trans Am Bike Race, a 4,300 mile pedal across America.
His gruelling journey began on the Pacific Coast and took him across 10 states in an impressive 22 days and 8 hours, well ahead of his 26 day target.
116 cyclists started the race on June 2nd in Oregon on the west coast and Brian eventually finished in a brilliant 10th place in Virginia on the east coast of the country.
Writing at the time of the ride Brian said: "This is a tough race. 48 people have already scratched from the race and there are many riders still working their way across America trying to complete the route. There have been accidents, injuries, illnesses and mechanical failures but thankfully my only set backs were two punctures. However, as you can imagine, 4,300 miles means the bike needs regular maintenance and there were a number of bike shop visits, some staying open to midnight and beyond to help. Replacement parts included six tyres, a derailleur, a chain and cassette."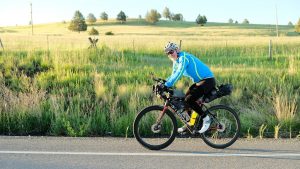 The ride, which is an annual, self-supported, ultra-distance cycling race had no stages and once the clock started it didn't stop until the finish line, even during eating and sleeping time. Cyclists were on their bikes for as long as possible, sleeping as little as they could. Riders were monitored using GPS tracker devices mounted on their bikes which uploaded their positions constantly to a 'Track leaders' website.
Vast amounts of calories were needed as Brian was constantly hungry from expending so much energy cycling in 40+ degrees heat plus battling strong winds for much of the time and at other times cycling at altitude so having to deal with a lack of oxygen. Mother nature, however, in her troublesome form, wasn't the only danger. There were battles against free running and often fierce guard dogs in a number of states and so a whistle became his best line of defence against being bitten as well as the rabies shots he had before the race began.
Despite Brian's journey being no mean feat he loved it all, from the welcome of the local people he met along the way to the amazing landscapes he cycled through. Yellowstone Park was a particular highlight although he was happy to report no bear sightings!
Brian also enjoyed huge online support from enthusiastic 'dot watchers' who found watching his GPS dot a daily obsession as they willed him to the finish line.
Brian said of the epic adventure: "I loved the planning, loved the race, loved the adventure, loved the people I met, loved the support I got from friends, family and complete strangers. The fact that I could do so while helping others made it very very special."
He continued: "I would like to encourage anyone who has thoughts of embarking on an adventure, large or small, to do it. The world is a far more welcoming, exciting and colourful place than the media would have you believe. You will be rewarded in many more ways than you can imagine – and whilst you are doing it you may wish to remember that there are those who need our help and by supporting charities such as The Fire Fighters Charity your experience will be enhanced."
You can donate via Brian's mydonate page here.