In lieu of goodbye gifts, Ade Hurren, 58, a former Station Manager from Chippenham, decided that he wanted donations to be made to the Charity and began planning a fundraiser to assist with this.
Ade said: "I named it my 'Say hello, wave goodbye tour' because my aim was to visit and say goodbye to my colleagues in Wiltshire but also meet others based at stations in Dorset.
"I served 38 years with Wiltshire Fire and Rescue Service, and a further two years when Wiltshire and Dorset amalgamated in 2016 to become one fire service, so there were stations in Dorset I hadn't yet visited.
Bon voyage to @DWFRSAdeHurren on his amazing Grand Tour of all 50 @DWFireRescue Fire Stations. An inspirational finish to a 40 year career, if u want to be part of Ade's adventure pls follow the link to support The Firefighter Charity @firefighters999 https://t.co/OO6R7r2qqc pic.twitter.com/MCtbvIF8pr

— DWFRSIanJeary (@DWFRSIanJeary) August 1, 2018
"The best thing was how kind and supportive everyone was, even those who didn't know me were so welcoming. I had friends accompany me on the route and I'm thankful that Bob Waller, Watch Manager at Salisbury Fire Station joined me for three days."
Ade carried everything he needed for his journey with him including a much-needed sleeping bag as he slept on the floor of a different fire station each night. He covered 440 miles in five days and visited approximately 50 stations.
This challenge has included camping out on fire station floors… looking forward to a real bed tonight! pic.twitter.com/GZz2t8Fs32

— Ade Hurren (@DWFRSAdeHurren) August 5, 2018

Discussing the challenging elements of the journey, Ade said: "The distance was quite daunting, West Dorset is really 'hilly' and the ride between Lyme Regis and Maiden Newton was especially tough, but I enjoyed the whole challenge and it truly was a positive experience. It was tiring at times but there was no point where I thought I couldn't do it.
"I loved the last day, I was up at 7.30am cycling down country lanes with the wind behind me and it was such a joy."
#sayhellowavegoodbye the stats: 50xfire stations 2x training centres 1xContol 1xworkshops 1xHQ; 440.5 miles 24846ft of climbing 2xsore legs! pic.twitter.com/GDui0VyDIP

— Ade Hurren (@DWFRSAdeHurren) August 5, 2018

Ade has witnessed first-hand the services provided by the Charity as a few years ago he was treated for an injury at Harcombe House:
"The service they provide is brilliant. I broke my shoulder whilst cycling and the physiotherapy sessions and activities I took part in improved my mobility and had such a lasting, positive effect on me.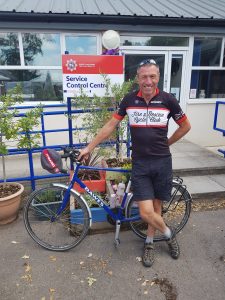 "This was my way of giving something back – fundraising for the Charity whilst saying goodbye to my colleagues within the fire service."