On Saturday March 4th, White Watch from Shrewsbury, Shropshire completed a climbing step challenge as an alternative to the car wash due to the location of their station.
The stats
Each person climbed the height of one tower, twice – in full kit.
That's a total of 220 floors, equating to 4180 steps each firefighter.
The whole challenge took 4 hours.
Impressively the team raised just shy of £500!
Meet the Team
Firefighter Stuart Hughes
Firefighter William Hughes
Firefighter Rupert Tigue
Firefighter Tracey Purslow
Firefighter Adam Statham
Firefighter Peter Hyde
Crew Manager Steve Morris
Crew Manager Ian Gunstone
Watch Manager Pat Johnson
Watch Manager, Pat Johnson shares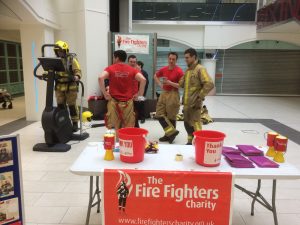 'The charity has provided great support to us over the years, with many of us having benefited individually, from the excellent care and therapy provided at the rehabilitation centres throughout the U.K.
We felt as a watch, carrying out an event such as the stair climb in a busy shopping centre on a Saturday, would provide both greater public exposure for the charity and generate more public interest, whilst also serving as a stark reminder of the tragic events of 9/11.
The public were hugely generous and the stair climb proved more successful than previous car wash events, partly due to the location of our station'
What does this mean for the Charity?
It could enable 94 beneficiaries to attend a group mindfulness talk, as part of their rehabilitation programme, or pay to feed 31 families, for a day, who are attending our Child & Family programme.
It could even support 23 one to one physiotherapy sessions, or pay to keep the Services Access Line open for approximately one and half days!
Every penny and pound raised really does go a long way in helping the Charity support beneficiaries across the UK.