To mark our 75th anniversary, we're asking you to take on your own 75 miles challenge to help support members of the fire services community in need. The distance is set, but how you get there is completely up to you.
William, Aalin and George from the Isle of Man are being supported by mum, Kate, and dad, Station Commander David, as they complete their 75 miles in a variety of ways.
The Cowley's 75 Miles page
Kate explains why they're all taking part in the family-friendly challenge:
"David is Station Commander of Douglas Fire Station and David's dad, Willie, retired from the same Station a few years ago as the last serving firefighter involved in the Summerland Disaster. Because of this, the fire service is a big part of all our lives and when we saw the #My75Miles challenge we thought it would be a great way to raise some money for the Charity.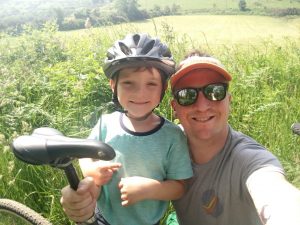 "We are doing a mixture of walking (or being pushed in the pram for George), running and cycling to achieve our miles. Recently William and David cycled across the Isle of Man from Douglas to Peel to rack up 11 miles and that is the furthest William has ever cycled.
"It's been great getting out as a family to see how far we can go as a team and for us to set our own goals to see how many miles we can do. It will be an amazing achievement to say we have managed to do 75 miles this year and raise money for The Fire Fighters Charity at the same time. With the summer holidays looming we are getting ready to get lots of miles covered while we are off school and making the most of the sunshine!"
Four-year-old Aalin said: "I want to help The Fire Fighters Charity because I want to help people like my daddy. I am enjoying doing our miles because it's so nice getting outside."
William, 7, added: "I am enjoying cycling more than I have before. I'm taking part because my daddy is a fireman, I want to be a fireman when I am older and I want to help the Charity help other firemen."

Kate continued: "David hasn't used the Charity himself but he has seen first-hand the support and services the Charity provides to active fire fighters and their families here in the Isle of Man and across the UK. It is a great support network for all fire fighters and their families and it is great to help raise money for fellow fire fighters and their families."
If you're taking part in the #My75Miles challenge, please let us know: