This free event, which is open exclusively for Fire and Rescue Service staff, will involve health and wellbeing workshops and activities such as exercise workshops, nutrition advice, walks, help to improving sleep, stress management, Tai Chi and guided relaxations. There will also be a light buffet lunch available.
Morning session – check in from 08:30 to 08:45 ready for 09:00 prompt start and finishing at 13:45 (light buffet lunch 13:00 to 13:45)
Afternoon session – check in from 11:30 to 11:45 ready for 12:00 prompt start and finishing at 17:00 (light buffet lunch 12:00 to 12:45)

Physical activity and Nutrition workshops
This is an educational session which will take place in the conference room, which will cover some principles of a healthy balanced diet and of exercise. This will be an interactive session which will help to overcome some common barriers and come up with practical solutions for eating well and exercising regularly.
Walk and Talk
Marine Court is positioned quite close to the Littlehampton sea front. This walk will be a stroll along the sea front and an opportunity to have a chat with colleagues and fire fighters charity practitioners.
Stress management and sleep workshop
This workshop, taking place in the conference room, will discuss the impacts and how to notice signs of stress, followed by techniques to help manage stress and improve sleep.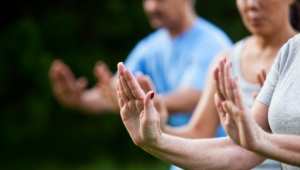 Tai Chi
Tai Chi is a form of meditation with movement. It involves gentle movements as well as focus on breathing. For the majority of people attending, this will be the first time trying Tai Chi. The instructor will guide you through some simple movements which can be done in either a standing or seated position.
Guided relaxation
Leading busy lifestyles, it can be hard for people to prioritise time to truly relax. This session will involve one of the practitioners leading you through a guided relaxation. It is not uncommon for people to nod off to sleep during these sessions!
Lunch
Lunch will be a light buffet prepared by our chefs at Marine Court.
Register to join us
If you would like to take part, simply click on the button below, which will take you to an Eventbrite page where you can select a morning or afternoon slot. Please note that there are just 30 spaces for each, which will be on a first come first serve basis.
Important: you will receive and email after you have registered containing a link to the full application form that you will be required to complete.
If you are attending the day, please bring clothes suitable for some gentle exercise in the gym, as well as shoes, clothes and waterproofs for the walk. There are changing rooms and lockers if you wish to get changed during the day.
Address and parking details
Marine Court
Fitzalan Road
Littlehampton
BN17 5NF
Parking is quite limited at Marine Court, however there is free parking on some of the roads nearby, as well as large pay and display car parks at the seafront.
If you have any questions about this Wellbeing Day please contact Craig Williamson, Wellness and Behaviour Change Coach, on cwilliamson@firefighterscharity.org.uk