The fire services community has pulled out all the stops over the last few weeks for our Brew With A Crew fundraising campaign, in partnership with Typhoo, with virtual meet-ups, biscuit dunking competitions, chats over a cup of tea and events across the country – all to raise funds to support the Charity's vital work.
Now one local business has gone above and beyond with a fun challenge to not only bring their valued firefighters together with their customers and the wider public, but also promote our campaign's core message – the importance of taking a moment of calm to talk with each other.
Motor Cycle Accessories (MCA) Leicester, run by Susie Ellison, hosted a series of BWAC challenges in store over a week to raise funds, welcoming firefighters from local stations across Leicestershire Fire and Rescue Service, as well as loyal customers from the biking community.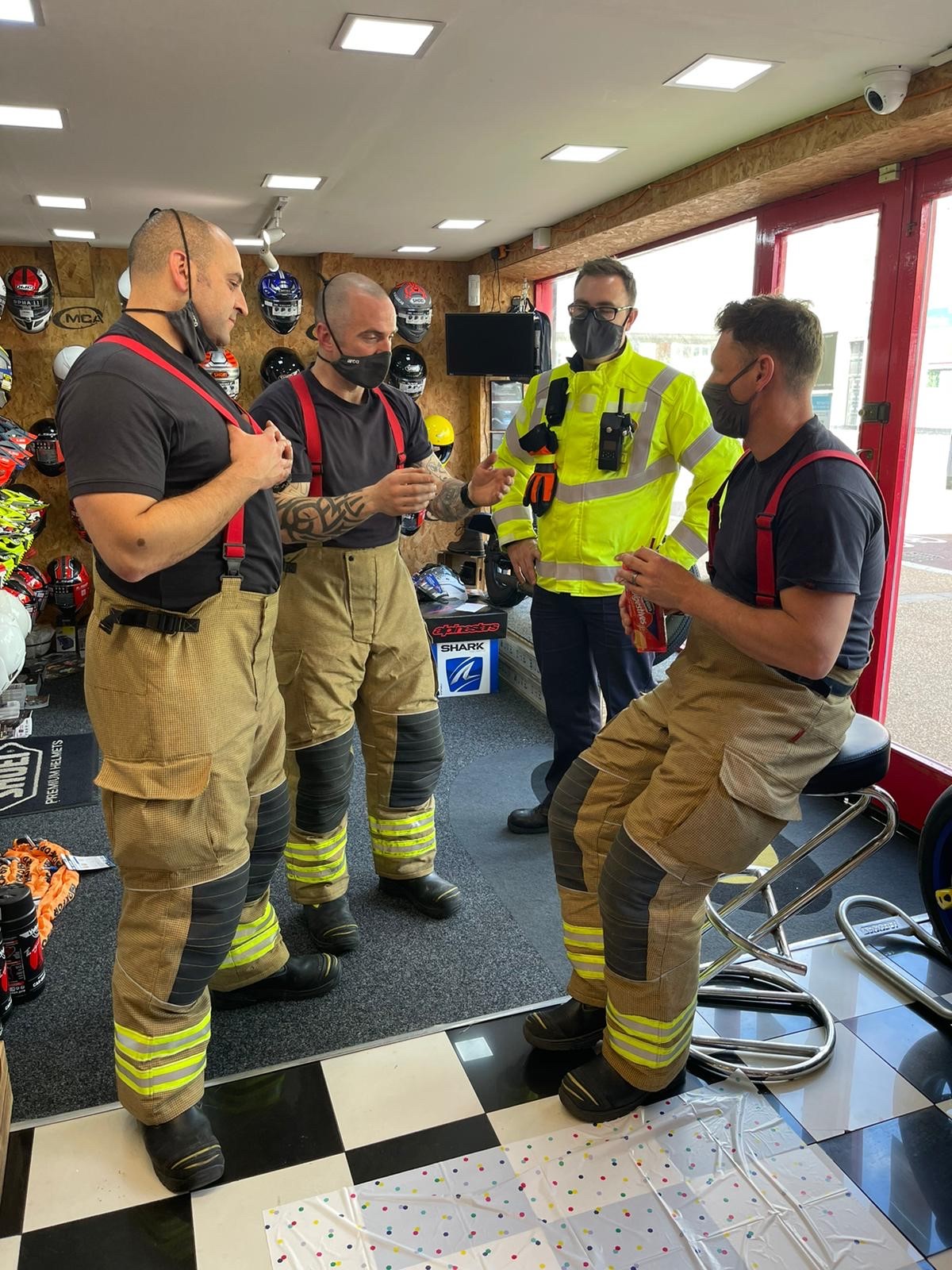 "We've got a really good relationship with Leicestershire Fire and Rescue Service, because we do a lot of their 'Biker Down' courses, which are brilliant for any bikers – what to do when you're first on the scene of an accident etc," says Susie. "I called them and asked if they'd be interested in getting involved in a few silly games in the shop, in support of Brew With A Crew, and both Central and Eastern Station turned up.
"We'd pulled together a list of as many biscuits as we could think of and did a dunking competition. Then another contest was the biscuit tower… they had to build a tower as high as they could in five minutes, with the only rule being they were allowed to have a maximum of two biscuits flat side together. It was hilarious, they were full of energy, had great tactics but while they talked a great tower, they didn't deliver too well!"
It wasn't just firefighters taking part through the week, however, and Susie – who previously worked in the Charity's Penrith centre, Jubilee House, so understands how important the services are for beneficiaries – got many of her customers involved too, including a group of friends she helped bring together a few years ago.
Susie set up the group initially to focus on fitness, but they've since become a close-knit circle of friends, helping each other out through thick and thin.
One of them, Graeme Voller, says they've been an incredible support network for him after sadly losing his wife three years ago.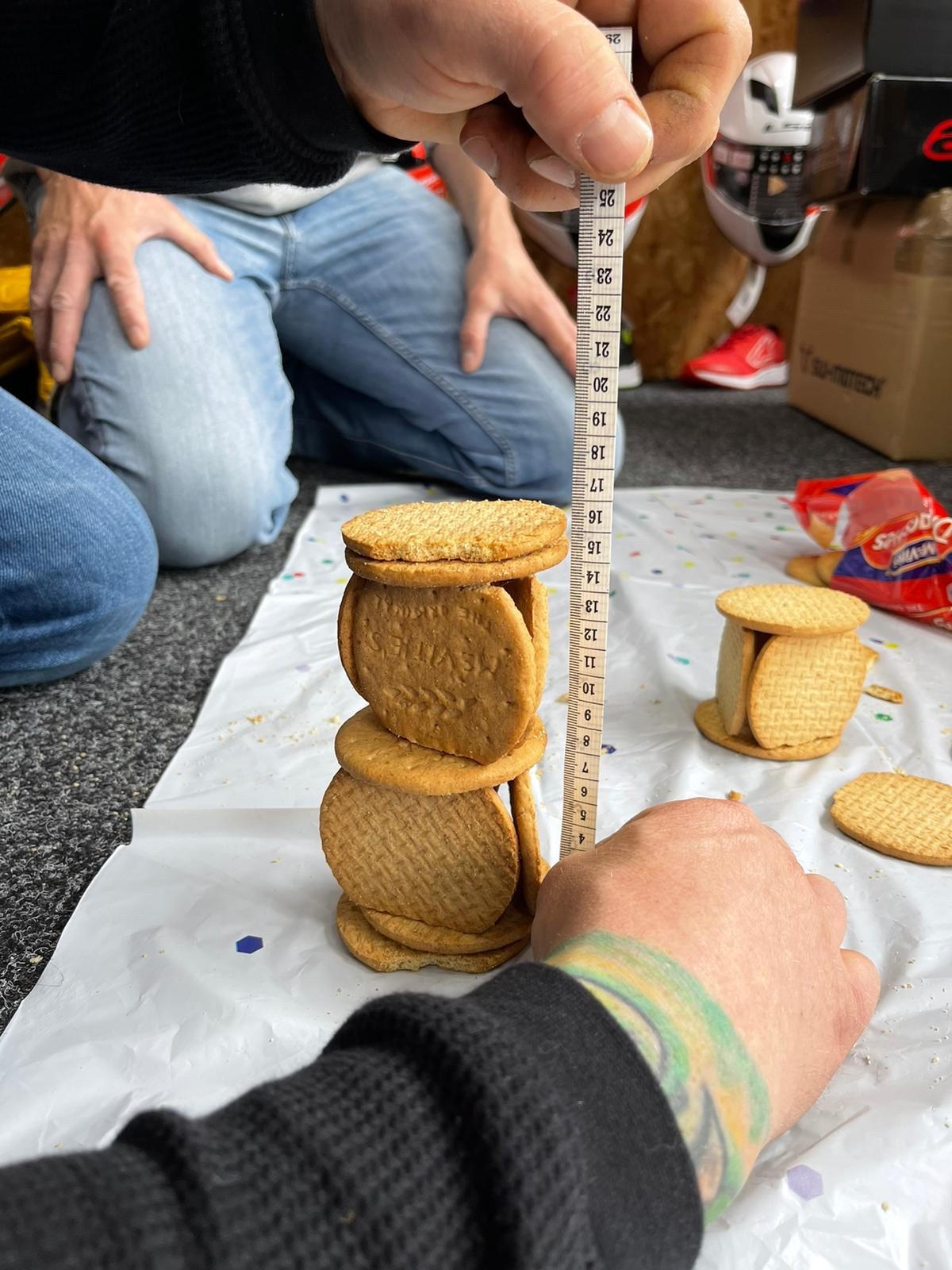 "One thing that helped me get over that was Susie and the friends I met through her and the shop," says Graeme. "We're all there for each other, they really help me and likewise I like to think I give back to them too. Guys don't talk about their feelings enough, but it helps to meet up with them over something like this [Brew With A Crew] and take that time.
"I always say to Susie, 'you don't know how much you rescued me from a miserable situation'. When I heard about the event in aid of The Fire Fighters Charity, I immediately wanted to get involved. Plus, I'm an engineer, so I was very interested in the biscuit tower competition! I always try and support all the emergency services – something I believe all our taxes should pay for! I'm really keen to make sure I support this Charity, because you never know when you may need them."
Fellow customer and close friend Paul Wilkinson adds: "We're a very close-knit group – so when someone signs up for something, the others tend to follow suit. We hang out down the shop anyway, so whenever there's an event like this, it's a great team-building thing. Taking a moment to talk is so important – you've got to take a minute out to reset yourself or you'll burn out."
And another customer, Jon Wells, says: "It was a no brainer to have a cup of tea with your friends, it's as simple as that. Taking that moment to address your mental health is unbelievably important.
"I'm always supportive of emergency services charities. Anybody that's doing a job like this, it's a not a normal job at the end of the day, it's a vocation in life – it's a calling. My wife's a nurse and that's the same – to her, it's not a job… firefighting is the same. I've got so much respect for anybody that does this, they're truly selfless."
Overall they raised more than £100 with the fun challenges and Susie continues to promote the Charity to her wider customer base daily.
To find out more about our Brew With A Crew campaign and to host or take part in your own, visit www.firefighterscharity.org.uk/brew