Trainers – check. Running kit – check. Bottle of water – check… most runners would be set to go for the London Marathon with just that. But fire service personnel from across the UK are adding another two points to that list – and they're far from small.
Firefighters will be donning their full fire kit on Sunday 3 October to take on the 26.2 miles in the heavy layers – with some even going a step further and carrying a BA set on their back, which can weigh more than 15kg.
You can meet a few of them here…
Nick: "I know so many people that have used the Charity"
Royal Berkshire firefighter Nick Middleton, 33, is running the marathon in his full kit and BA set after seeing many of his colleagues helped by the Charity over the years.
Nick has been practicing for months to build up his fitness in time for the 26.2 mile event. And he says he chose the Charity because it's particularly close to his heart.
"You find out about the support the Charity offers pretty early on in your career," says Nick, who joined the fire service two years ago after a career in the British Rowing Team. "The instructors talk about how amazing it is and then you hear through other firefighters how they've used it for mental and physical health issues.
"When I became wholetime, I know so many people that have used it for things like shoulder injuries and problems with sleep. I would hope that if I ever needed to use the Charity that I'd have contributed to it, or even more so, if any of my teammates needed help… we need to carry on supporting the Charity. I want to do my part.
"I imagine it's been hard to get money this year and last year with Covid… even trying to organise a Car Wash has been nearly impossible. It's also there for your spouse and dependants which is great too."
Nick began by running normally, before adding a weighted rucksack, then running in fire kit, and now combining the two in preparation.
To support Nick's fundraiser, click here.
Paul: "The Charity saved my life"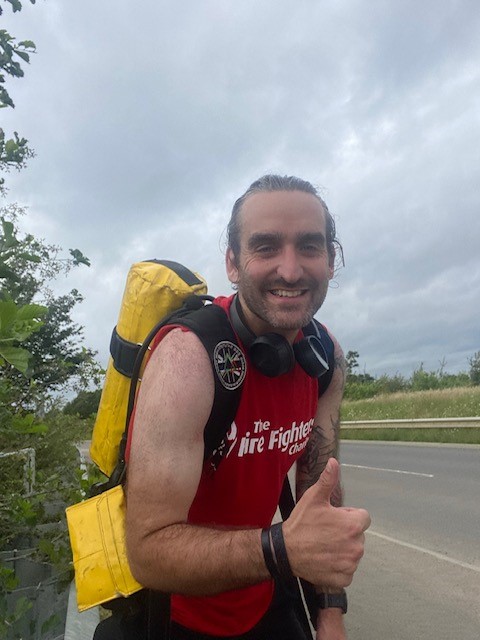 One man that understands how much the Charity can help beneficiaries more than most is West Sussex firefighter Paul Weller.
After sustaining a life-changing leg injury in 2012, Paul began struggling with his mental health – made worse as he was also coping with the loss of his two best friends, who had both died in separate accidents around the same time.
He attended a residential programme at Jubilee House, our centre in Penrith, but turned down psychological support at the time – which he says he now regrets. He later attended further sessions at Marine Court, our recovery centre in Littlehampton, where he started talking to our Psychological Services team.
He's since defied the odds to run again – so much so he's taking on the marathon carrying his BA set now.
"During my extensive rehabilitation with the Charity I lost both of my best friends, who sadly died during a six month period," says Paul. "My mental health deteriorated to the point I was at a cliff edge wanting to end my life.
"The Charity supported me through rehabilitation and counselling and since leaving the Brigade, I now run a business devoted to raising funds for the Charity and other emergency service charities. The Blue Light Bar and Coffee Stop is based near Gatwick Airport and is a hub for emergency services to come on and off duty to drink coffee, talk, reflect and get away from things.
"I will be running the Marathon to help raise funds and awareness for the Charity and I will run the distance wearing a BA set. I've been training hard since January 1st and have run over 500 miles in my set so far this year. My consultant told me that I'd never run again. I'm doing this to prove to people that anything is possible if you reach out to the Charity and use the amazing resources they have. They saved my life."
To support Paul's fundraiser, click here.
Matt: "You never know, it could be me next"
Father-of-three Matt Hunt, 45, who has been an on-call firefighter with Nottinghamshire Fire and Rescue Service for more than 14 years, will run the 26.2 miles in his full fire kit and breathing apparatus set too.
Matt chose the Charity after seeing how it has helped several of his colleagues in the past – while knowing it's there for him and his children for the rest of his life.
"I haven't been supported by the Charity myself, but a couple of our lads have used it and been up to Penrith – where the Charity has one of its three centres," says Matt. "It's massively helped them. You never know, it could be me next, so it's really important to me to support it.
"It's not just firefighters either that the Charity supports, it's your family that benefit from it as well."
Matt has run several marathons across the UK before, including the London Marathon in 2010, but it's the first time he's attempting it in full kit.
"I'm getting quite nervous now," adds Matt. "I did a long run recently – 21 miles – just in the BA set and that was tough. But the adrenaline will get me through a lot of it on the day, I'm looking forward to it.
"It's nice as well to show people how much kit we can carry round on a job. I was doing a run and I'd run past a lady when I was nearly back. It must have been about 10 minutes later, I made myself available to the service and I was called in.
"That lady and her child were directly opposite the fire station, so I went running past and responded and an hour later she'd sponsored me. She couldn't believe I'd just been running, then carried on the job."
Matt is hoping to raise up to £2,000 for the Charity, but says anything he can raise is a "major bonus".
To support Matt's fundraiser, click here.
Andy: "The Charity is amazing"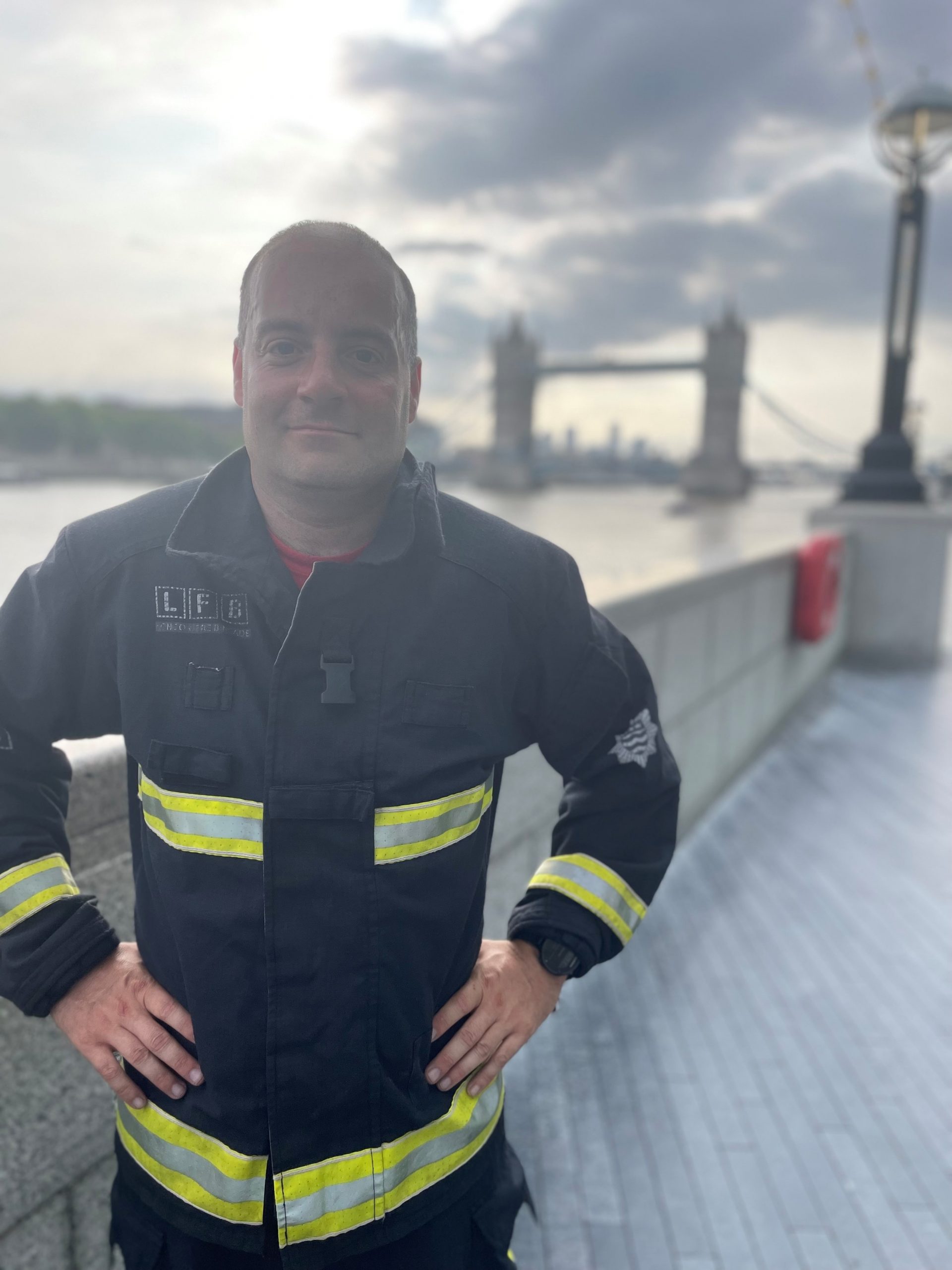 Andy Callus, a firefighter with London Fire Brigade, is also taking on the monumental task of running with the huge amount of extra weight to support the Charity.
He says: "Many people sponsored me to run the London Marathon in 2020 and sadly the event didn't happen.
"To make up for that, this time I've decided to run the marathon whilst wearing fire gear and with a BA set on my back too – around 20kg extra weight in total, so fingers crossed for a cloudy day!
"If you can spare any change and would like to sponsor me then I'd really appreciate it and you're helping a charity that helps injured firefighters and their families in their time of need. They are amazing.
"Fortunately I've never had to use the Charity's services myself, but as a firefighter, I know just how much it helps people every day – when they need it most.
"I've spoken to people and colleagues who have been down to Harcombe House, the Charity's centre in Devon, and personally for me it's just so good to know it's there for me and my family into the future.
"Hopefully I'll never have to use it, but on the station we're all very aware of how important it is to support the Charity through events and fundraising."
To support Andy's fundraiser, click here.
You can read about more of our runners this year here.