The pandemic may have meant a halt to the London Marathon last year, but it hasn't stopped our team of incredible runners going above and beyond to take part this year instead – all in support of the Charity.
Fire and Rescue Service personnel, as well as their partners, from right across the UK are dusting off their running shoes and joining thousands more in the 2021 event – with some taking part in some incredible gear.
So why not meet some of them? Here, they let you know why they're taking part first-hand – and what supporting the Charity means to them…
Rich Green and Matt Hooper, Hampshire FRS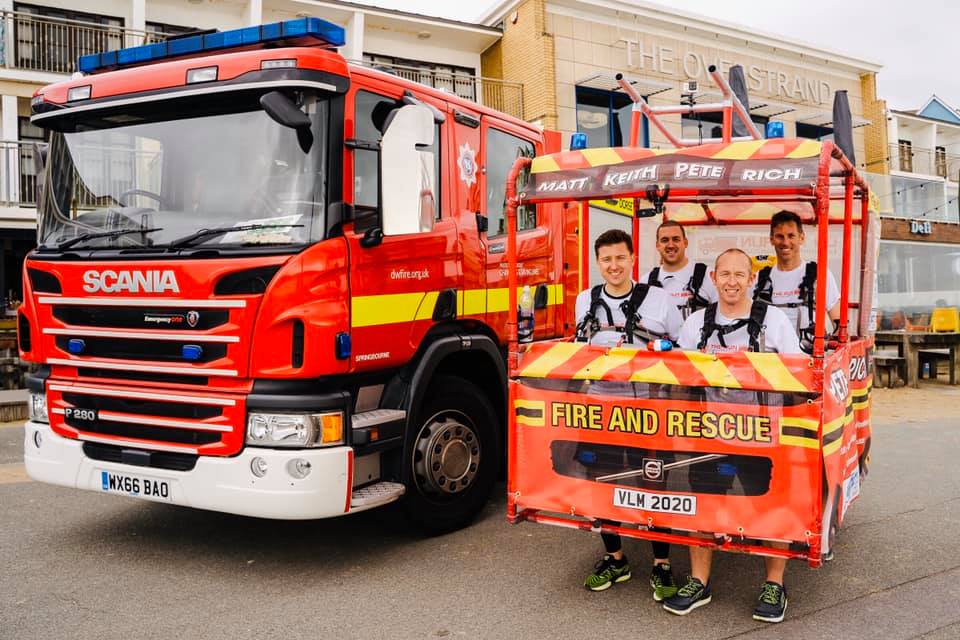 They say: "Along with two other firefighters from White Watch in St Mary's Southampton, we will be running the Marathon inside a mini fire engine that we've constructed out of plastic piping and canvas. We're raising funds for The Fire Fighters Charity, Parkinsons UK and JDRF. We'll be running two by two in the engine, which also has a blue light and siren; we thought if we were going to do to the Marathon, we might as well do it properly!"
And Rich adds: "I have benefited twice from the amazing staff and facilities that the charity fund when recovering from separate broken bone injuries to get me fit and strong and back to work quicker than expected."
Scott Jones, Kent FRS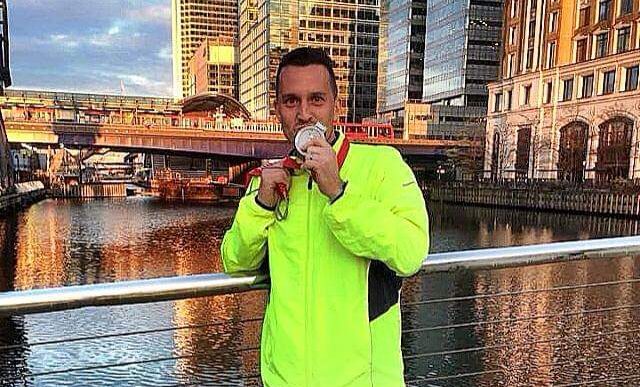 He says: "I'm a serving Crew Manager with Kent Fire and Rescue. While I've never had to use the Charity's services so far in my 16 years (and fingers crossed I won't have to!) I have many friends and colleagues who have done, who all say how fantastic the Charity is and how much they've benefited from it when recovering from illness or injury.
"I was due to run in 2019 but fractured my ankle playing football. Then I deferred until 2020 and something called Covid put pay to me completing it then. I have suffered many injury setbacks along this very long journey but I'm determined to complete it and raise some much needed money for a charity that is very important to me for obvious reasons.
"I completed the London Marathon in 2014 and 2015 so I'm really looking forward to running it again, this time with a Fire Fighters Charity vest on!"
Scott McGregor, Kilmarnock, Scottish FRS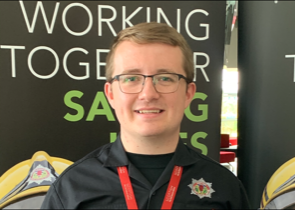 He says: "I joined Scottish Fire and Rescue Service in April 2014 as a retained firefighter at Stewarton Fire Station. I chose to raise money for The Fire Fighters Charity because I know of people who have used the services offered and how well it affected them and their family. I have fundraised before for the Charity through the annual car wash on station.
"Fundraising is going really well, but training is beginning to get tough as I increase the mileage. I am nervous but excited for the upcoming marathon and cannot wait to experience the motions and atmosphere on the day."
Matt Pendlebury, Lancashire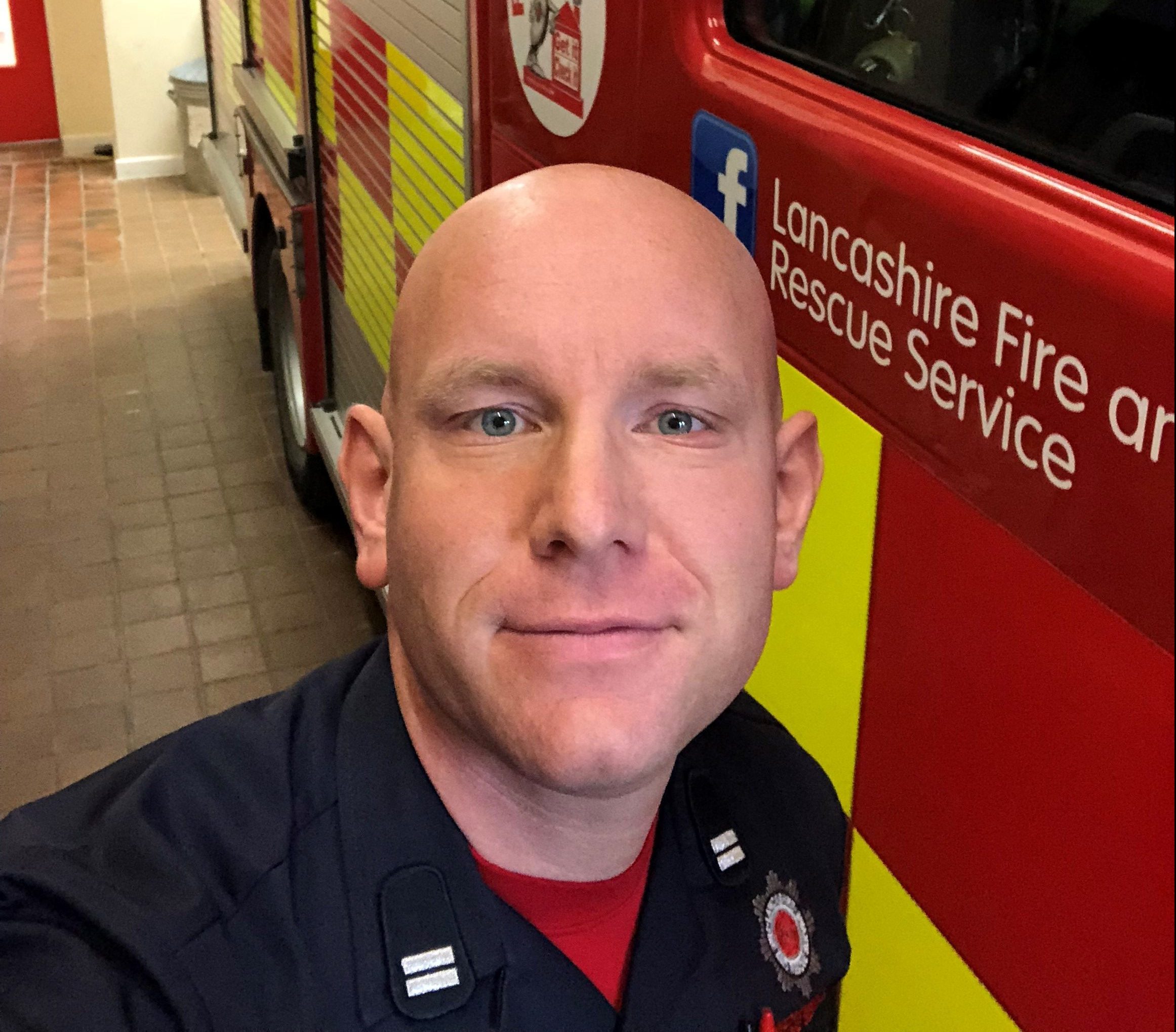 He says: "I have worked for the fire and rescue service for 18 years and I have been lucky enough to see some of the fantastic work that The Fire Fighters Charity does. I have always been a keen supporter of the Charity, from organising car washes to fire engine pulls.
"I think the service does a fantastic job and I want to do anything I can to help them to continue this work by supporting the Charity that supports them. Many of my colleagues have sought help from the Charity over the years for a variety of reasons, and they always speak so highly of the support they've received. I was lucky enough to visit Jubilee House a few years ago and was struck by the amazing facilities and work that goes on there.
"I have watched the London Marathon on television for years and always said to myself one day I would love to take part… well I thought it was about time to turn dreams into reality. I have never run this kind of distance before, but I am enjoying the training and my progress is good.
"I am really looking forward to the Marathon, not only because it's been on my bucket list for sometime, but also knowing that the money I am raising will make a difference to someone who really needs it."
Allan Kay, Devon and Somerset FRS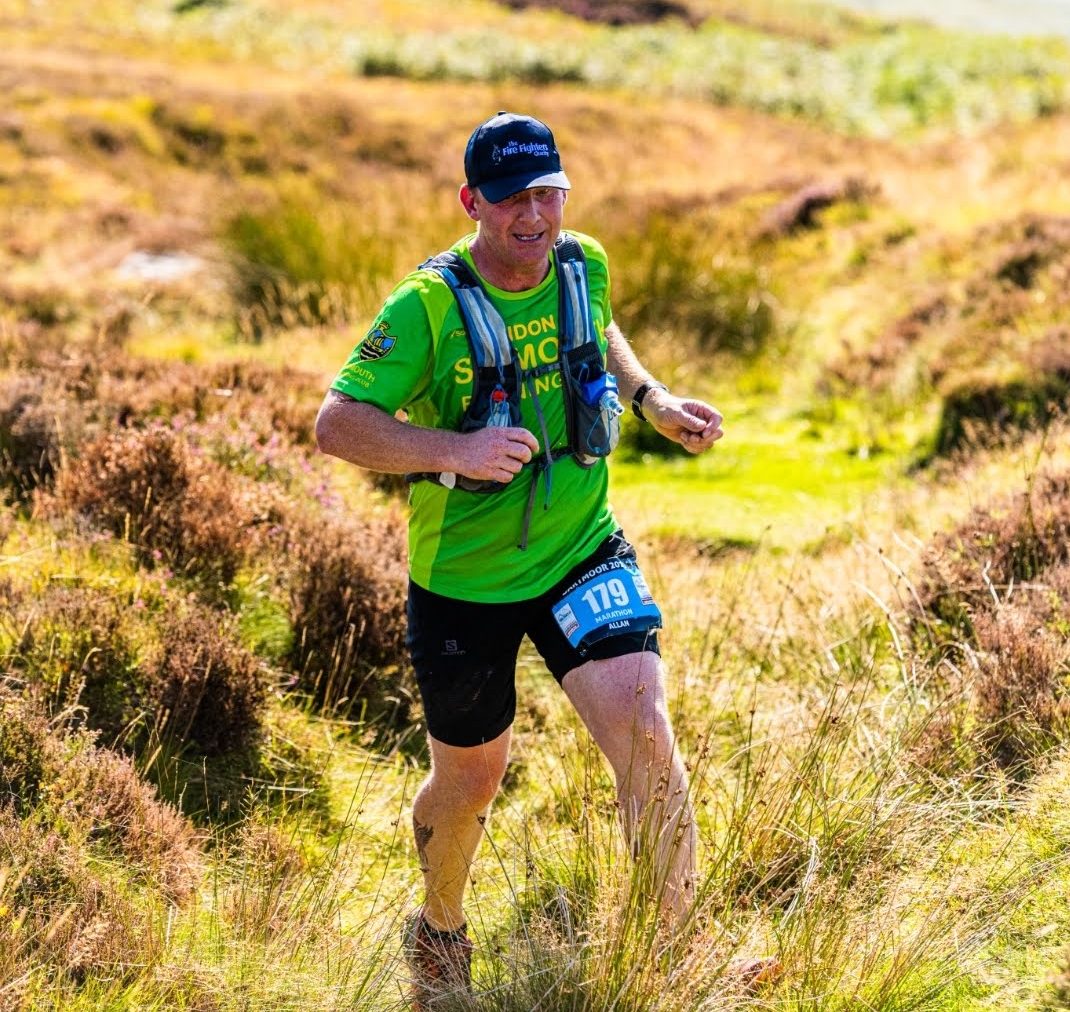 He says: "I signed up to do the 2020 London Marathon for The Fire Fighters Charity… I always wanted to run the London Marathon. As a teenager, running the costal paths of the South West and North East Coast of Scotland, I set myself the challenge to run it in under 3.5 hours. As life started to take hold and priorities changed, running was left behind.
"In 2014 I joined Devon and Somerset FRS as a retained firefighter, another childhood dream. My fitness and priorities changed once again. With my children growing into young adults I had a little more time on my hands so started running again.
"I also got to see first-hand the work The Fire Fighters Charity was doing for my colleagues. The dream of the London Marathon was rekindled. I have also now secured a substantive role as a wholetime firefighter on White Watch at Exmouth Fire Station.
"Due to Covid and the Marathon being cancelled, I still didn't get to run it in 2020. I did raise nearly £3,000 for the Charity, however, and will continue the fundraising through the summer. It's looking very likely that the 2021 London Marathon will take place so hopefully I'll stay healthy and injury free and complete it in October."
Lee Poole, West Midlands FRS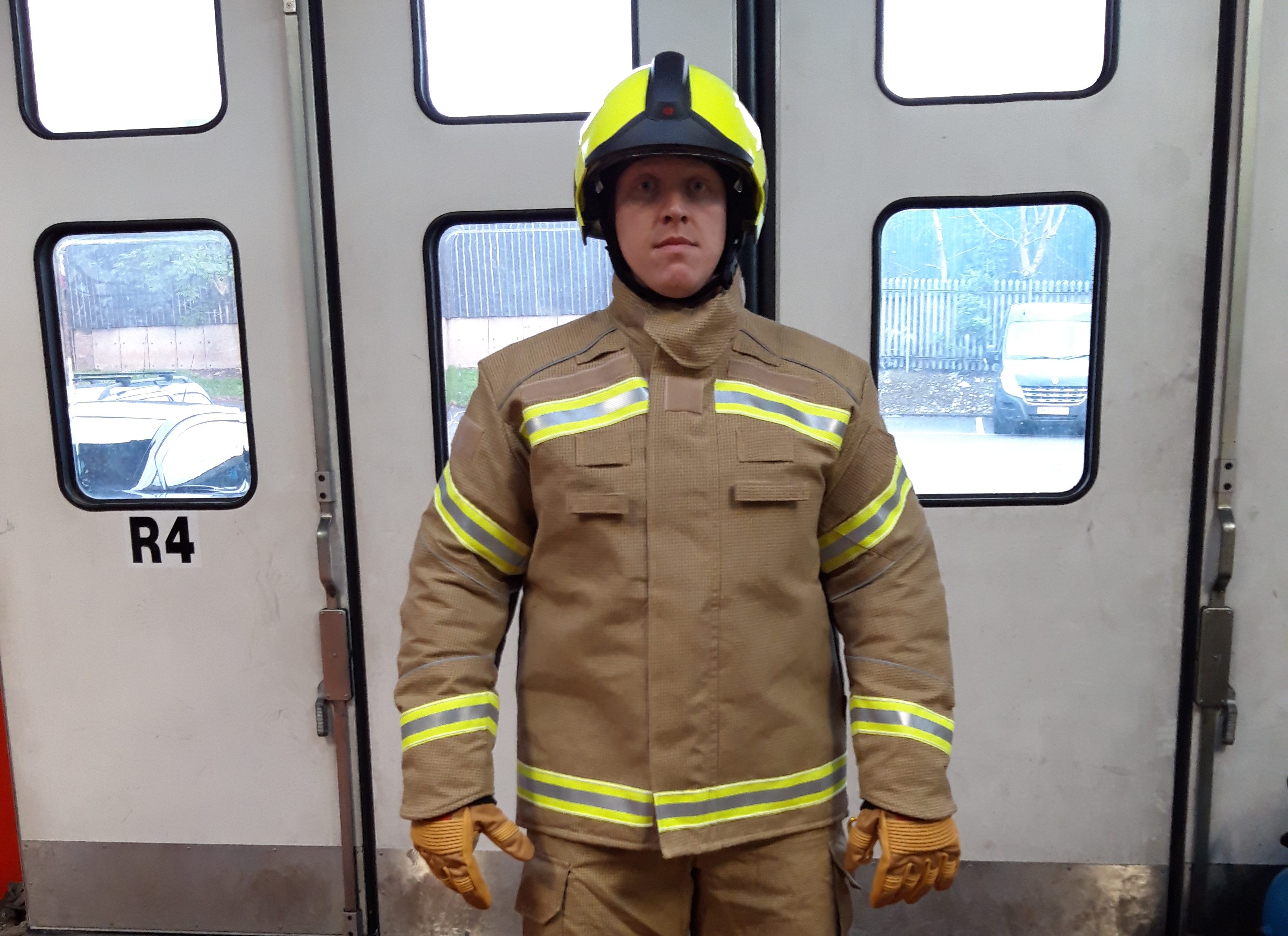 He says: "I am a firefighter at Wolverhampton fire station. I only joined WMFRS in January 2019 but was quickly introduced to the Charity and the valuable work you carry out, so I was inspired to take part in a number of challenges, most recently training for the London Marathon!
"Training is tough, but going well. I've run several 10k races, half marathons and even a full marathon in the past, but that doesn't make the task at hand any easier. I am a little bit nervous about the day, but I'm mostly just excited to finally got a place after six years applying. This will by no means be the end of my fundraising for the Charity, who will get my complete support for the rest of my career and beyond."
Paul Weller, West Sussex FRS
He says: "In 2012 I broke my leg in six places and ruptured my Achilles. This led to 11 operations and an ankle replacement in 2015. During my extensive rehabilitation with the Charity I lost both of my best friends, who sadly died during a six month period. My mental health deteriorated to the point I was at a cliff edge wanting to end my life.
"The Charity has saved my life through rehabilitation and counselling and since leaving the Brigade, I now run a business devoted to raising funds for the Charity and other emergency service charities. The Blue Light Bar and Coffee Stop is based near Gatwick Airport and is a hub for emergency services to come on and off duty to drink coffee, talk, reflect and get away from things.
"I will be running the Marathon to help raise funds and awareness for the Charity and I will run the distance wearing a BA set. I've been training hard since January 1st and have run over 500 miles in my set so far this year. My consultant told me that I'd never run again. I'm doing this to prove to people that anything is possible if you reach out to the Charity and use the amazing resources they have. They saved my life."
Donate to Paul's fundraising here
Jacqui McDonald, Fife, Scottish FRS
She says: "I joined the fire service in 1998 as a wholetime firefighter and in 2008 I was delighted to take the post in a support role in Heath and Wellbeing. I had struggled with depression and anxiety for many years and it hit an all time low in July 2012 when I made an attempt to end my life. Suicide, wow, how did my life get that bad I ask myself on many occasions and one serious factor was my addiction to alcohol. I used alcohol to help me chill out, make me relax, make the pain and stress go away for a short period of time.
"Some family members couldn't and wouldn't accept I had a problem as many think, well you have a job, car, home, you run regularly, you have three daughters, the list goes on, but at the end of the day, you can have all these things but still be an alcoholic.
"I am openly a recovering alcoholic. I attended Penrith for a week early in my journey and it was life-changing and a large part of my jigsaw puzzle of recovery. I want to give back a little.
"The service supported me with care and compassion and I am one of the lucky ones. I attended AA meetings regularly in the first two years and accepted counselling offered from the service too. I take my sobriety one day at a time, some days one hour at a time, and use my coping strategies when I need to.
"I won't let complacency slip in, I will always be an alcoholic but I am in recovery, I have a life of brightness and sunshine and I have so much to live for. My girls aged 28, 26 and 18 now, smile with me, hug me and our relationship is incredible. My 26-year-old daughter works in Dundee Fire Control and we enjoy running, cycling and open water swimming together. I get great strength in helping others and my door is always open 24/7.
"I will always help others who need a friend to listen to, give them my time, support, give advice and use my experiences to help them. I treat others like I would like to be treated. I am so excited about running the London Marathon for The Fire Fighters Charity. This will be my 20th Marathon and it will be the most special run ever. I cannot wait to wear my firefighter charity running vest with pride and gratitude."
Donate to Jacqui's fundraising
Paul Illman, Royal Berkshire FRS
Paul says: "It's my duty to give back to the Charity that put me back together after an injury left me for the first time after 22 years service unable to carry out the job I love and serve our communities.
"The Charity has had a tough year, as many other charities have, so I would ask that you support my first ever Marathon and give what you can. In return I will make sure I train for and complete the London Marathon in October 2021."
Andrew Peachey, Cambridgeshire FRS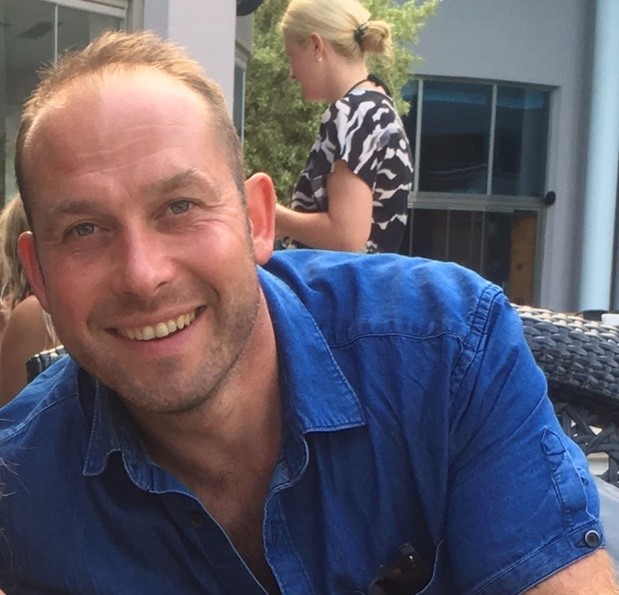 He says: "My wife and I will both be running the London Marathon, fundraising for The Fire Fighters Charity and Cancer Research UK. My father-in-law was a retained firefighter in our village for 41 years until his retirement in 2015. The fire service was a massive part of his life and something he dedicated a huge amount of his time to, it seemed an obvious choice to run for a charity that is personal to us as a family.
"Our fundraising is going well with more events planned. I am thoroughly enjoying the training; the hardest part hasn't been the mileage but juggling both of us doing the long training runs with looking after our two children! I am really looking forward to Marathon day. Friends who have completed the run have told us the atmosphere is like nothing else you will experience."
Donate to Andrew's fundraising
Liam Mountford, Cambridgeshire FRS
He says: "I serve both as an on-call firefighter here at Bourne (when not at work) and also as a wholetime firefighter at Stanground fire station for Cambridgeshire Fire and Rescue.
"Like a lot of our crew at Bourne, I am a parent and a family man and have chosen to run the London Marathon and support an amazing cause that one day I and my family, like all of us, could be needing.
"The Fire Fighters Charity not only helps injured and sick firefighters with support and rehabilitation, they also help and support their associated families. Like all charities at the moment they are struggling and need our support now more than ever. If possible please support me in achieving my goal for a great cause."
Katy Newman, Northamptonshire FRS
She says: "I'm a firefighter for Northamptonshire Fire and Rescue Service, having joined in February 2020 just before the Covid pandemic hit.
"To say things have been tough during this pandemic is an understatement. Along with the majority of the country, my own mental health has suffered during this challenging time and truthfully running has been my saviour. Pushing myself to run a marathon seemed like the next obvious step and I'm so proud to run for The Fire Fighters Charity where in turn I can play a part in supporting other people when they need it the most."
Ryan Sibley, Cumbria FRS
Nick Middleton, Royal Berkshire FRS
He says: "I'm running the London Marathon in full fire kit and breathing apparatus to help raise money for The Fire Fighters Charity.
"It's a fantastic organisation that helps firefighters and their families in times of need. Luckily I have never had to use the Charity myself yet, but I know many firefighters that have and have found it invaluable."
Lyndsey Gymer, Essex County FRS
We also have some incredible own-placed fundraisers running for the Charity, either virtually or there on the day. Here are some of their names and how to support them:
Hugh Stanley, Avon FRS: donate to Hugh's fundraiser here
Stuart MacKenzie, Bedfordshire FRS: donate to Stuart's fundraiser here
Darren Barrett, Bedfordshire FRS: donate to Darren's fundraiser here
Steve Bayliss, Devon & Somerset FRS: donate to Steve's fundraiser here
Ben Chick, Devon & Somerset FRS: donate to Ben's fundraiser here
Jack Charles, Devon & Somerset FRS: donate to Jack's fundraiser here
Gayle Morris, Dorset & Wiltshire FRS: donate to Gayle's fundraiser here
Emma Taylor, Essex County FRS: donate to Emma's fundraiser here
Jamie-Louise Newstead, Essex County FRS: donate to Jamie-Louise's fundraiser here
Kieran Davidson, Hampshire & Isle of Wight FRS: donate to Kieran's fundraiser here
Peter Larcombe, Hampshire & Isle of Wight FRS: donate to Peter's fundraiser here
Kerryn Wood, Hampshire & Isle of Wight FRS: donate to Kerryn's fundraiser here
Louis Woodley, Hertfordshire FRS: donate to Louis' fundraiser here
Mitchell Harrison, Hertfordshire FRS
Dean Alves, Kent FRS: donate to Dean's fundraiser here
Mark Woodward, Lancashire FRS
Karl Turrill, Lincolnshire FRS: donate to Karl's fundraiser here
Lewis Clark, London Fire Brigade: donate to Lewis' fundraiser here
Matthew Morrell, London Fire Brigade: donate to Matthew's fundraiser here
Mohammad Qureshi, London Fire Brigade: donate to Mohammad's fundraiser here
Andrew Callus, London Fire Brigade: donate to Andrew's fundraiser here
Antony Welden, London Fire Brigade: donate to Antony's fundraiser here
Cindy Searle, London Fire Brigade: donate to Cindy's fundraiser here
Max Dyer, London Fire Brigade: donate to Max's fundraiser here
Natalia Florekova, London Fire Brigade: donate to Natalia's fundraiser here
Rhys Merrifield, London Fire Brigade: donate to Rhys' fundraiser here
Ryan Senior-Ellison, London Fire Brigade: donate to Ryan's fundraiser here
Stuart Cundick, Ministry of Defence DFRMO: donate to Stuart's fundraiser here
Chloe Tyler, Nottinghamshire FRS: donate to Chloe's fundraiser here
Matthew Hunt, Nottinghamshire FRS: donate to Matthew's fundraiser here
Carol Mackay, Oxfordshire FRS: donate to Carol's fundraiser here
Pauline McDermott, Royal Berkshire FRS: donate to Pauline's fundraiser here
Lorna Rider, Scottish FRS: donate to Lorna's fundraiser here
Charles Larsson, Staffordshire FRS: donate to Charles' fundraiser here
Wesley Southall, Staffordshire FRS: donate to Wesley's fundraiser here
James Grocott, Suffolk FRS: donate to James' fundraiser here
Chris Tuthill, Surrey FRS: donate to Chris' fundraiser here
Philip Foster, Surrey FRS: donate to Philip's fundraiser here
Richard Domoney-Saunders
Oscar Sosa: donate to Oscar's fundraiser here
Darren Randle-Morris, Warwickshire FRS: donate to Darren's fundraiser here
Stewart Ellaby, West Sussex FRS: donate to Stewart's fundraiser here
Don't forget, if you want to take part in a fundraising challenge for us, you could sign up to be part of the Fire Family Challenge.