Our volunteers are an integral part of our Charity, helping us to reach more of our beneficiaries, raising awareness of the work we do and organising a huge number of fundraising events in aid of us.
And Graeme Browning has been doing it for almost four decades – raising tens of thousands of pounds for us throughout his career in Kent Fire and Rescue Service.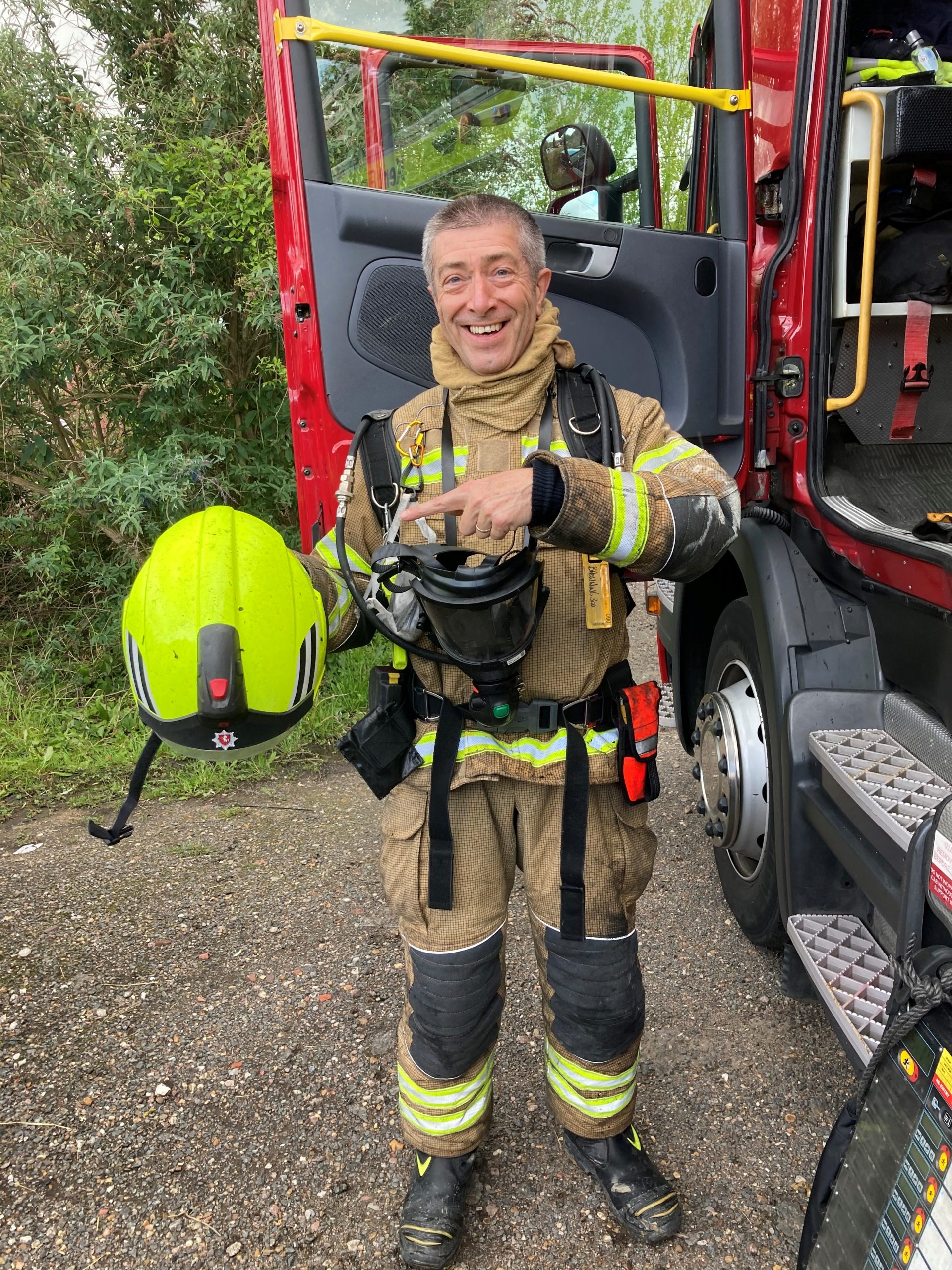 Now he creates unique Christmas cards, calendars and mugs in aid of us – with many still available to buy this year.
Graeme has been an on-call firefighter for around 39 years and went wholetime 12 years ago. He's been fundraising for us from Day 1, having seen how we've supported his colleagues with their health and wellbeing.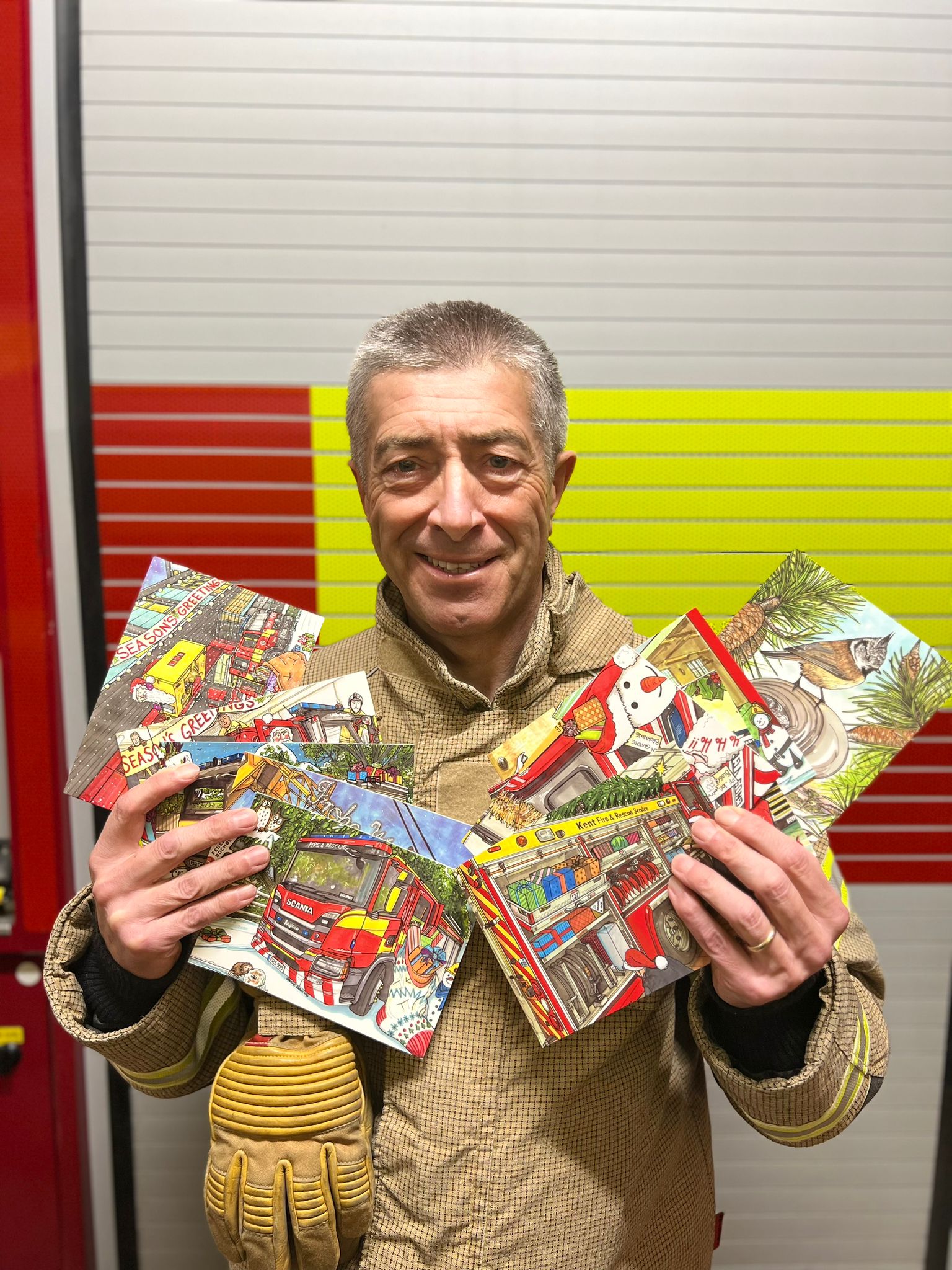 "In about the mid-1990s, following my brother's recruitment to wholetime, it was customary for the new recruits to do a fundraising event for the Charity. They did a series of Car Washes [and], suitably impressed, I thought we could do the same!" he explains.
"I set in motion a series of over 45 Whitstable car washes which still are going strong to this day."
On top of that, he's done a series of challenging fundraisers including scaling a scaffold tower set up in the foyer of Tesco's with a pole drop, multiples times over 24 hours. And he's helped organise a series of Charity runs and raft races. Most recently he became an FFC Station Rep.
He's also completed the North South 5k Relay. His team did an amazing £2,330 selling the North South Relay concept to good effect.
Graeme says: "The main thing is it keeps me busy, and raises a few bob for The Fire Fighters Charity.
"I have colleagues and friends who have had the Charity's support. One of them had some physiotherapy at Harcombe House, another has been to Penrith… it's nice when you get two or three people I know that have benefitted from the money I've helped to raise"
While Graeme has lost count of how much he's raised in total over the years, he says it was well over £40,000 a few years ago – so is likely to be a lot more now.
"The collections alone often bring in over £1000 a day," he adds.
Graeme is now once again raising money with his annual self-created Christmas cards, calendars and mugs.
"I do all the designs myself but they tend to be based upon photos I've taken myself, or photos people send to me of incidents they've been to," he says.
"I've had people from right across the fire services community – all over the shop – sending me stuff, so it's really grown in just a few years.
"Some years I try to do things around LGBT or International Women's Day, it varies each year."
Graeme, who's always been interested in art, started out by doing retirement present drawings and it went from there. He's now ordering 500 calendars and largely shifting all of them, with 50p coming to us each time one is sold.
The Christmas cards are available in packs of 10 (mixed designs) and those and the calendars are all £5, plus P&P. To find out more or order yours, you can email Graeme at graemeb247@gmail.com or message/call on 07519 506744.
You can find out about volunteering for us too here: