A group of kind-hearted volunteers have helped fundraisers across the North West of England raise thousands of pounds for us over the last few years – all while dressed as Star Wars characters.
Members of 5th Legion, a costuming group which supports charities with events and collections, have attended multiple events in aid of our Charity – attracting crowds of people to find out more about what we do, as well as donating to support our services.
Lee Rogers, who's a co-founder of the group alongside Mick Bridge and John Ashton, says each volunteer gives up their spare time on weekends and around work commitments to attend events, often at short notice.
For them, he says, the work we do is more than worth supporting – as are the thousands of beneficiaries we support every year.
"We set up 5th Legion in 2018 as a group of costumers. Our ambition was always to raise money for charities," says Lee, who works as a Program Manager for a housing association in his day job. "We started approaching local organisations at first, explaining that we'd come to events in character, and we'd collect on behalf of the charity before handing the bucket over at the end of the day.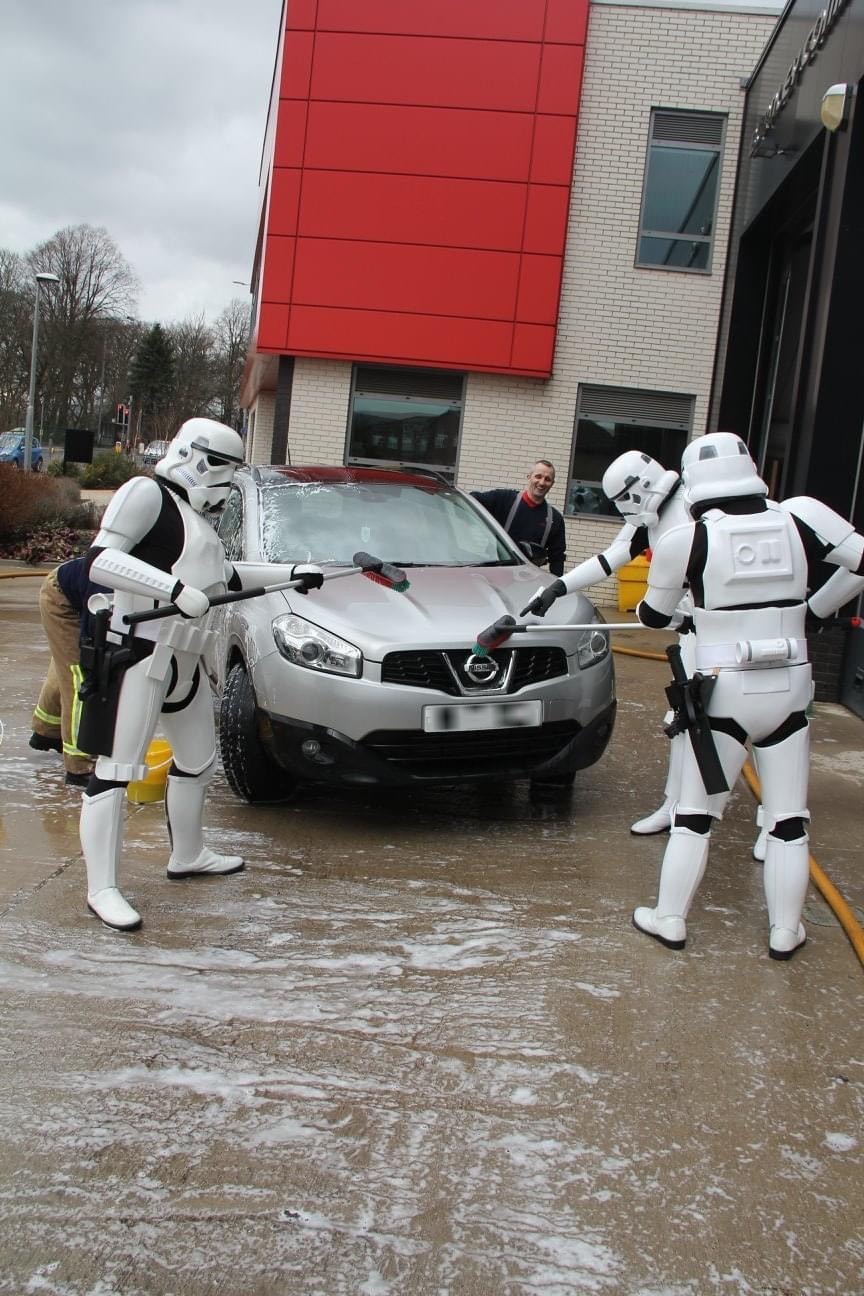 "We don't take a penny for our time, all our guys are volunteers doing it on weekends and around work. We've got plumbers, we've got joiners, we've got factory workers… it's a real spread of people and characters.
"It's mainly collections, but often we'll also do private functions and parties too – where we ask for a donation on behalf of our nominated charity."
The group first learned more about our Charity after someone from Burnley Fire Station contacted them, asking if they'd attend one of our Car Washes there.
It proved to be the first of a long line of events that followed.
"If I'm not mistaken, the group at Burnley almost doubled what they'd normally take at a standard Car Wash," says Lee. "People see us and pop over because they want to see what's going on. They often take pictures in the yard and then throw some money in the bucket. We were attracting people that otherwise might not have stopped.
"It escalated from there. One of the other fire stations saw the photos from the event and asked us to go to theirs too and it kept going. One became two became four… I've lost count now to be honest.
"It's mostly Car Washes but we've done other bits too like Family Fun Days… we were down to do a Christmas Fair but it got cancelled due to Covid."
Once Lee or another member of the team hear from a fire station or individual supporter, they'll send the message out to their 60-strong group to see who's available to attend the event. Sometimes it might be one or two people dressed as Stormtroopers or Darth Vader, sometimes it can be 10 or more.
"My daughter is 11 and regularly comes out with us too!" Says Lee. "She does a couple of characters and a few others bring their kids along too."
From all of us, a huge thank you to 5th Legion and if you'd like to find out more about how you could support us too, visit www.firefighterscharity.org.uk/fundraising
Remember to keep us updated with all your own fundraising plans and activity in MyFFC. You can visit the Groups tab here to share photos and experiences in any group that suits your specific event or challenge, while meeting like-minded others that you can exchange ideas with.