Tackling a Half Marathon in hot conditions is no small feat – and we saw many of our supporters taking on this year's Great North Run with huge smiles and some fantastic costumes.
We want to thank everyone that took part. Every pound you raised will go such a long way in helping us to continue to support our fire family.
From two firefighters dressed as a camel, to one pushing around a fire truck and more of our own staff members crossing the finish line in great times, it was a year to remember.
Here, we wanted to take a look at just a few of the many highlights. If you took part, send over your photos to marketing@firefighterscharity.org.uk or post them in MyFFC and we'll include them in the round-up too.
Tyne and Wear firefighter, Graham Buglass, and a friend, Graham Lewis-Dale, braved the heat in a two-man camel costume on the day, in an astonishing attempt to break a World Record – all while raised £180 for us in a matter of weeks.
While they sadly missed the record by just 1 minute 10 seconds, largely due to the heat, they pulled off an incredible run together.
"All it has done is make us more determined, so we are going to try again in January when it is cooler on a different course and do it all again," says Graham.
You can donate to their fundraiser here.
West Yorkshire firefighter Gavin Healeas took part with his family and managed to push a model fire truck round the entire way with him.
That's not all, he also managed to raise over £500 in donations on the day itself, by carrying heavy buckets round, on top of the funds he'd raised beforehand – bringing his grand total to more than £1,100.
You can donate to their fundraiser here.
Sam Vasey completed the run in memory of her brother, Stu Crebbin, who was a devoted supporter of our Charity before his death last year from cancer. She raised an amazing £475 in total.
She said previously of her brother: "Myself and my mam had a conversation with our Stu a few weeks before he died and he said he didn't want any flowers, he didn't want anything – if anyone wanted to buy anything or do anything, the money had to go to The Fire Fighters Charity. He was really fond of it."
Our Nursing Services Lead, Kath Savage, also completed the run and raised over £700 for us – an incredible effort.
Kath raised awareness of the great work our nursing team do every day at Jubilee House while fundraising too, saying: "The nursing service is based at Jubilee House and supports beneficiaries to access physical, social and emotional wellbeing. Our beneficiaries are supported over a 24 hour period by a team of dedicated nurses and clinical assistants. Beneficiaries who need additional support, for example with aspects of their personal care or more complex needs, are provided with a bespoke plan during their stay. We work closely with the rehab team in providing holistic support."
You can donate to her fundraiser here.
And our Operations Manager at Jubilee House, Andrew Waterfield, and his son Joseph also pulled off an amazing team effort on the day. They took part to raise awareness of our vital work, while also doing it in memory of their grandfather/great grandfather, Henry Waddington, who was a Firefighter during World War II.
And the 'dad and lad' duo raised over £1000 in the process! Donate to their fundraiser here.
Here are just a few of our many other runners: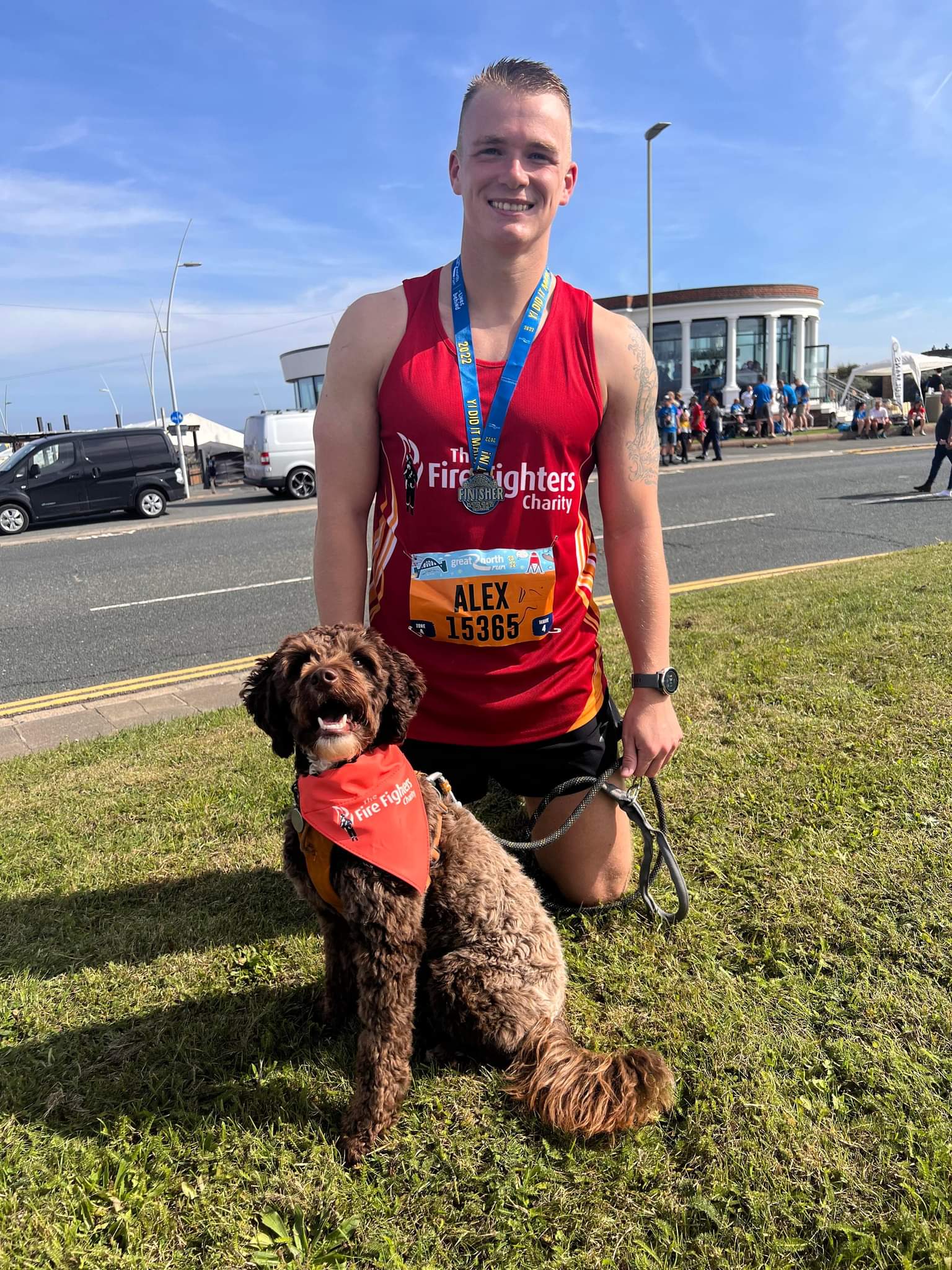 Fire Fighter Lewis Mclauchlan from @Tyne_Wear_FRS is taking part in this year's Great North Run for @firefighters999 dressed in fire kit!
Lewis' son, 12 year old Karlton, friend Amelia and cute dog Ginny have been helping on training runs. pic.twitter.com/SYOJTJ9G88

— Sylvia_FFC (@FfcSylvia) August 23, 2022