Our volunteers are an integral part of our Charity, offering their time and passion to ensure as many people as possible are aware of the services we offer, and are constantly organising fundraising events to support the delivery of those services.
So, to highlight their vital contributions to the work we do, we are celebrating each and every one of them during Volunteers' Week.
Chris Goonan, our Director of Organisational Development and Corporate Services, says: "Volunteers' Week is an opportunity to recognise and celebrate the fantastic work and commitment shown by our volunteers, from those greeting beneficiaries in our centres, to those engaging with members of their communities, individuals supporting our face-to-face and digital programmes, and those working tirelessly to fundraise.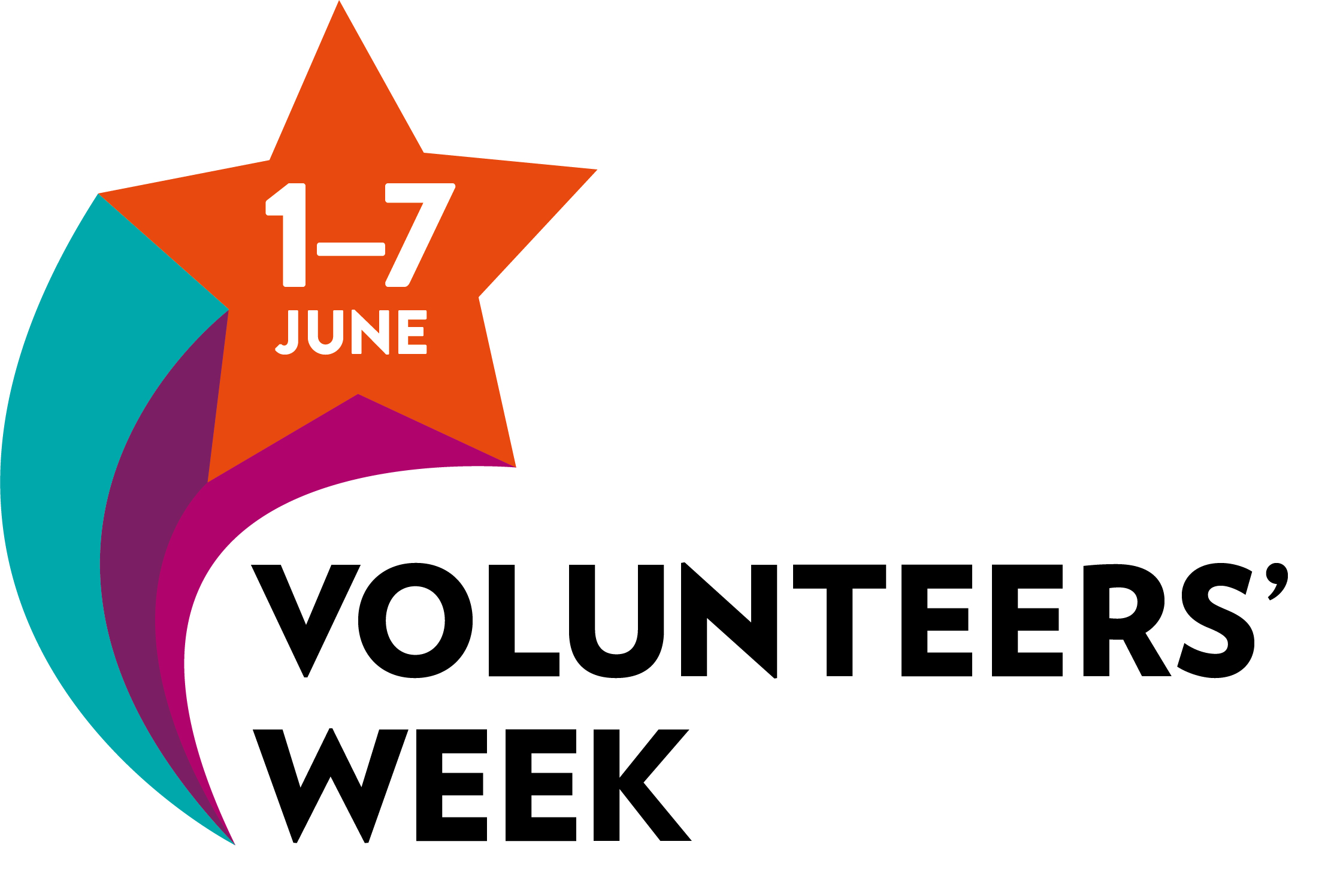 "On behalf of everyone at our Charity, I'd like to offer a heartfelt thank you to our whole volunteering community for always going the extra mile to spread the word about our services, while finding new and innovative ways to raise money.
"We'd also like to take this opportunity to highlight some of the volunteer positions we have available, if you'd be interested in joining this incredible team. You can find out more by visiting www.firefighterscharity.org.uk/volunteer. Thank you."
We can't possibly name all our amazing volunteers who have gone above and beyond, so we have chosen to highlight just a few who have dedicated their time to helping us – they are just some of many we are incredibly grateful to…
Elizabeth Berry:
Elizabeth volunteers for us as a Telephone Befriender, which involves regularly calling someone in our retired community for a chat, ensuring they remain socially connected, no matter their circumstances.
Her late husband, David, was an LFB firefighter for 25 years and Elizabeth received support from us at Harcombe House after he sadly passed away in recent years, on one of our rest and recharge stays.
"Due to this unconditional help by The Fire Fighters Charity towards me (I really did not think I would be eligible for any help, but extremely appreciative for their support), I have tried to contribute to the charity with donations and the Firefighters Lottery," says Elizabeth. "Then, when I read an article in Shout! magazine asking for volunteers for a new befriending scheme, I jumped at the idea.
"It's been my absolute pleasure to be a part of this scheme and have made a lovely friend of the lady a speak with on a weekly basis. Lots of laughs and fun."
Marc House:
Marc is one of our Service Coordinators with Dorset & Wiltshire FRS, and was previously in a number of volunteer roles with Devon & Somerset.
He says: "The Charity's always been so well supported and you just wanted to do your bit for it from the moment you joined. I've been helping to plan things like Car Washes, Open Days, Christmas Floats, all these things from word go really.
"I've done almost all of the volunteering roles so I've experienced what each has to offer. They're all really well supported by the service, it's been great. And we've seen a real increase in fundraising, particularly since Covid.
"It's not just about the money itself, it's also about the engagement and spreading that awareness so others do their bit too. It's important to recognise it's not just firefighters, it's our retired members, corporate colleagues and our wider families… there's such a support mechanism there. It's such an amazing charity it really is, and I've seen it first-hand on a visit to Harcombe myself."
He adds: "Volunteers collectively bring the life and soul to the Charity, without all those individuals, and of course the Charity's staff and colleagues, we wouldn't be able to deliver such important services to our beneficiaries.
"For me, recognition must go to all my colleagues, without whom none of it would have been possible."
Sam Cook:
Sam is a Crew Commander (Control) with Scottish FRS and has been involved with our Charity since she was a child, as her father who is a retired firefighter was a secretary for us.
Since then she's been involved in Open Days and RTC competitions, then some fundraising events such as cycling from Glasgow to Edinburgh and assisting fundraising events that her dad has been involved with – all before joining the fire service herself in 2016.
She says: "Since then, I have taken on the role as Car Wash Coordinator for the West and I liaise with stations, encouraging them to host a Car Wash and also assist with the Christmas collections and Open Days.
"During Covid we were limited in our fundraising opportunities, so we organised 'The December Ascender', a ladder climbing competition that I encouraged stations to participate in. This competition is ongoing and we hope to get further national engagement in the future.
"I also enjoy taking Charity events and promoting them on TikTok – one my first of the December Ascender competition has 142.9k views, so it's a great platform to encourage engagement."
Robbie Sturrock:
Robbie was a wholetime firefighter for 30 years and retired two years ago. He now holds an on-call Support Watch Commander role at Peterhead. He's gone above and beyond throughout his career to organise fundraising events for us, including Open Days, Car Washes, collections, Santa fire engines, quizzes, football matches and Christmas fairs.
He says: "Over the years I wouldn't like to say how much money we have raised for the Charity, but I have a big heart for the Charity and respect what it means for the fire service family.
"Probably the proudest moment was when we walked 75 miles in fire gear form Peterhead to Dyce for the Charity's 75th anniversary, raising over £7K."
Graeme Browning:
Graeme first started as an on-call firefighter in the then-Kent Fire Brigade in 1983 and served for 38 years in the fire service. In that time, he has volunteered to help organise countless events and fundraising initiatives, supporting us throughout.
It all began with Christmas carolling street collections and they continued right through the years to the point that 2019, his group collected over £6,000 in three days.
"In about the mid-1990s, following my brother's recruitment to wholetime, it was customary for the new recruits to do a fundraising event for the Charity. They did a series of Car Washes [and], suitably impressed, I thought we could do the same! I set in motion a series of over 45 Whitstable cars washes which still are going strong to this day. Last time I recall, we'd topped £20k over the years."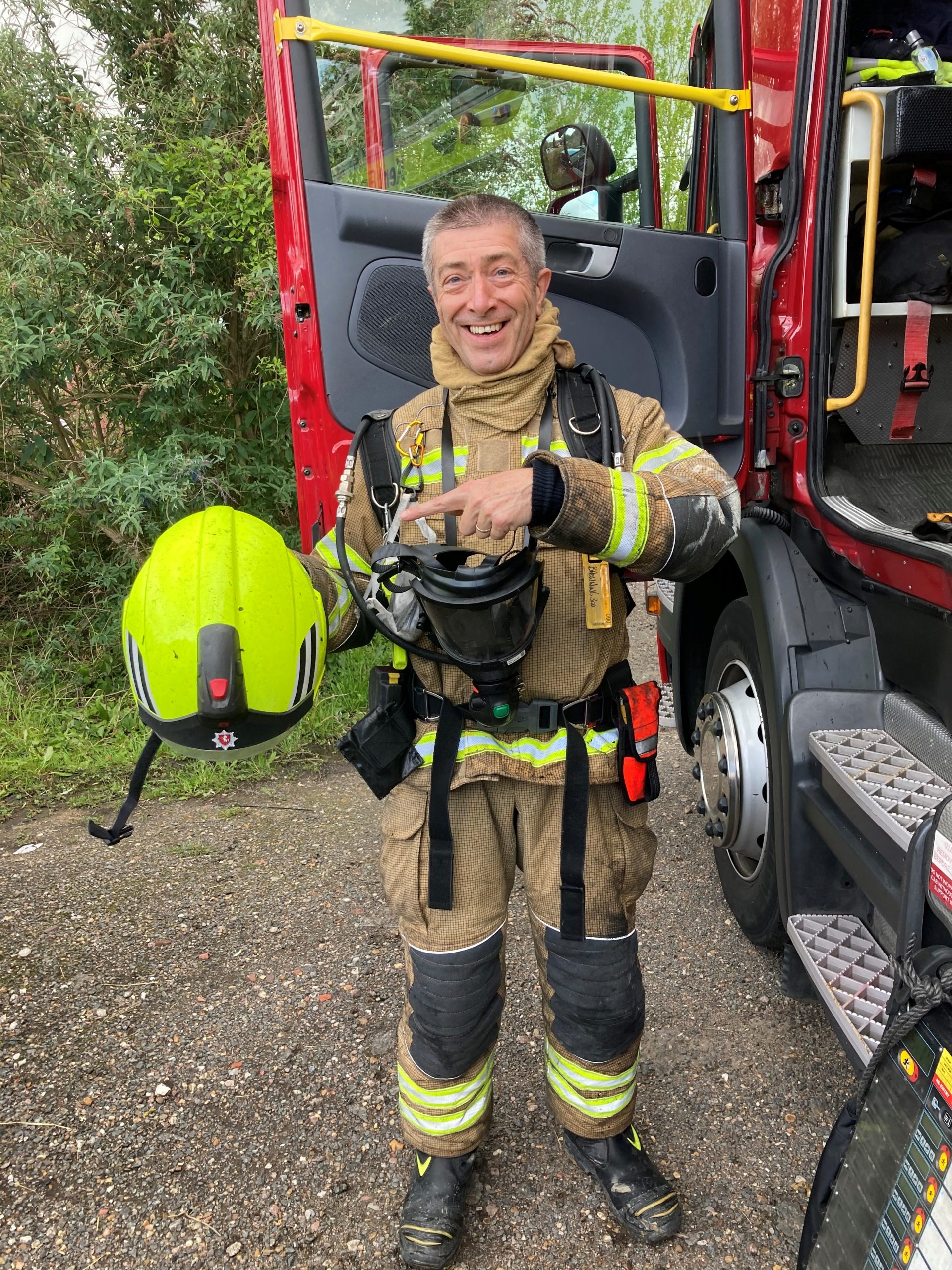 On top of that, he's done a series of challenging fundraisers including scaling a scaffold tower set up in the foyer of Tesco's with a pole drop, multiples times over 24 hours. He's also helped organise a series of Charity runs and raft races. Most recently he became a Station Rep, which has included producing a series of mugs, calendars and fire service-themed Christmas cards.
He says: "The main thing is it keeps me busy, and raises a few bob for The Fire Fighters Charity."
Dave Smith and Mike Challinor
Our Living Well Groups take place across the country and aim to bring retired fire service personnel together to chat, get to know each other and have fun.
Central to these groups are our dedicated volunteers, who help coordinate each meeting, and among them are Hereford and Worcester's Dave Smith and Mike Challinor.
Our Communities Development Lead, Clare Hannaford, says: "Both Mike and Dave are Living Well Coordinators and run the group in Worcester, where they organise the room, make tea and coffee, find great speakers and generally do a marvellous job of hosting this thriving group. During lockdown they were regulars at some of the talks and chats that we ran over Zoom, always looking to support and promote the Charity and its services to our beneficiaries."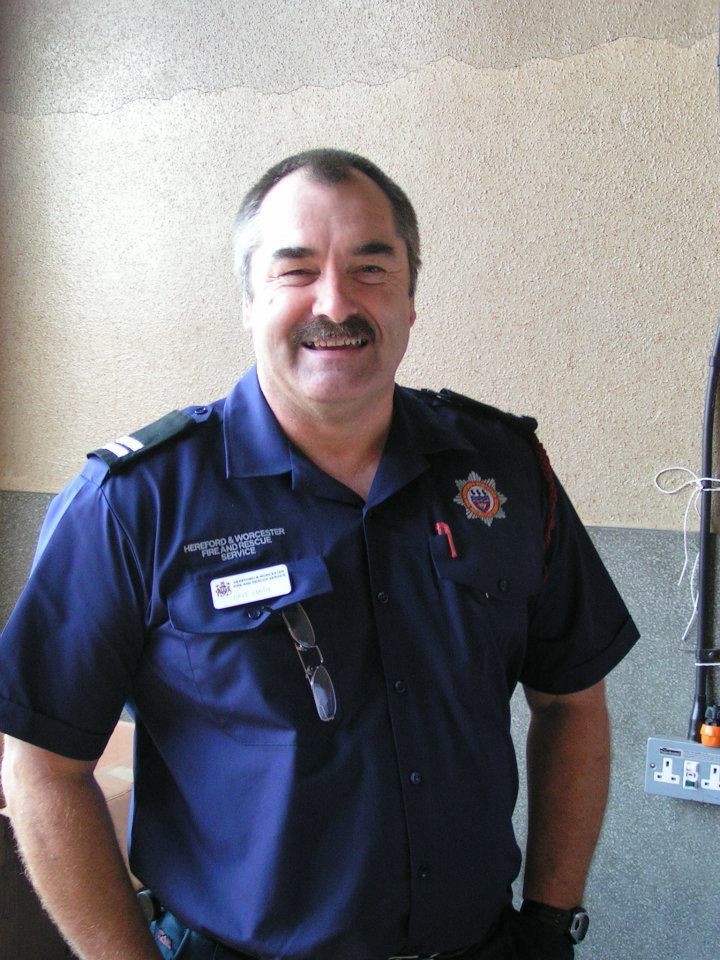 Dave was a wholetime firefighter for 30 years, before retiring in 2008. He says: "We all enjoy the camaraderie and supporting other firefighters, as well as the community we serve.
"When I first heard about the groups I thought it was a fantastic idea. It allows fire service personnel – both in uniform and support staff – as well as their dependants, to get together and ensures when they retire from the service they don't disappear or feel forgotten about.
"We aim to remind people that there is a life after the fire service and these groups allow people that have retired, especially if they're living on their own, to come along, join in and enjoy a friendly chat. It gives people a new lease of life and they then look forward to the next meeting.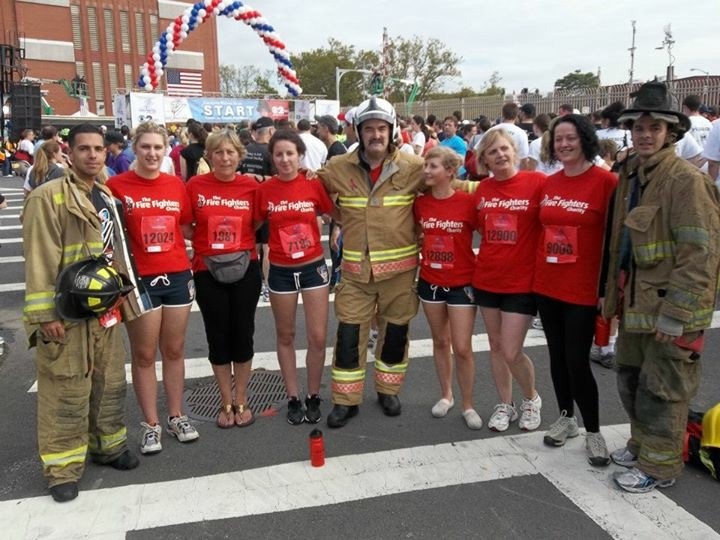 "I've been volunteering for 42 years, including being employed by the Charity as national events manager in 2015, before helping with regional fundraising and now this. This keeps memories alive for so many people. Where the Charity is concerned, the support and help is there until you go to the grave. Then it doesn't end at death, it's there for your dependants too. The message is, the Charity is there to support you, if we don't lose it we'll lose it."
Sean Michael: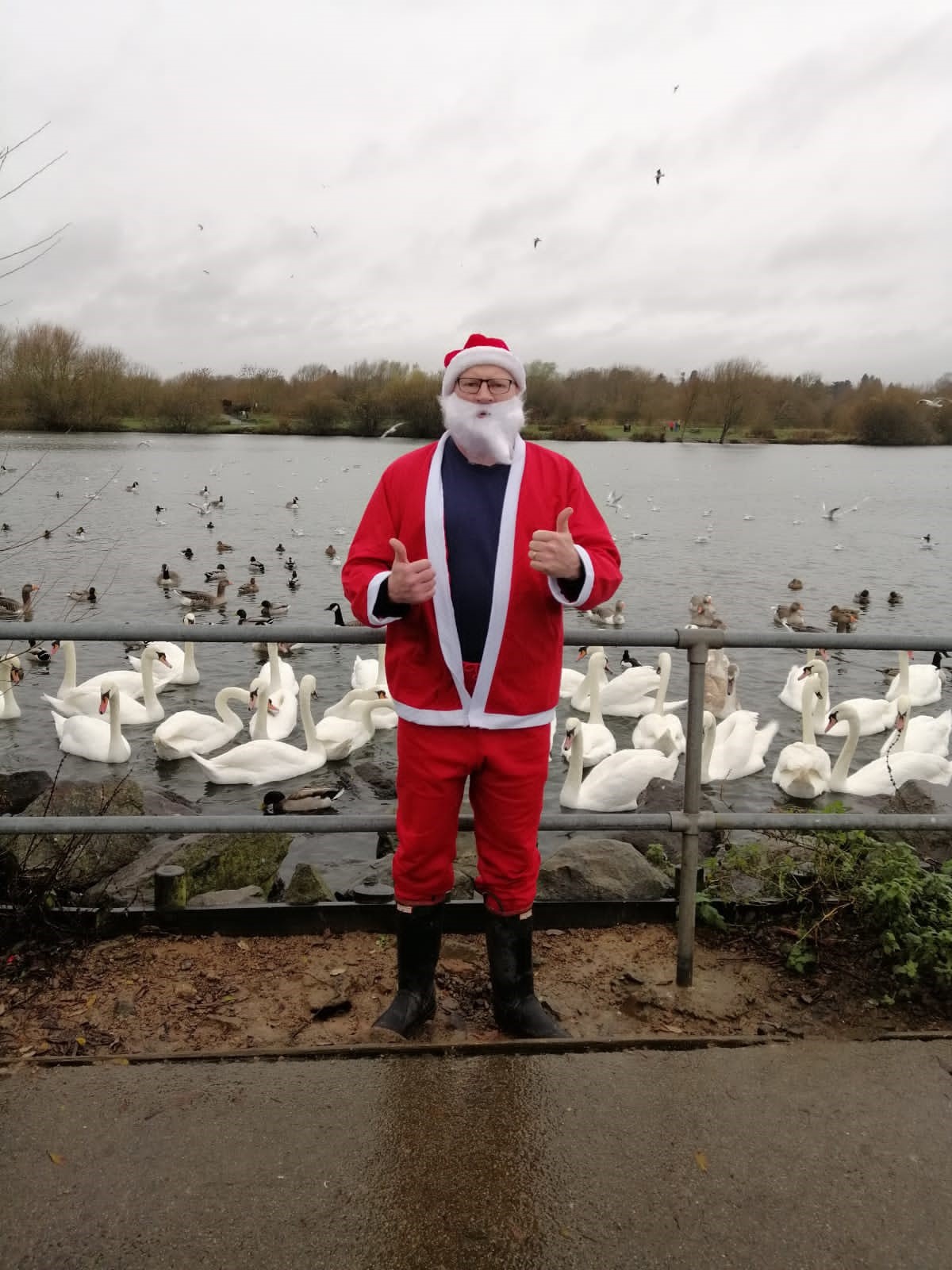 Sean, who had a long career as an on-call firefighter with North Yorkshire Fire and Rescue Service, dedicated 2020 in particular to saying thank you to us through a series of epic fundraising events, after being helped himself following an illness and struggles with his mental health.
After years of car washes and cake sales in our honour, he took part in the Fire Family Santa Dash during the Christmas of that year and even did a 5,000-steps-a-day walking challenge too.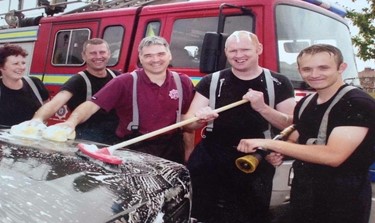 He says: "I'd encourage anyone to do the same… Fundraising doesn't cost you anything, you've got to help support the Charity, it's there for you at the end of the day and will be there for you when you need help."
Our Visitor Services Volunteers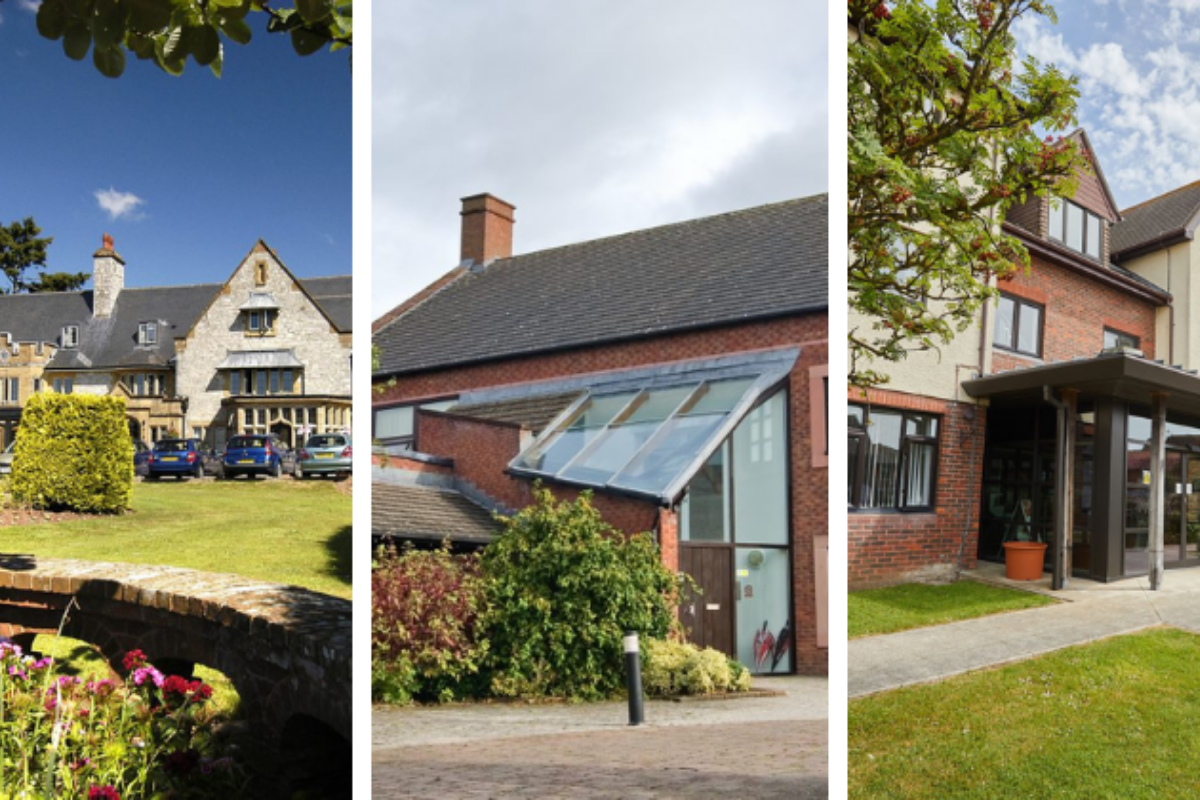 We have a dedicated team of volunteers helping out at Jubilee House in Penrith, Marine Court in Littlehampton and Harcombe House in Devon and we want to say a huge thank you to each and every one of them.
These are truly just a few of many volunteers helping right across the Charity and fire service – so to ALL of you, a huge thank you for all that you do. And to find out more about how you could volunteer for the Charity, click the button below: