When it comes to our Fire Family Fundraiser, there really are no rules – you can do what you want to support us; all we ask is that you have fun while you're doing it!
From fancy dress quizzes, doggy dashes and egglympics, to bike rides, bake sales, drawings, litter picks and more, we've seen our amazing supporters go the extra mile for us in the past – raising valuable funds in the process.
And what better way to challenge your friends, colleagues and family to some truly weird and wonderful fundraising events than in the summer? There's no need to push yourself physically if that's not your cup of tea, you can do any number of things to raise money for us – the sky's the limit!
Below are just a few of the many ways you've challenged yourselves in the past – and if you're feeling brave, why not livestream your efforts? You can find out how here.
Plan your Fire Family Fundraiser
Dressing up for a wheelie bin walk!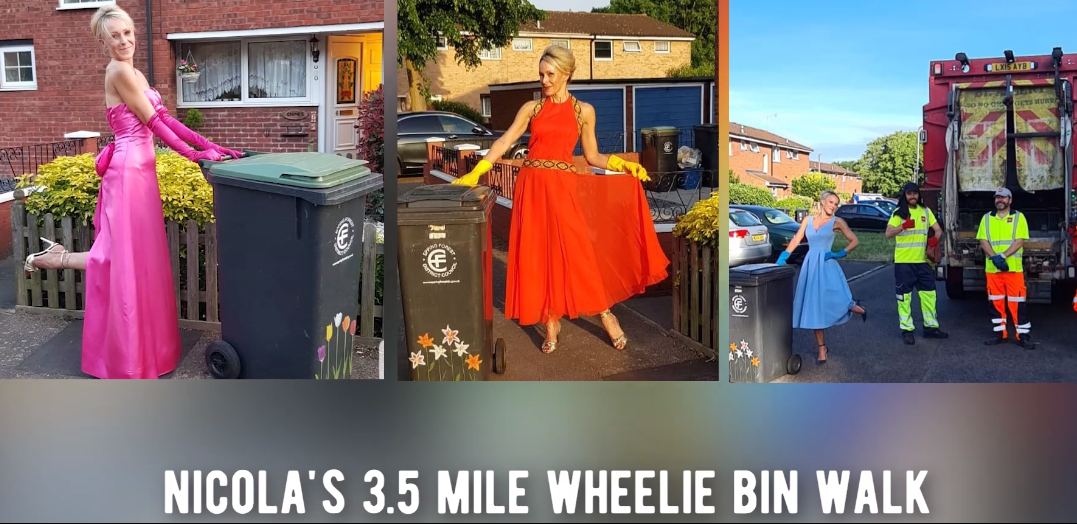 We told you anything goes! Nicola fundraised for us in some truly fabulous outfits, proving you can dress up for any occasion.
Litter picks
Day46-I can't believe it's the end of my LLP 2023.With this being my sixth year litter picking, I am definitely not stopping now! It's such a big part of my life. Litter picking is something everybody should get involved.
Please sponsor me.https://t.co/0pDngRq0n3 pic.twitter.com/r5EYoWAgZm

— A bag a day keeps the litter away💚🌎♻️🚯 (@Heatherlitter) April 8, 2023
One young supporter, Heather, has been litter picking in aid of us for years – raising huge amounts of money single-handedly, while doing her bit for the environment. What an inspirational idea and something you could all join in with too!
Drawings, poems, short stories and more
Get your creative side out and draw, write or paint to raise funds for us – either fundraising in the process, or auctioning off/donating your finished result.
Brew With a Crew
What better way to recognise the efforts of the fire services community than with a cup of tea? Form your own crew – whether that's with family, children, colleagues or friends – and have a brew, making a donation to our Charity in the process. Here's everything you need to know about hosting your own Brew With a Crew.
Doggy dash
The pets can join in too! Get your furry companions involved in walks and runs around your home.
Helping in your local community garden or allotment
Gardening and spending time outdoors is beneficial for our wellbeing – so why not combine it with a challenge to transform your outdoor space or grow your own food for a week or month, while donating to us in the process?
Your own Olympic Games
Come up with your own events that you can do in your home, garden, at your fire station or in a nearby park; drill tower climb sprint, backyard long jump, round the sofa relay, pretend horse trials, pool noodle javelin, paper plate discus, swingball tennis, bread basket-ball, beach ball volleyball… the list is endless.
Bake sales
Cook up a storm in your kitchen this summer and hold a cake sale for your neighbours and local community.
Crochet / knitting marathons
We've seen some incredible crochet and knitting marathons in the past, so if you love to sit down and relax with some knitting needles, what could you challenge yourself to complete?
Daily distance
Set yourself a regular distance target and get stuck in. Walk, run or cycle and track your progress on the Strava app.
Tyre flips

These take some serious strength and by joining your colleagues, you can make it a full team fundraiser!
Ready, steady, cook
Unleash your creativity in the kitchen and make something with whatever you have in the cupboards, the weirder the better. Share your progress and recipes online for others to marvel at and try for themselves. Ask them to donate the money you saved by not ordering another takeaway.
Fancy dress quizzes
Host your own quiz night for family friends and colleagues and ask them to donate to take part. You can host it in-person or on a Zoom or Skype call – or even broadcast it on Facebook Live or Twitter. You might want to also offer a prize, but we all know the real prize is boasting rights.
Runs, walks and mountain climbs
Ever dreamt of climbing the Three Peaks? Or perhaps you've always wanted to cycle from Lands End to John o' Groats? Well this could be the perfect opportunity. A Fire Family Fundraiser can be anything you want it to be, so set yourself a goal – either solo, or with friends – and go for it! And remember to spread the word about your fundraising round your friends and family ahead of the event.
Gaming
If you're an avid gamer you could set-up a tournament with friends, with everyone donating to join and a prize for the winner. If you have the ability to livestream, you can fundraise for us on your stream using JustGiving or Tiltify.
Make a difference with music
Dust off the instruments you've been meaning to learn how to play for years and film yourself covering a popular song each week, along with your donation link. If you're really talented and brave enough, you could even do it live on Facebook or Twitter and take request from friends or family, in exchange for the promise of a donation to your page.
'Egglympics'
If you have chickens, you can count up how many eggs they lay!
Head shave
Do you fancy trying a new look? Dave went for something very different in 2020!
Let us know what you get up to by registering for MyFFC and joining one of our Groups (which you can find in the 'Groups' tab at the top of the MyFFC homepage).
And you can watch a few of our highlights from 2020 here: